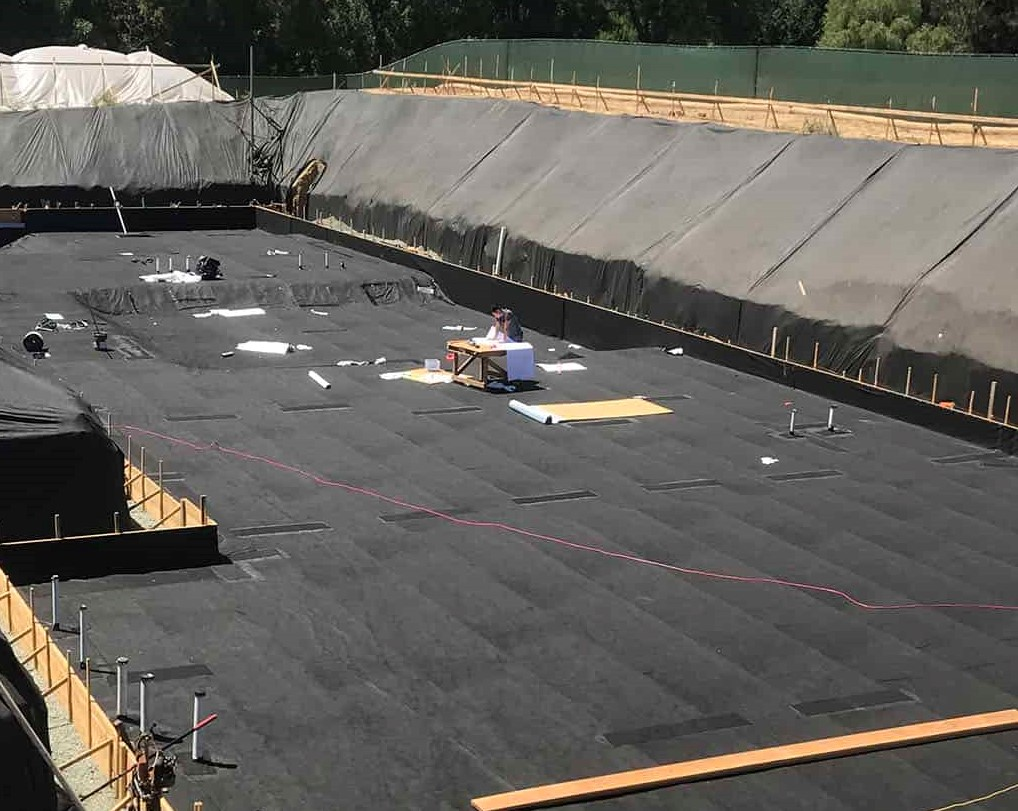 Why Use Below-Grade Waterproofing?

Below-grade foundation waterproofing systems provide several components vital to managing the integrity and health of your building and controlling repair and maintenance expenses due to moisture infiltration.
You need below-grade waterproofing and foundation drainage board solutions for below-grade walls because porous concrete can crack from water pressure and the building settling, allowing groundwater or contaminated soil vapors to enter the structure. Placing a barrier between the concrete and surrounding earth will protect the integrity of your foundation and avoid costly repairs and maintenance.
Stopping water and harmful contaminants from entering the building requires a high-quality, below-grade waterproofing membrane and drain board waterproofing, like Polyguard below-grade waterproofing and drainage board for foundation walls.
The Benefits Of A Below-Grade Waterproofing System
There are several significant benefits to applying below-grade waterproofing and an effective basement waterproofing drain board to a foundation wall. Specifically, below-grade foundation waterproofing and foundation waterproofing drainage boards keep the below-grade building envelope moisture-free, protecting the structure's integrity, immensely lessening long-term maintenance and repair costs, and helping to avoid the following below-grade moisture-related problems:
Cracks in walls

Crystalline deposit of salts (efflorescence) on a basement or crawlspace walls or floor

Humidity in the crawlspace or basement leads to unhealthy and structurally damaging mold

Strange and unpleasant smells in the basement or crawlspace

Inward or outward bowing walls
The Science Of Below-Grade Waterproofing
The ASTM mandates that a waterproofing membrane should resist chemicals that can harm the membrane and maintain its watertight integrity for the life of the building in a continuously or intermittently moist environment against continuous or intermittent hydrostatic pressure. You should also consider wicking to maximize the water-resistance of your below-grade wall.
Hydrostatic Pressure
Hydrostatic pressure refers to the gravitational pull on standing-dense water, causing it to push against below-grade walls built entirely or partially below the water table or on a hillside. Hydrostatic pressure tends to force water into any crack or imperfection in the structure, making waterproofing more complicated and adding loads to the structural components of the building. Hydrostatic pressure can crack a foundation, flood a basement or crawlspace, and cause significant structural damage to the structure.
Capillary Action
Unfortunately, the concrete of a well-constructed below-grade wall can dry out unevenly, forming microscopic air tubes that allow water to seep through and into the structure by capillary action.
Capillary action (wicking) refers to water's ability to flow into narrow channels between porous building materials (concrete, aggregates, and sand) that act like tubes due to adhesive and cohesive forces interacting between the liquid and the surface, not with the assistance of gravity. Wicking results in a ring of dampness at a building's base, including the lateral walls. Capillary water often carries salts and minerals (sulfates, chlorides, ammonium compounds) from the subsoil that can react with the building materials of the foundation, which can weaken the structure's integrity,
Stopping Water Infiltrations To Below-Grade Walls
The most effective way to stop water infiltration to below-grade walls by hydrostatic pressure and capillary action involves an application of an impermeable membrane and drain board foundation waterproofing between the soil and structure.
Types Of Below-Grade Waterproofing Membranes
The two main membrane systems for waterproofing below-grade walls include prefabricated sheet membrane systems and fluid-applied membrane systems.
Prefabricated Sheet Membrane Systems
Typically come as bentonite, modified bitumen, elastomeric, or thermoplastic membranes. You can easily apply prefabricated membranes (modified bitumen, elastomeric or thermoplastic sheets) to surfaces.
Fluid-Applied Membrane Systems
Include cold liquid-applied, hot liquid-applied, or single components. You can, cold or hot, apply liquid-applied waterproofing to prepared substrate surfaces.
Applying Below-Grade Waterproofing
There are three processes for applying waterproofing membranes: positive-side, blind-side, and negative-side waterproofing.
Positive-Side (post-applied) Waterproofing
Occurs after building the wall and requires access to the outside face of the building.
Blind-Side
Pre-applied on the outside face of the foundation before building the foundation wall..
Negative-Side waterproofing membranes
Involve applying waterproofing materials to the interior (dry) side of a building. Typically only done when you can't apply positive side or blind-side waterproofing.
Why Polyguard Is The Best Below-Grade
Waterproofing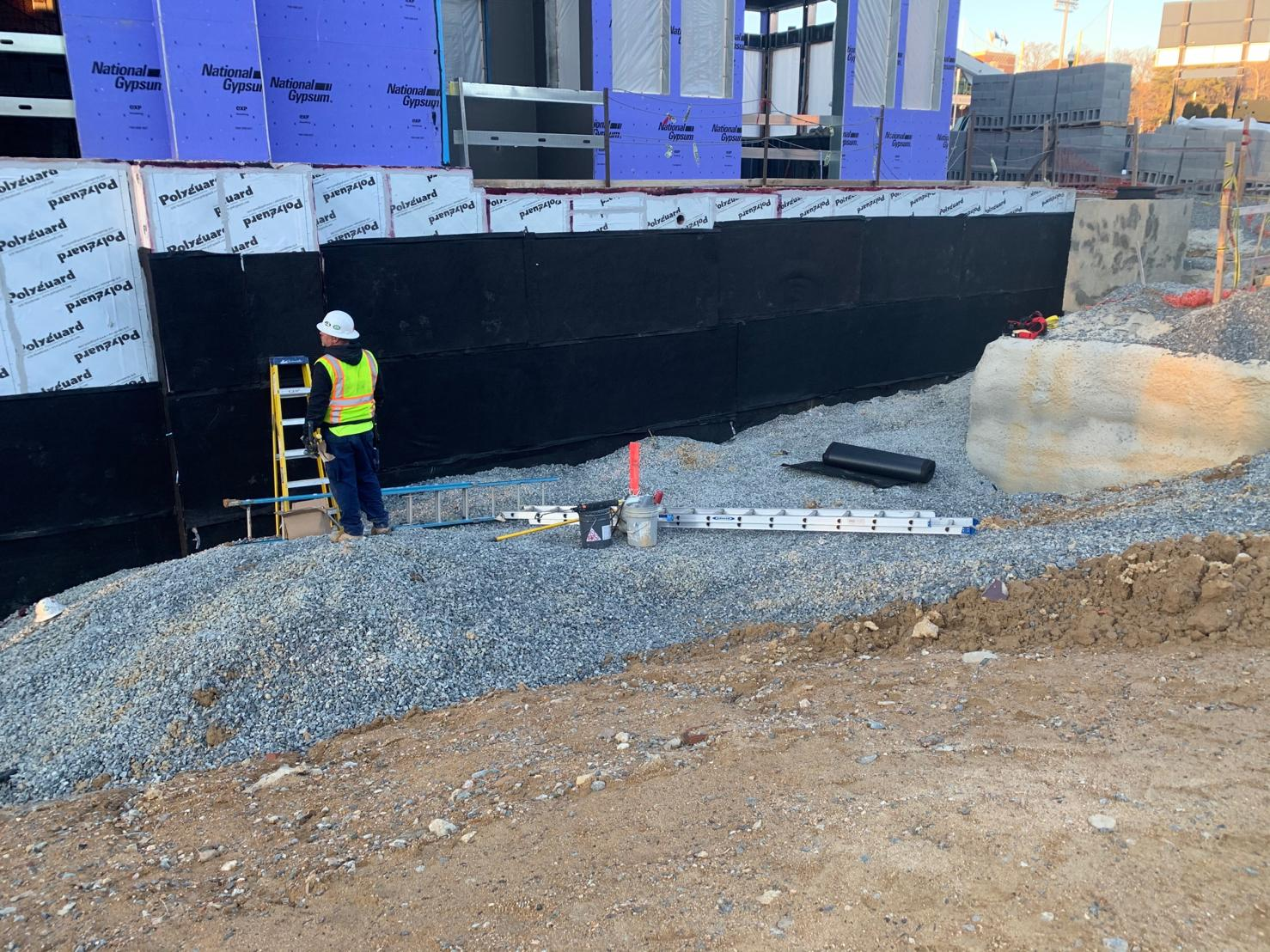 Polyguard's below-grade foundation waterproofing products include membranes for pre-applied and post-applied applications, including sheet and fluid applied products. The design of our products stands up to the harshest of conditions, protecting concrete slabs and foundation walls from the entry of water and contaminants due to cracks in the concrete.
Polyguard Below-Grade Sheet Membranes
UNDERSEAL® UNDERSLAB MEMBRANE
Tough, 85-mil Underseal® Underslab Membrane waterproofing membrane/vapor barrier
installs horizontally over prepared sub-bases such as compacted soil, mud slab, carton forms, or #57 Stone, eliminating water and vapor transmission through concrete slabs. During the concrete pour, the concrete intermingles with the fibers of the nonwoven geotextile, forming a strong mechanical bond with the membrane, protecting the floor finishes and indoor air quality by acting as a barrier to methane and radon gas.
You can also install Underseal® Underslab Membrane vertically on removable formwork for waterproof protection for perimeter and grade beam installations, elevator pits, or against adjoining buildings to provide waterproofing protection.
UNDERSEAL® BLINDSIDE™ MEMBRANE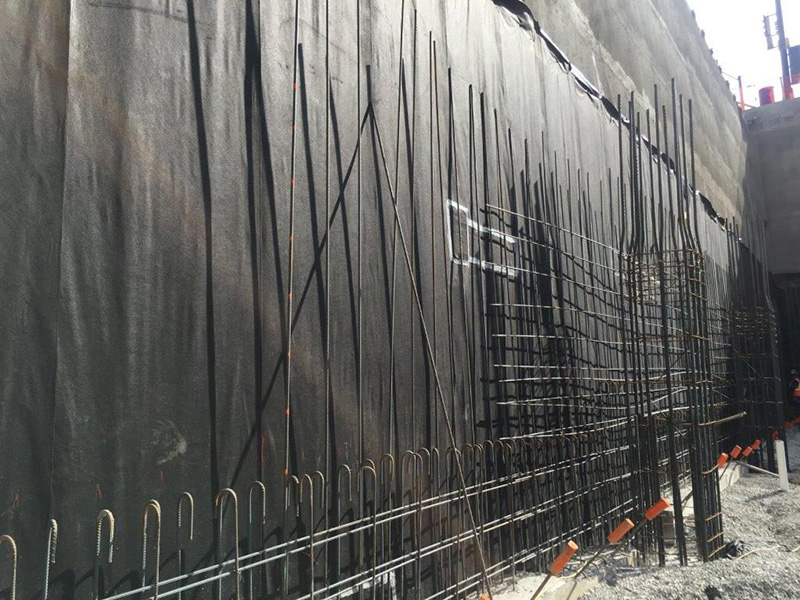 Typically, you apply puncture-resistant, flexible, 73 mil Underseal® Blindside™ Membrane waterproofing membrane in areas where soil retention does not allow access to the positive side. It installs vertically before pouring the concrete. As the concrete cures, it forms a mechanical bond with the membrane. In addition, the cold flow tendencies of the membrane create an outside adhesive layer, contributing to a tight seal and superior protection against moisture intrusion, along with methane and radon gas to the concrete.
Also, you can install the Underseal Blindside™ Membrane horizontally over prepared sub-base such as mud slab, carton forms, fine crushed beds/pea gravel, or Polyguard approved drain board.
UNDERSEAL 650 MEMBRANE ® MEMBRANE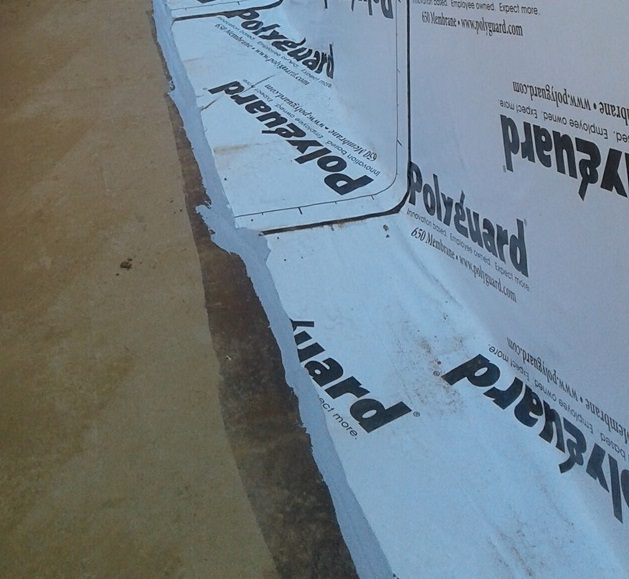 Strong, flexible, 60-mil 650 Sheet self-adhesive waterproofing membrane/vapor retarder stops water and vapor transmissions through poured concrete foundation walls, wood, CMU, and insulated concrete forms (ICF). For critical waterproofing projects, the design of 650 Membranes allows for use in horizontal/split slab applications and vertical/secure wall applications.
The Polyguard 650 Membrane comes in a wide membrane (up to 48- inches), allowing for quick and easy application to continuous flat surfaces. It also comes in a narrow width for trimming corners, construction joints, and other applications.
UNDERSEAL ® PRM™ Puncture Resistant MEMBRANE
High-strength, self-healing, 65-mil Underseal® PRM™ is a post-concrete pour sheet waterproofing membrane/vapor retarder with a double-thick, cross-laminated polyethylene backing laminated to a thick layer of rubberized asphalt compound.
Underseal® PRM™ adheres tightly and permanently to concrete. It's backing also forms a continuous barrier to water and moisture vapor entry.
You can apply Underseal® PRM™ vertically to the exterior sides of concrete foundation walls, tunnels, and related applications needing waterproofing, allowing for faster waterproofing applications by eliminating the step to install an additional protection course before backfilling operations.
You can also apply Underseal® PRM™ to horizontal slab applications such as parking garages, plaza decks, plywood decks, and similar applications. It allows for concrete topping slab installation without the need for a separate protection course in most situations.
Polyguard Chemical Resistant Membranes
UNDERSEAL® CRM™
For walls requiring additional chemical resistance, 85-mil Underseal® CRM™ provides a superior solution, proven to withstand elevated concentrations of water, soil, and vapor contaminants.
Fortified, pre-applied Underseal® CRM™ sheet membrane contains a multi-component, chemical resistant backing laminated to a superior layer of waterproofing adhesive compound and an integrated high strength, nonwoven geotextile fabric. Applied horizontally, Underseal® CRM™ provides a continuous seal underneath the concrete slab or behind vertical "blind-side" cast-in-place concrete walls.
ULTRA CRM™
Post-applied, 60-mil Ultra CRM™ offers a strong sheet membrane with multi-component, chemical resistant backing laminated to a thick layer of waterproofing adhesive compound, capable of withstanding elevated concentrations of fluid, soil, and vapor contaminants. We designed the Ultra CRM™ for poured concrete foundation walls, tunnels, parking garages, etc., requiring chemical-resistant waterproofing.
BELOW-GRADE FLUID-APPLIED WATERPROOFING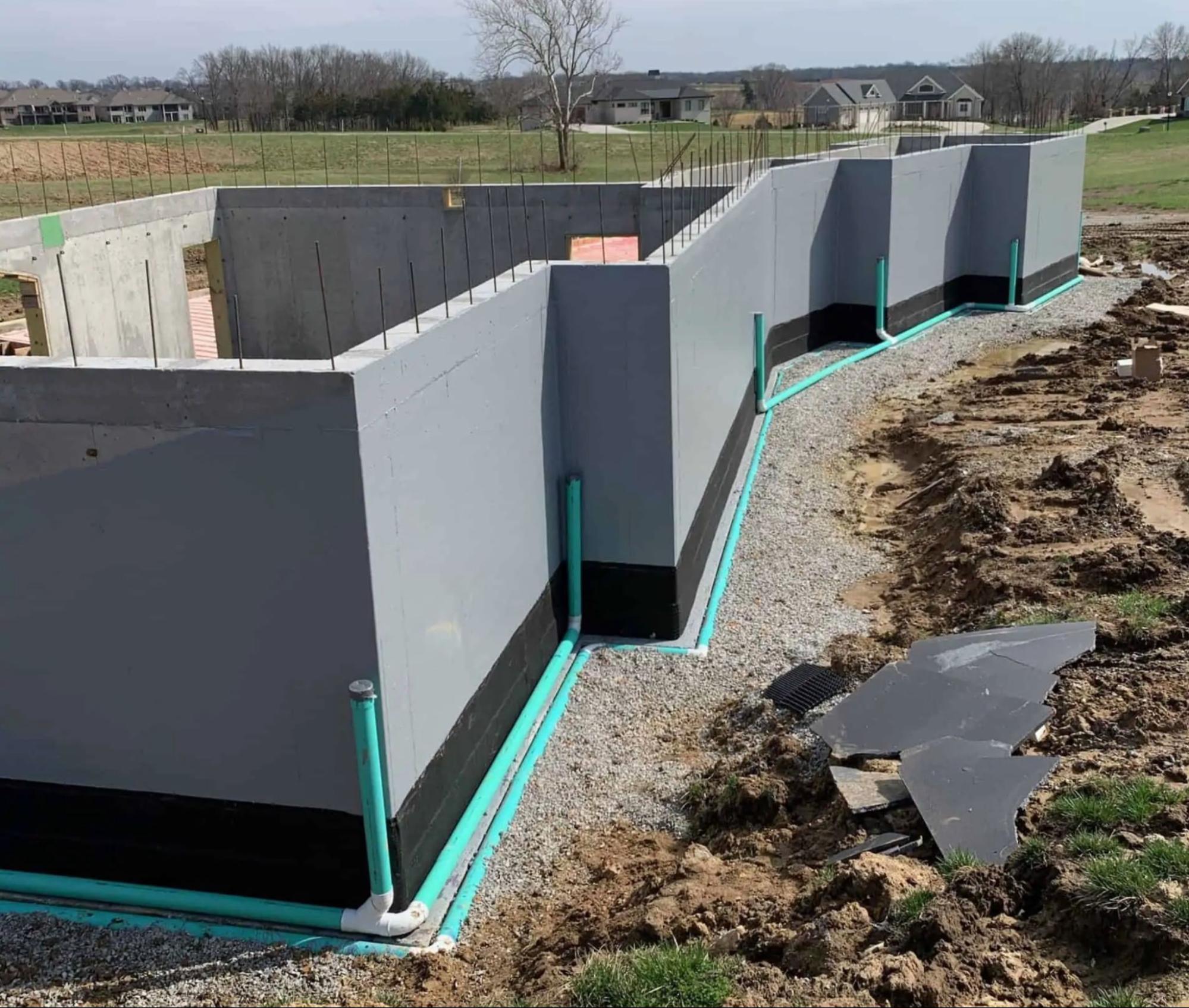 Polyguard's Stretch Flex is a fluid-applied single component developed with our patented thermoplastic technology. It provides a spray, cold-applied (as cold as -20° F) product which produces a seamless, durable, waterproofing membrane that can bridge substrate shrinkage cracks up to 1/16-inch, minimizing surface breaches and eliminating problems at the joints. We designed Stretch Flex for simple application to below-grade exterior waterproofing of concrete, precast concrete, CMU foundations, and other structural surfaces on the hydro-positive side.
Why Polyguard Has The Best Drainage Options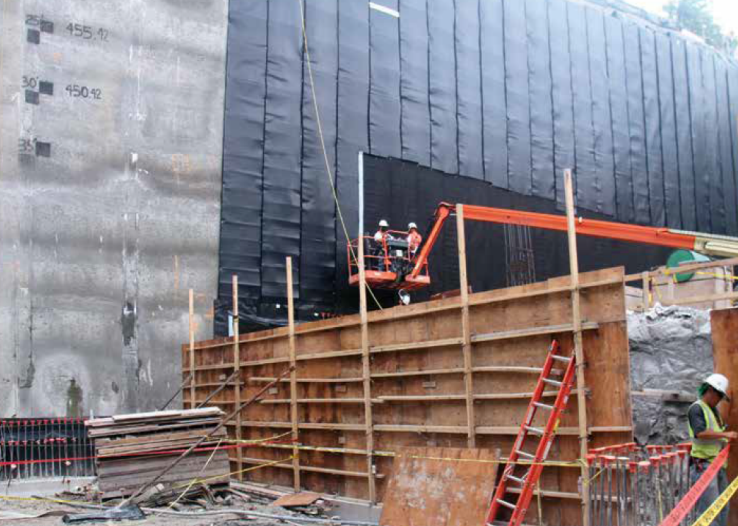 The design of our lightweight, high-capacity Polyflow® Drainage products provide our customers a variety of solutions to lightweight drainage, compatible with our engineered sheet and liquid membrane products. In addition, our easy-to-install products decrease excavation needs, saving both money and time.
Polyflow® 15 and 15P SHEET MOLDED DRAINAGE MATS
Polyflow® 15, and 15P Sheet Molded Drainage Mats, applied vertically over Polyguard waterproofing membranes, direct moisture into the drain core while limiting the movement of soil particles which can clog the core. Our Polyflow® 15 & 15P drainage mats can minimize hydrostatic pressure when connected to our high capacity collector and outlet drainage system, Totalflow™.
Polyflow® 18 DRAINAGE MAT
The design of our high-capacity Polyflow® 18 offers a lightweight drainage system compatible with our engineered liquid and sheet membrane products used for below-grade waterproofing.
Lightweight and easy to install, Polyflow® 18 drainage mat provides a compressive strength of 21,000 psf, capable of handling the most complex horizontal applications. In addition, this product uses a woven filter fabric specifically for concrete pours to permit flow under loaded conditions.
The Houston Country Club Underground Garage
Polyguard Case Study
In 2011, the Houston Country Club began designing (Houston architect Jackson & Ryan) for their new underground garage to accommodate about 400 vehicles (170,000 ft2 plus tunnel areas at the cost of $10.5 million. It would also allow tunnel access to the clubhouse and social venues of the club. The club selected Pepper Lawson Construction, L.P. of Houston as the general contractor and Western Waterproofing Company of America in Houston as the waterproof contractor for the new underground garage. Price Consulting, Inc of Houston, however, provided the specification and details for the waterproofing. In addition, they chose Polyguard Products to ensure a waterproof below-grade wall for the new underground garage.
After the excavation, contractors installed and compacted the drainage stone, which they covered with Polyguard's Underslab Membrane. Next, they waterproofed the column areas with pre-formed column boots (saving significant time), and the exterior wall areas with Polyguard 650 Membrane System and PolyFlow 15P drainage composite.
Finally, they waterproofed the post-tensioned garage lid with Polyguard's 650 Membrane System and 1/4" Asphaltic Hardboard. In addition, Western Waterproofing installed Poly Flow 18H drainage composite to the perimeter vertical walls.
Why Choose Polyguard Below-Grade Waterproofing And Drainage Solutions?
The quality of a foundation plays a significant role in a building's performance and lifespan. Severe problems to a building's integrity will occur if you inadequately design and install the foundation, particularly the below-grade waterproofing and drainage systems. To avoid costly repairs due to below-grade leaks, always select high-quality below-grade waterproofing and drainage solutions like Polyguard products.
Don't hesitate to contact a Polyguard professional for all your questions concerning below-grade waterproofing and drainage solutions.