Integrated building envelope systems are a superior solution for constructing sustainable, high-performing buildings. An integrated building envelope plan should keep its occupants secure, safe, and comfortable. In addition, it should protect the environment through energy efficiency and long-term structural durability.
Achieving these goals requires a continuous, tested, integrated building envelope system that includes several control layer components: an air, vapor, water, and thermal barrier, along with a water-shedding facade:
An air barrier lessens energy remove loss by limiting the uncontrolled flow of air through the wall systems.

A vapor retarder minimizes condensation by controlling the flow of water vapor as it moves from high- to low-pressure spaces.

A water penetration barrier flashed to the cladding's exterior, stops water from entering the wall cavity.

A thermal barrier that mitigates energy loss and stops thermal bridging.

A durable, water-shedding façade protects against environmental elements, impacts, pollutants, U.V. exposure, etc.
Not including an effective building envelope system in a building's design can lead to uncontrolled airflow and water penetration, which causes high heating and cooling costs, deterioration of building components, and poor indoor air quality.
Polyguard's Integrated Building Envelope® System
Maximizing the performance of your integrated building envelope system requires using high-quality components engineered and tested to the highest standards, like Polyguard's architectural products. For over 60 years, our waterproofing, air barrier and , drainage, and accessory systems have provided architects and builders with a single-source solution to an integrated building envelope system, protecting buildings from structurally damaging, uncomfortable, and unhealthy air and moisture infiltration.
Polyguard Below-Grade Waterproofing Systems
Polyguard's below-grade waterproofing product line includes durable, long-lasting sheet and fluid-applied membranes for pre-applied and post-applied (positive side) applications.
Below-grade concrete slabs and foundation walls need waterproofing because they inevitably crack, which allows water and contaminants to infiltrate the wall system. The key is to be able to bridge these cracks and keep the waterprofing system intact. For over 30 years, our proven products have stood up to the harshest of conditions.
PRE-APPLIED SHEET WATERPROOFING
Typically, general contractors apply Polyguard's durable pre-applied sheet waterproofing membranes before the concrete pour, which produces superior performance and resistance to water migration. Our Underseal family of products can be used for horizontal (Underslab) applications or in vertical (Blindside) applications.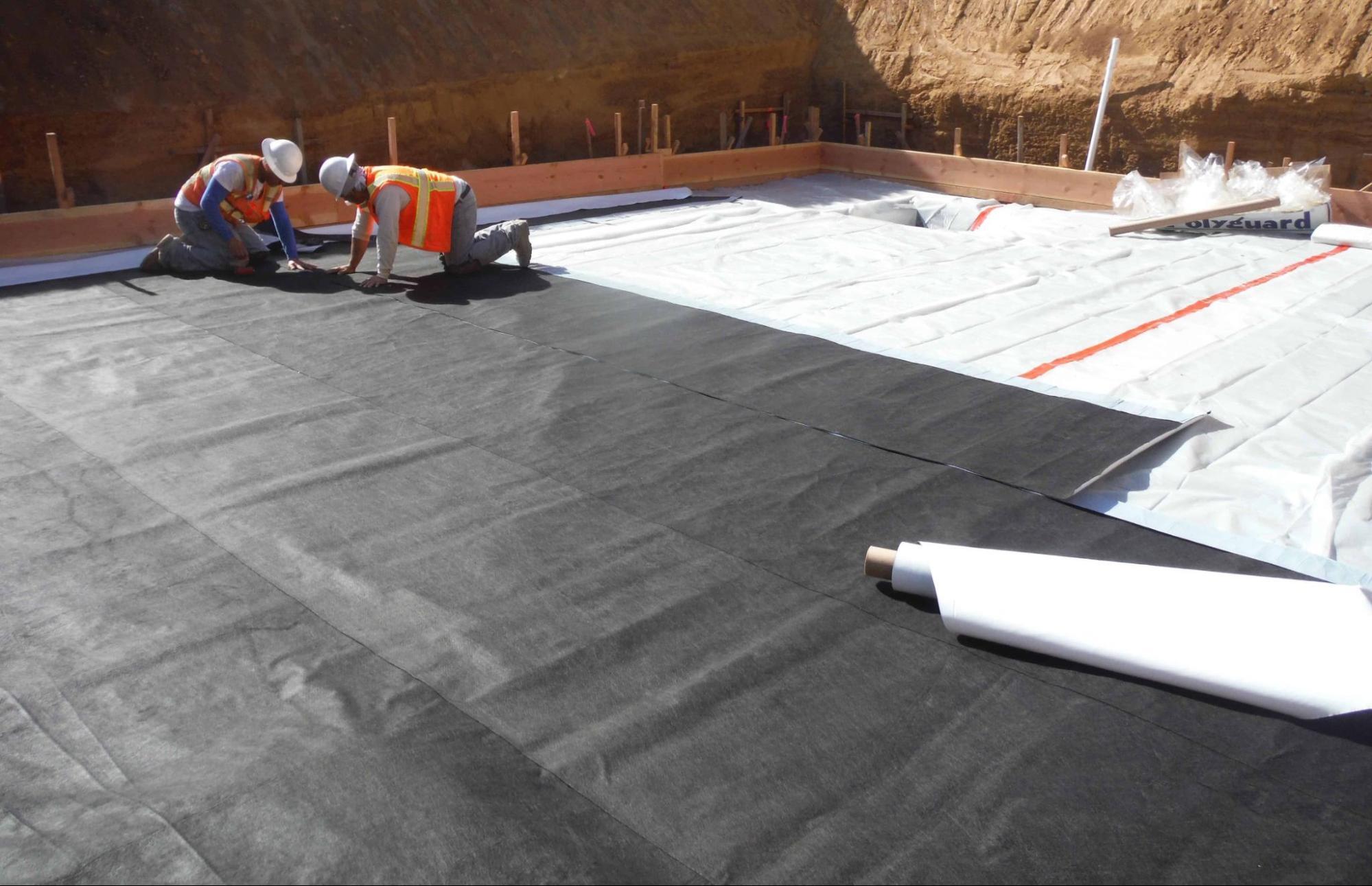 Underseal® Underslab Membrane
For new construction, properly installing Polyguard Underseal® Underslab Membrane will stop moisture from infiltrating the underside of the concrete slab. In addition, it provides a vapor barrier, excellent damage resistance, and longevity (more than E.P.A. or ASTM standards), making it substantially cost-effective over your home's or building's lifespan.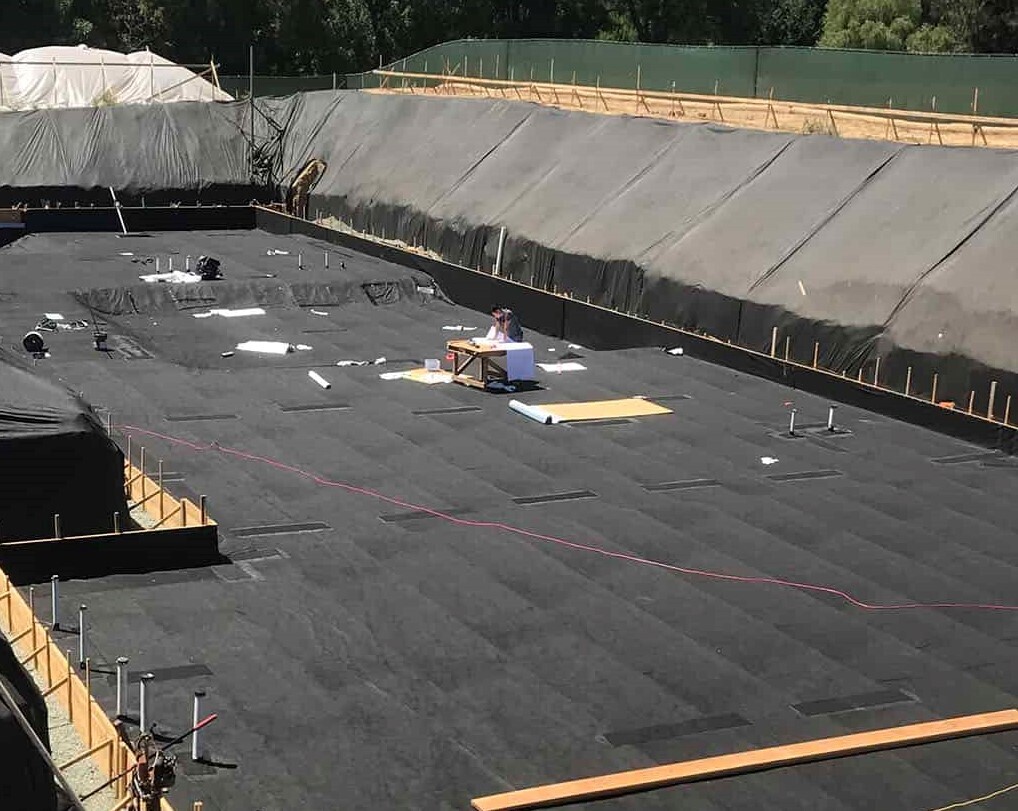 For vertical, horizontal, and shotcrete applications, a robust 85-mill, pre-concrete pour, roll-on Underseal® Underslab waterproofing membrane/vapor barrier successfully eliminates water and vapor transmission through concrete slabs on grade to protect a floor's finish. In addition, Underseal® Underslab 3-layer composite membrane acts as a barrier to methane and radon gas, which improves indoor air quality.
Underseal® Underslab Membrane typically applies horizontally over a prepared sub-base like mud slab, #57 stone, and compacted soil. During concrete pouring, the concrete will intermingle with the fibers of the nonwoven geotextile to form a solid mechanical and adhesive bond to provide a continuous seal under the concrete slab. Only install Underslab Membranes at temperatures higher than 24°F (-4°C).
Other Advantages of Underseal Underslab Membrane
Produce a solid adhesive bond with the concrete surface to prevent water migration between the concrete and membrane

Offers full-adhering, watertight laps at all joints

Eliminates water and vapor migration

The membrane's flexibility to adapt to the job site allows for simple installation

The barrier's stress-absorbing and elongation properties will maintain a watertight seal if a crack develops in the base material or slab

Offers excellent puncture resistance of 220 lbs, 64 times higher than the requirements of a Class A Vapor Barrier, and will withstand abuse during construction

May qualify for L.E.E.D. Certification via these credits:
S.S. Credit 3 - Brownfield redevelopment

ID Credit 1 -Innovation in design

A.Q. Credit 5 -Indoor Chemical and Pollutant Source Control (below-grade toxin barrier)
Polyguard Underseal® Blindside™ Membrane
General Contractors install Polyguard Underseal® Blindside™ Membrane before the foundation wall is poured. First, GCs apply it to the soil support (i.e., shoring, rocks, sheet pile, the neighboring building, slurry wall). Then they apply shotcrete or concrete against the membrane, which allows the waterproofing membrane to adhere to the concrete foundation.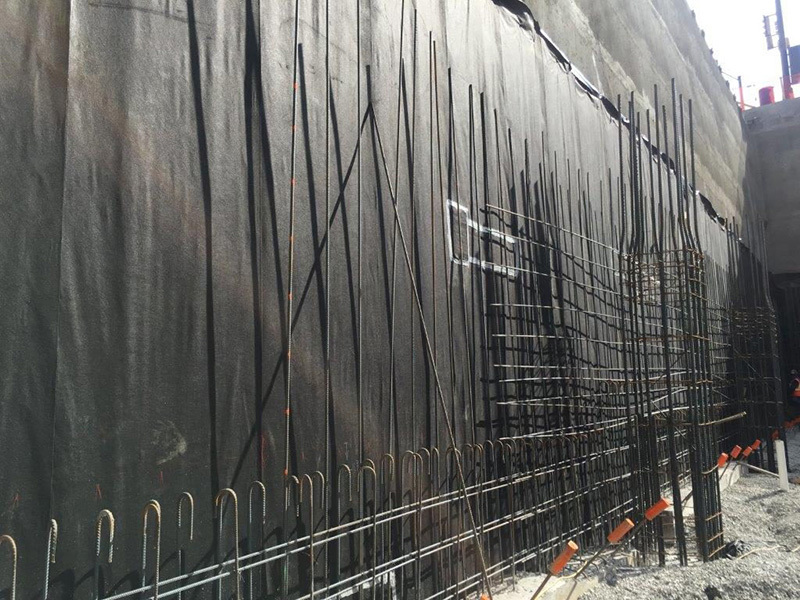 POST-APPLIED SHEET WATERPROOFING
Builders typically apply post-applied sheet membranes after the concrete pour for vertical and horizontal applications.
UNDERSEAL 650 MEMBRANE
Robust, flexible, 60-mil 650 sheets of self-adhesive vapor retarder/waterproofing membranes stop water and vapor transmissions through poured concrete foundation walls, insulated concrete forms (I.C.F.), wood, and C.M.U. In addition, the 650 membrane's design allows for use in horizontal/split slab and vertical/secure walls and applications for crucial waterproofing projects.
The Polyguard 650 Membrane comes in a wide membrane (up to 48-inches) to allow a simple and fast application to continuous flat surfaces. However, we also offer a more narrow width membrane for trimming corners, construction joints, and other applications.
UNDERSEAL ® PRM™ Puncture Resistant Membrane
High-strength, self-healing 65-mil Underseal® PRM™ provides builders with a post-concrete pour sheet vapor retarder/waterproofing membrane with a double-thick, co-extruded polyetrhylene backing laminated to a thick layer of rubberized asphalt compound.
Underseal® PRM™ adheres permanently and securely to the concrete. Its backing also creates a continuous barrier to moisture vapor and water infiltration.
Underseal PRM also meets the new ASTM 527 waterproofing membrane code standard. This standard is going to replace the stringent LARR standards in the next version of the ICC code
GCs can install Underseal® PRM™ vertically on concrete foundation walls, tunnels, and exterior sides needing waterproofing. Underseal® PRM™ provides faster application by removing the step of installing a protection course before backfilling operations.
GCs can also install Underseal® PRM™ to horizontal slab applications like parking garages, plaza decks, plywood decks, and similar applications. It also allows concrete topping slab installation without a separate protection course in most situations.
CHEMICAL RESISTANT MEMBRANE (CRM™) SYSTEM
Polyguard's Chemical Resistant Membrane (CRM™) system provides a needed solution to combat chemical attacks from contaminants in the soil, particularly in previously considered uninhabitable urban areas.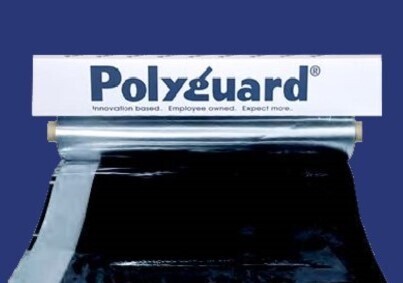 UNDERSEAL® CRM™
For chemical-resistant walls, 85-mil Underseal® CRM™ offers a superior solution to standing up to high concentrations of soil, water, and vapor contaminants.
Pre-applied, fortified Underseal® CRM™ sheet membrane includes a multi-unit, chemical-resistant backing that covers a layer of waterproofing adhesive compound and an integrated robust, nonwoven geotextile fabric. Applied horizontally, Underseal® CRM™ produces a continuous seal behind vertical "blindside" cast-in-place concrete walls or below the concrete slab.
ULTRA CRM™
Post-applied, 60-mil Ultra CRM™ is a strong sheet membrane with multi-component, chemical-resistant backing laminated to a thick layer of waterproofing adhesive compound. It can stand up to high concentrations of vapor, fluid, and soil contaminants. Polyguard designed the Ultra CRM™ for poured concrete foundation walls, tunnels, parking garages, etc., that require chemical-resistant waterproofing.
FLUID-APPLIED WATERPROOFING
Cold liquid-applied, hot liquid-applied, or single component waterproofing applies over prepared substrate surfaces.
Commercial Stretch Fluid-Applied Waterproofing
Using Polyguard's patented thermoplastic technology, we developed our Commercial Stretch Fluid-Applied Waterproofing MembraneIt provides a cold-applied (as cold as -20° F) spray product that produces a seamless and durable waterproofing membrane that can bridge substrate shrinkage cracks up to 1/16-inch, minimizing surface breaches and eliminating joint problems. Commercial Stretch applies to below-grade exterior waterproofing of C.M.U., concrete, precast concrete, and structural surfaces on the hydro-positive side.
FLUID-APPLIED DAMPPROOFING PRO 1000
The design of PRO 1000 permits for positive-side hydrostatic pressure application over below-grade concrete masonry walls, poured concrete, and precast concrete. Builders can also apply PRO 1000 as a negative-side, vapor impermeable coating on the inside of a below-grade wall in combination with damp or waterproofing the outside of the wall with PRO 1000 or other Polyguard material.
The single-component, cold-applied, patented PRO 1000 creates a non-breathable, non-elastomeric, thermoplastic membrane. The membrane dries to a U.V.-resistant, robust, recoatable, hard-coat, protective film that stops water passage through a substrate, protects against melting snow, rain, and in the areas between the grade and exterior finish.
Polyguard Air Barriers
Single component Airlok Flex® Fluid-Applied Air Barrier products come in several options, including:

Permeable and non-permeable

Low V.O.C.

Extended U.V. options
In addition, you can easily apply (in one or two coats) our Airlok Flex® products with roller or spray equipment, detailing before or after application.
Airlok Flex®
You can apply patented, single-component, solvent-based Airlok Flex® fluid-applied air barrier (with low V.O.C. option) in cold and hot temperatures. Airlok Flex® offers several significant benefits:

Applies in very cold conditions (down to -20°F)

Patented Thermoplastic Technology lessens application costs and exceeds industry standards

It will adhere to transitional membranes and treatments, eliminating touchup

As a single component product, it eliminates mixing and inconsistent performance

Installs quickly - up to 10,000 ft2 a day.
Airlok Flex® VP and V.P. L.T.
The design of cold fluid-applied, single-component, and acrylic-based Airlok Flex® VP and V.P. L.T. elastomeric membrane stops air and moisture penetration while allowing water vapor to escape. Benefits of Airlok Flex® VP and V.P. L.T. include:

V.O.C. content of less than 50 (g/l)

Permeable (10 Perms)

Water-Based

Application temperature of 40°F to 120°F

Available in low temperature (L.T.) option with use in temperatures 20°F and rising

U.V. resistance of up to one year

32 wet /16 dry mils (50 ft2 / gal theoretical coverage rate)
Polyguard Drainage Systems
The design of lightweight, high-capacity Polyflow® Drainage products provides our customers with various easy-to-install solutions for lightweight drainage. In addition, our drain systems decrease excavation needs and are compatible with our engineered sheet and liquid membrane products.
Polyflow® 15 / 15P
Polyguard manufactures the Polyflow® 15 sheet molded drain with a geo-composite of a formed impermeable polymeric core that allows the water to flow to designated drainage exits. In addition, the core's design includes a side covered with a polymeric filter fabric that allows the flow of water into the drain core while limiting the movement of soil particles, in order to prevent clogging of the core. It is ideal for numerous applications, including foundation and blindside walls.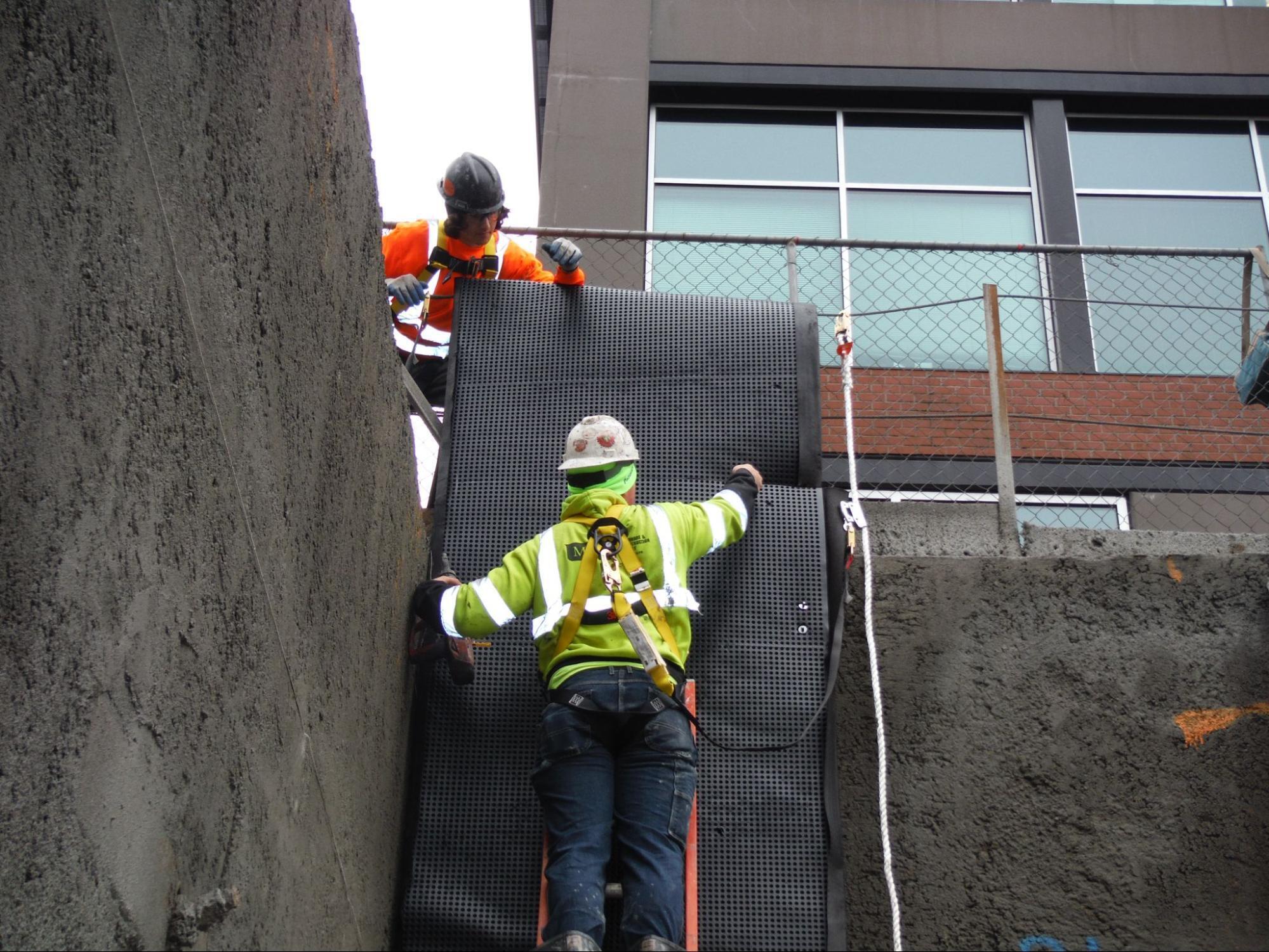 Benefits and features of the Polyflow® 15 / 15P include:

Relieves hydrostatic pressure

Lightweight and straightforward to install

High capacity flow; four times the capacity of aggregate or sand

Compressive strength of 15,000 psf

Compliments waterproofing system by removing water

Works with Polyguard Totalflow ™
Polyguard Totalflow™
For high-volume applications, Totalflow™ is a high-capacity sheet molded perimeter drainage system constructed with a formed polymeric core designed to move water collected from sheet drains to an outlet drain. Benefits and features of the Totalflow ™ include:

Relieves hydrostatic pressure in retaining walls and foundations

Fast and straightforward to install, it eliminates the select backfill requirements

A high profile allows it to accept higher water flow

Easy transitions between sheet drain and high profile
Polyguard System Accessories
Polyguard Architectural Products gives builders and architects a single source for obtaining a high-performing, integrated building envelope system, including a comprehensive line of superior accessory products. System accessories include adhesives, detailing products, and detailing tapes. They are compatible with the most common structural construction materials and will significantly enhance the design of an effective building envelope system.
How to Plan an Integrated Building Envelope System with Polyguard Products
Polyguard Architectural Products offer a single-source solution to planning an integrated building envelope system that contributes toward sustainability and helps ensure that the building keeps its occupants secure, safe, and comfortable.
Polyguard products achieves these goals with our tested, continuous building envelope components, including waterproofing, air barrier, drainage, and accessory systems.
Contact our Polyguard architectural professionals for more on planning an integrated building envelope system.