Vapor barriers and waterproofing membranes limit, if not stop, water infiltration into a structure, which protects its integrity and the occupant's health. However, vapor barriers and waterproofing membranes serve very different purposes.
Vapor Barrier Vs. Waterproofing
Waterproofing barriers resist hydrostatic pressures and protect against bulk water intrusion above and below ground, stopping water leakage into a building.
Vapor barriers stop moisture infiltration and accumulation into the building envelope by diffusion. Vapor barriers also control condensation.
Vapor barriers prevent moisture from entering a substrate in conditions of about 75 percent relative humidity. However, vapor barriers do not offer the same waterproofing capabilities as waterproofing membranes in most weather conditions. Therefore, a vapor barrier alone will not provide enough protection from moisture infiltration, particularly in high-humidity regions.
Fortunately, Polyguard's below-grade waterproofing product line is an ideal solution for adequate below-grade moisture and contaminant protection with our combination of waterproofing membranes and vapor barrier or retarders.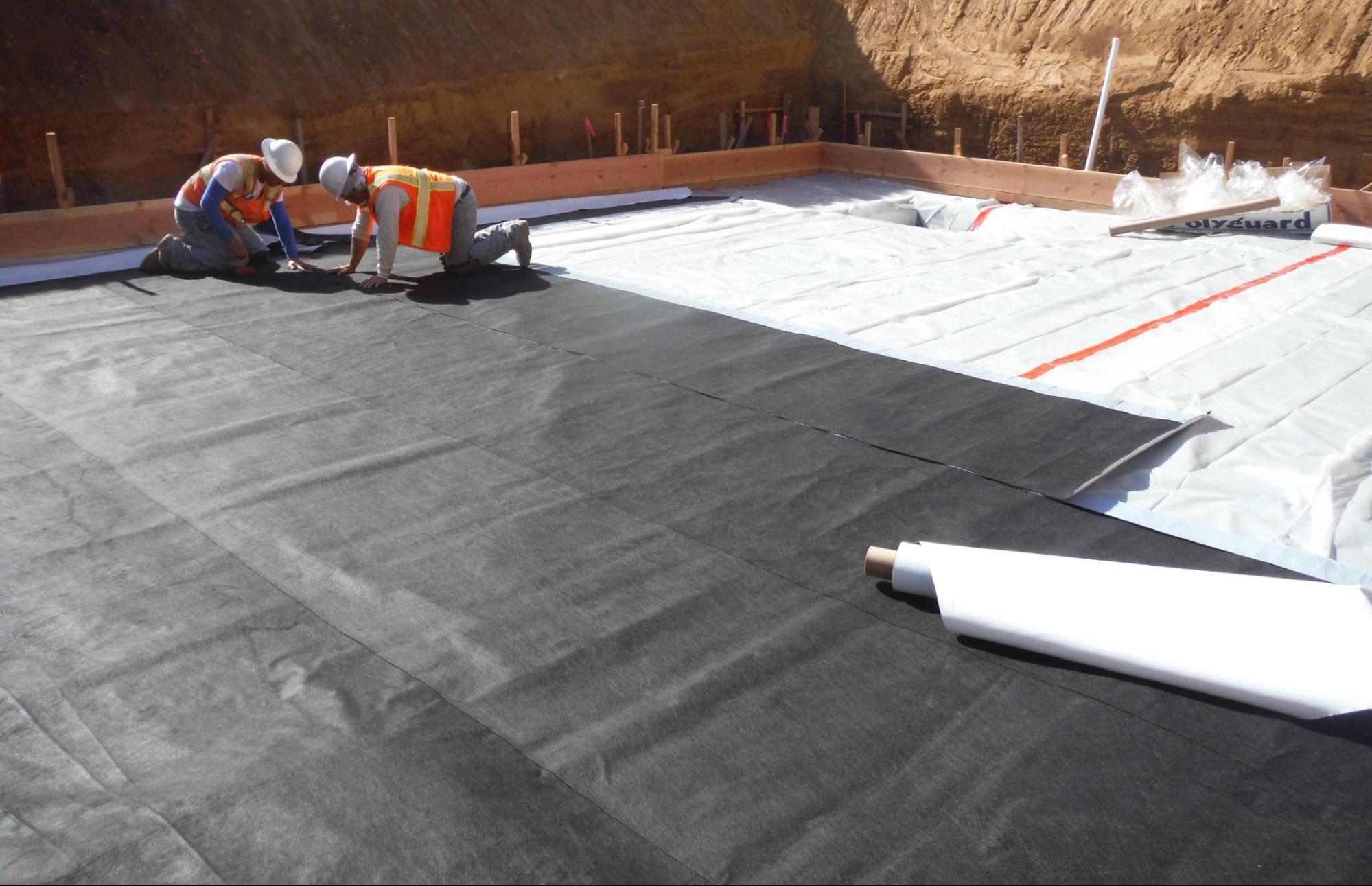 What Are Vapor Barriers?
Vapor barriers stop vapor diffusion through building products. Simply put, moisture moves from an area of greater concentration towards a lesser concentration of moisture, or a hotter to a colder space within a building product like gypsum and insulation.
The desiccant method of ASTM E 96 determines a material's ability to restrict the amount of moisture that passes through it by assigning a class of barrier or retarder. Vapor barriers prevent vapor diffusion, while vapor retarders slow vapor diffusion:
Class I vapor barrier – 0.1 perm or less
Class II vapor retarder – 0.1 < perm <1.0 perm
Class III vapor retarder – 1.0 < perm <10 per
Applications of Vapor Barriers
Building areas or structural systems susceptible to direct contact with water generally require a vapor barrier. However, Polyguard recommends you consult your local building inspection offices for recommendations for using vapor barriers.
Traditionally, builders placed vapor barriers (typically polyethylene) on the interior wall and ceiling insulation to stop vapor division into the wall assemblies during the winter months to keep the warm air inside a building from moving towards the cooler air within the wall system.
Above-Grade Vapor Barriers
Most building experts recommend installing vapor barriers on the side of the wall experiencing the more hot and moist conditions (the inner surface in cold climates and the outer surface in hot, humid climates). Examples of application of vapor barriers include:

Placing a vapor barrier in areas with high humidity, like bathrooms, greenhouses, and rooms with spas or swimming pools, will help control condensation.
Placing polyethylene plastic vapor barriers between the insulation and interior wallboard in very cold climates will help manage moisture accumulation.
An exterior vapor barrier in hot and humid climates can help keep outside humidity from penetrating walls.
Below-Grade Vapor Barriers
Below-grade walls and floor slabs transmit ground moisture through concrete slabs and walls. Therefore, to prevent moisture infiltration, place a vapor barrier against the concrete surface before installing wood framing.
Placing a polyethylene moisture barrier over the exposed earth in crawl spaces will help control moisture infiltration.
Structural Code Requirements for Vapor Barriers
The requirement for a vapor barrier on the interior or exterior of a building depends on the climate zone. The 2021 International Residential Code R702.7 and the 2021 International Building Code 1404.3 mandate the use of Class I or II vapor barriers and retarders on the inside of framed walls in climate zones (5,6,7,8 and Marine 4). Southern, warmer climate zones (1, 2, and 3) do not need vapor barriers and retarders.
Types of Vapor Barriers
Manufacturers typically make vapor barriers out of water-resistant materials, including:
Sheet-type roofing membranes
Polyethylene plastic sheets
Aluminum sheets or paper-backed aluminum
Exterior-grade plywood
Extruded polystyrene or foil-faced foam board insulation
What is a Waterproofing Membrane?
Waterproofing barriers prevent water intrusion into the structural elements of a building or its finished spaces by resisting hydrostatic pressure exerted by liquid state moisture.
Waterproofing membranes consist of plastic, rubber, or coated fabric materials that stop water entry into foundations, walls, roofs, basements, buildings, and structures when properly installed. Waterproofing differs from dampproofing, in that dampproofing resists moisture flow in a gaseous state (water vapor).
Application of waterproofing membranes
Waterproofing membranes are essential to protecting a building's structural integrity and the health of its occupants. Common application areas include:
Foundation
Flat Roofs (including Green Roofs)
Plant rooms
Balconies
Decks
Retaining walls
Garden beds and planter boxes
Concrete water tanks
Tanking
Containment and bunded areas
Waterproof Membrane Location
Depending on the building and need, you can apply the waterproofing membrane to the interior (negative), the exterior (positive), or inaccessible places (blindside). The optimal waterproofing solution for new construction is to apply positive side waterproofing and limit the negative side waterproofing to repairs and touch-ups.
Positive Side
Positive waterproofing membranes apply to the exterior face of a structure to above and below-grade surfaces prone to wetness from weather conditions and the surrounding soil. Positive waterproofing prevents moisture infiltration and protects structural components, including steel and concrete. It can also protect the surface from corrosive chemicals and freeze-thaw cycles.
Accessing the positive side waterproofing after construction requires the costly removal of the topping landscape.
Negative Side
Builders apply negative side waterproofing to the interior face of cement structures (dry face) to keep water from entering an occupied space. Builders primarily use negative side waterproofing for water holding purposes (to stop water from entering the area) and stand up to hydrostatic pressure. Negative side membranes do not protect against the impacts of the freeze-thaw cycle. Some advantages of negative side waterproofing include:
It allows for accessibility after installation for repairs or updates, which is a significant advantage.
It permits moisture into the substrate, which encourages active curing of the concrete substrate. Unfortunately, this also contributes to the corrosion of the concrete and steel reinforcements from chemicals and the groundwater.
Blind Side
Blindside waterproofing involves installing a drainage course and membrane before building the vertical concrete walls. The blindside waterproofing goes outside the foundation wall (positive-side). Consequently, the concrete foundation wall strengthens the waterproof membrane when contaminant vapors or groundwater apply pressure.
The complex process of applying blindside waterproofing involves installing over soil retention systems made of sheet pilings, lagging beams, or compacted soil.
Above vs. Below-Grade
Above and below-grade applications require different types of waterproofing.
Above-Grade Waterproofing
Above-grade waterproofing systems, including roofs, balconies, parking decks, and vertical surfaces such as walls, must meet several requirements:
Permeable: Above-ground membranes should stop liquid from seeping into the space but allow water vapor within the wall to escape.
UV-Resistant: Above-ground waterproofing requires UV-resistance to avoid damage from light exposure, which is particularly important for roof systems.
Abrasion and Corrosion resistance: The constant exposure to weather, foot, and vehicle traffic require abrasion and corrosion resistant above-ground waterproofing.
Below-Grade Waterproofing
Effective and necessary below-grade waterproofing must resist hydrostatic pressure and chemical erosion, perform in high groundwater, and offer a low absorption rate, uniform thickness, and flexibility. The surrounding soil determines the material used for below-grade waterproofing.
The 2021 International Residential Code (Section R406) and the 2021 International Building Code (Section 1805) define the conditions that require waterproofing or damp proofing foundations.
Waterproofing Membrane Types
Manufacturers produce commercial waterproofing membranes in many sizes, thicknesses, and types. However, to ensure the success of the waterproofing membrane, you must consider several factors before choosing the type of membrane:
Compatibility: Check the compatibility of the waterproofing membrane and the substrate you need to waterproof.
Environment: Excess moisture in the environment can impact the effectiveness of moisture-sensitive waterproofing membranes during the application phase.Builders generally use pre-formed sheets or liquid-applied waterproofing membranes.
Sheet-based membranes, commonly made with bituminous materials, come in the form of rolls that a builder can unroll and lay on a firm surface:
Self-adhesive modified bituminous membrane
Polymer-modified bitumen membrane
Thermoplastic membrane
PVC and TPO membrane
Polypropylene membrane
Liquid applied waterproofing membranes come in a liquid form that builders can spray or brush onto the surface. Spraying a liquid creates a monolithic membrane with no laps, seams, or welds:
EPDM membrane
Bituminous membrane
Polyurethane membrane
Polyguard's Below-Grade Waterproofing/Vapor Barrier and Retarder Products
Polyguard's below-grade waterproofing product line includes membranes for post-applied and pre-applied applications and fluid and sheet-applied products. Our waterproofing products protect against water and contaminant entry due to cracks in the concrete slabs and foundation walls. It's important to know that the design of our products stands up to the most severe conditions, with 30 years of proven use on residential, commercial, and institutional buildings.
Polyguard Below-Grade Sheet Waterproofing Membranes
UNDERSEAL® BLINDSIDE™ MEMBRANE
Flexible, 73 mil, puncture-resistant Underseal® Blindside™ Membrane waterproofing membrane is installed on structures where soil retention does not permit entry to the positive side (post applied).
UNDERSEAL® UNDERSLAB MEMBRANE
Strong, 85-mil Underseal® Underslab Membrane waterproofing membrane/vapor barrier applies horizontally over prepared sub-bases, stopping vapor and water transmission through concrete slabs.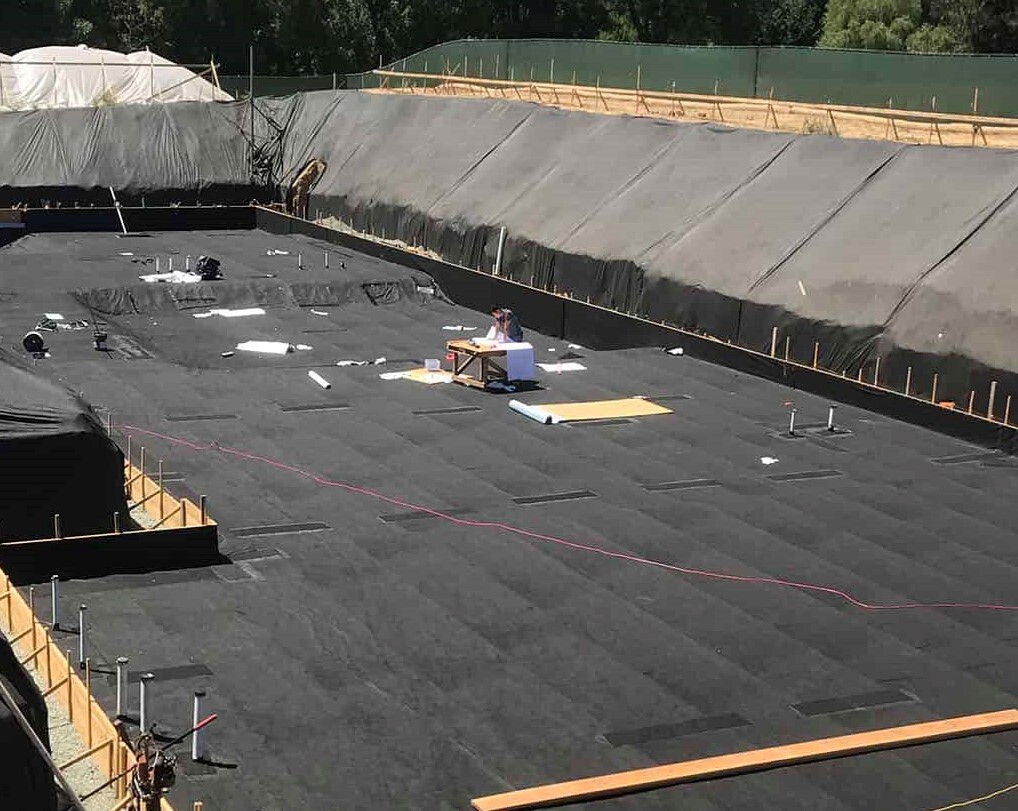 UNDERSEAL 650 MEMBRANE ® MEMBRANE
Robust and flexible 60-mil 650 Sheet self-adhesive vapor retarder/waterproofing membrane prevents vapor and water transmissions through poured concrete foundation walls, CMU, wood, and insulated concrete forms (ICF).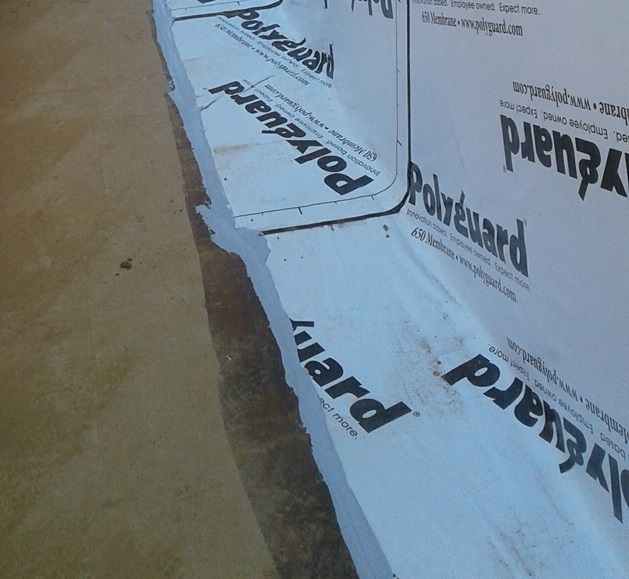 UNDERSEAL ® PRM™ Puncture Resistant MEMBRANE
High-strength, self-healing, 65-mil Underseal® PRM™ is a post-concrete pour sheet waterproofing membrane/vapor retarder with a cross-laminated polyethylene, double-thick backing laminated to a thick layer of rubberized asphalt compound.
Polyguard Chemical Resistant Membranes
UNDERSEAL® CRM™
For chemical-resistant walls, 85-mil Underseal® CRM™ offers an excellent solution to resisting high concentrations of water, soil, and vapor contaminants.
ULTRA CRM™
Post-applied, 60-mil Ultra CRM™ is a strong sheet membrane with multi-component, chemical-resistant backing laminated to a thick layer of waterproofing adhesive compound.
FLUID-APPLIED DAMPPROOFING PRO 1000
PRO 1000's design permits positive-side hydrostatic pressure installation over below-grade precast concrete, precast, poured concrete, and concrete masonry walls, retarding moisture intrusion by blocking the concrete's capillaries.
FLUID-APPLIED Below-Grade WATERPROOFING
STRETCH FLEX FLUID-APPLIED WATERPROOFING
Polyguard used our patented thermoplastic technology to design our fluid-applied single component Stretch Flex. It allows for simple application to below-grade exterior waterproofing of concrete, CMU foundations, precast concrete, or other surfaces on the hydro-positive side.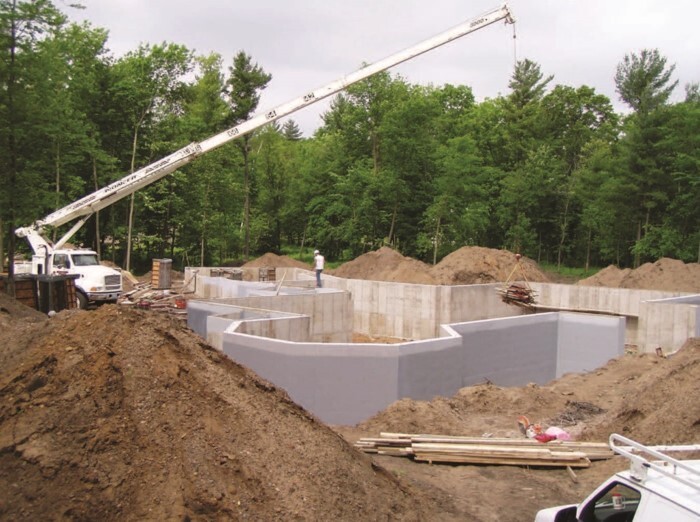 Why Choose Polyguard for Waterproofing Membranes and Vapor Barriers?
Applying high-quality below-grade waterproofing will stop the infiltration of bulk water. At the same time, vapor barriers can prevent diffusion and control condensation – vital to protecting the integrity and health of a building or home. At Polyguard, we offer a superior solution to below-grade waterproofing and vapor barrier/retarders, to protect against water and contaminant entry due to cracks in the concrete slabs and foundation walls.
Contact our moisture control and management experts today at 214.515.5000 for more on vapor barrier vs. waterproofing membranes.