Moisture from groundwater regularly attacks building foundations due to their constant contact with the earth, which can be particularly problematic in areas of poor drainage or high water tables. Damp proofing and waterproofing below-grade walls can effectively stop water infiltration that leads to structurally damaging and unhealthy mold. Additional methods to prevent water from infiltrating a building envelope include drainage and waterstops around the joints.
Waterproofing resists hydrostatic pressure. Hydrostatic pressure happens when gravity pushes stagnant-dense (static) water (hydro) against below-grade walls constructed partially or completely below the water table or on a hill, causing liquid water to infiltrate through cracks and joints and permeate the solid concrete through capillary action (wicking). Hydro pressure intensifies with depth and soil wetness, like near ponds or creeks.
Damp proofing only stops soil moisture from coming through the wall. It does not protect against water under pressure. Therefore, damp proofings work best in relatively dry locations.
The location and level of the structure's foundation, drainage, rainfall, soil conditions, and construction methods can all determine the need for damp proofing or waterproofing.
The 2021 International Residential Code (IRC R406) specifies the conditions requiring damp proofing or waterproofing:
The IRC mandates damp proofing from the top of the footing to the finished grade for any masonry or concrete foundation walls that retain earth and enclose below-grade interior spaces and floors.
The IRC requires waterproofing in areas with a high water table or severe soil-water conditions.
The American Concrete Institute (ACI 515.1) defines waterproofing as treating a surface or structure to resist water infiltration under hydrostatic pressure. In contrast, they define damp proofing as treating a structure or surface to resist water infiltration in the absence of hydrostatic pressure.
How to Use Damp Proofing
In areas without hydrostatic pressures, dampproofing can provide adequate and long-lasting moisture protection for below-grade walls, with proper surface drainage and correctly installed foundation drains at the footings and lawn grading.
Builders typically spray or hand-apply a coating of dampproofing to the outside of the wall. Dampproofing creates a barrier that prevents water in the soil from wicking (seeping) into the foundation. Dampproofing coating typically cures to a thickness of fewer than ten mils, to retard moisture infiltration by blocking the capillaries of concrete, which slows water penetration.
Adding damp proofing to the concrete mix can produce water-resistant concrete.
Problems with Damp Proofing
Damp proofing may not seal larger cracks or holes left by form ties
Rough or careless backfill can damage thin damp proofing
Damp proofing won't stop water inflation due to hydrostatic pressure
Damp proofing can become brittle at low temperatures
How to Use Waterproofing
Waterproofing provides a higher quality seal against water infiltrating foundation walls than damp proofing, to protect a structure's integrity and improve the comfort and safety of the occupants. Areas with significant rain and high water tables require 40 mils+ thick waterproofing to protect against hydrostatic pressure, which will force water through the porous concrete.
Below-grade waterproofing typically involves applying coatings and prefabricated sheet membrane systems or fluid-applied membrane systems to the foundation walls as positive, blind, or negative side waterproofing.
Positive side waterproofing installs post-construction and requires access to the outside face of the building.
Blindside installs before pouring the foundation, on the outer face of the wall or building foundation.
Negative side waterproofing installs post-construction on the inside of the building.
In addition to liquid water, waterproofing stops soil moisture from infiltrating the building envelope, can span cracks in the treated concrete, retain elasticity and flexibility at low temperature, and tremendously lessen light-cycle costs of the entire structure. A high-performing moisture barrier prevents migrations through the concrete of methane, radon, or other toxins, particularly vital if the building sits on a site with underlying contamination.
Polyguard's High-Quality Damp Proofing and Waterproofing Products
PolyWall Building Solutions (a division of Polyguard) provides high-performing damp proofing and waterproofing products to stop moisture infiltration into below-grade walls, and protect a building's long-term integrity and indoor environmental quality.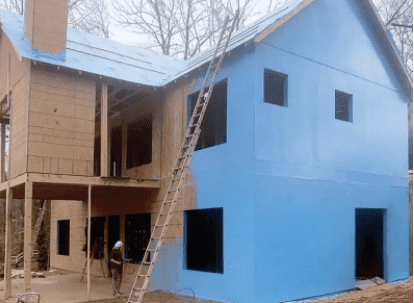 PolyWall damp proofing and waterproofing products include Blue Barrier Liquid Wrap 2300, Poly Wall Blue Barrier Joint Filler 2200, Poly Wall Aluma Flash and Aluma Flash Plus, Damp proofing rods, and Underseal® Underslab Membrane.
Blue Barrier Liquid Wrap 2300
Spray-applied Blue Barrier Liquid Wrap 2300 is a fully adhered, permeable, moisture and air building envelope protection membrane. It simply applies with an approved airless sprayer or power rolled, as a thin mil., seamless substrate coating to surfaces like OSB, plywood, or exterior gypsum, bonding and curing in wet conditions. Permeable, low VOC, and UV-resistant Blue Barrier Liquid Wrap 2300 replaces housewrap.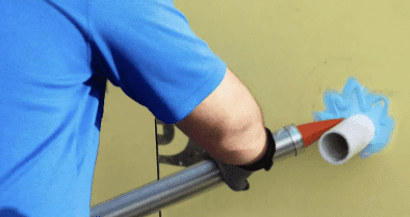 Poly Wall® Blue Barrier™ Joint Filler 2200
Before using a liquid membrane, you must first fill holes, cracks, and seams with a product like Poly Wall Blue Barrier Joint Filler 2200, developed by Silyl Terminated Polyether (STPE) Technology.
Easy to apply with a sausage gun, Poly Wall® Blue Barrier™ Joint Filler 2200 provides a structural adhesive and detail sealant to fill voids and seams and bond dissimilar materials. You can use Joint Filler 2200 to prep surfaces before applying other Poly Wall® Blue Barrier™ products for Door and Window Flashings and Air Barriers.
We offer Joint Filler 2200 in 10 oz. caulking tubes or 20 oz. sausages.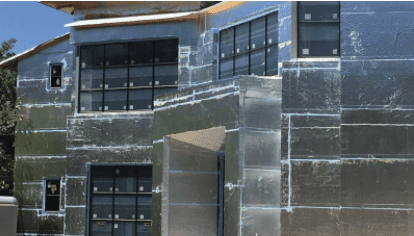 Aluma Flash™ Plus
Ultraviolet- and chemical-resistant Aluma Flash™ Plus powerfully adheres when used following the manufacturer's installation and performance requirements. Aluma Flash™ Plus is a 40-mil rubberized asphalt waterproofing membrane (4 times as thick as a typical dampproofing membrane), laminated to two layers of high-strength polyethylene film and topped with a protective layer of aluminum — making it a strong waterproofing product. Additionally, the aluminum surface of durable Aluma Flash™ Plus works well with higher exposure buildings because it reflects heat in order to reduce energy costs.
You can quickly and easily apply Aluma Flash™ Plus to a primed wall with a caulk or sausage gun, trowel, utility knife, and a roller.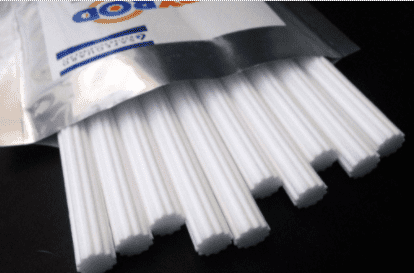 Damp Proofing Rods
Damp proofing rods (dry rods), often made of polymer silane/siloxane, stop damp moisture from wicking up through a masonry unit. The rods distribute a water-repellent material along the mortar, then cures to form a damp proof course, drying out the wall.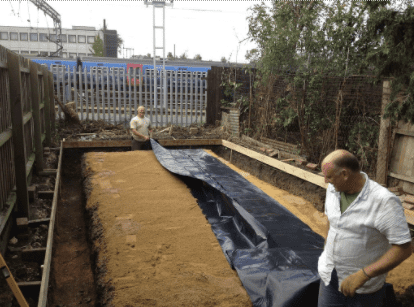 UNDERSEAL® UNDERSLAB MEMBRANE
Durable, 85-mil Underseal® Underslab Membrane waterproofing membrane/vapor barrier installs horizontally over prepared sub-bases such as mud slab, compacted soil, # 57 stone or carton forms, to prevent water and vapor transmission (rising damp) through concrete slabs. During the concrete pour, the concrete intermingles with the fibers of the nonwoven geotextile to form a robust mechanical bond with the membrane that will protect the indoor air quality and floor finishes by acting as a barrier to radon gas and methane.
You can also install Underseal® Underslab Membrane vertically on removable formwork for waterproof protection for elevator pits, grade beam, and perimeter installations, or against adjoining buildings to provide waterproofing protection.
UNDERSEAL® BLINDSIDE™ MEMBRANE
Flexible and puncture-resistant, 73 mil Underseal® Blindside™ Membrane waterproofing membrane installs vertically before pouring the concrete against it.
Builders can use it in areas where the soil retention does not permit access to the positive side. As the concrete cures, it forms a mechanical bond with the membrane. Additionally, the cold-flow tendencies of the membrane produce an outside adhesive layer that contributes to a tight seal and excellent protection against moisture intrusion, along with radon gas and methane to the concrete.
Builders can install the Underseal Blindside™ Membrane horizontally over prepared sub-base such as carton forms, mud slabs, fine crushed beds/pea gravel, or Polyguard approved drainboard.
UNDERSEAL 650 MEMBRANE ® PRM™ MEMBRANE
Ductile and strong, UNDERSEAL 650 MEMBRANE ® PRM™ MEMBRANE 60-mil 650 Sheet self-adhesive waterproofing membrane/vapor retarder prevents vapor and water transmissions through poured concrete foundation walls, concrete masonry (CMU) structures, wood, and insulated concrete forms (ICF). For crucial waterproofing projects, the design of 650 Membranes allows for use in vertical/protected wall applications and horizontal/split slab applications.
We offer Polyguard 650 Membrane in a wide membrane (up to 48- inches), allowing fast and straightforward application to continuous flat surfaces along with a narrow width for construction joints, trimming corners, and other applications.
How to Choose the Best Damp Proofing Material
The best damp proofing materials provide durability, do not require expensive spray equipment, install fast and simply in any weather, and do not emit dangerous VOCs – all features offered by Poly Wall waterproofing systems. In addition, our systems will stop moisture infiltration into your foundation walls and protect your building's integrity and indoor air quality.
Don't hesitate to contact the experts at Polyguard today to request samples or obtain advice on the best damp proof coating or waterproofing products for your particular environment.