Investing in a new deck for your house, which can cost between $5,500-10,000+, will provide a beautiful outdoor living space. In addition, a properly built and well-maintained deck will also increase your home's resale value. You can expect to recoup a good percentage of the building costs of a new wood deck or composite deck when you sell your home.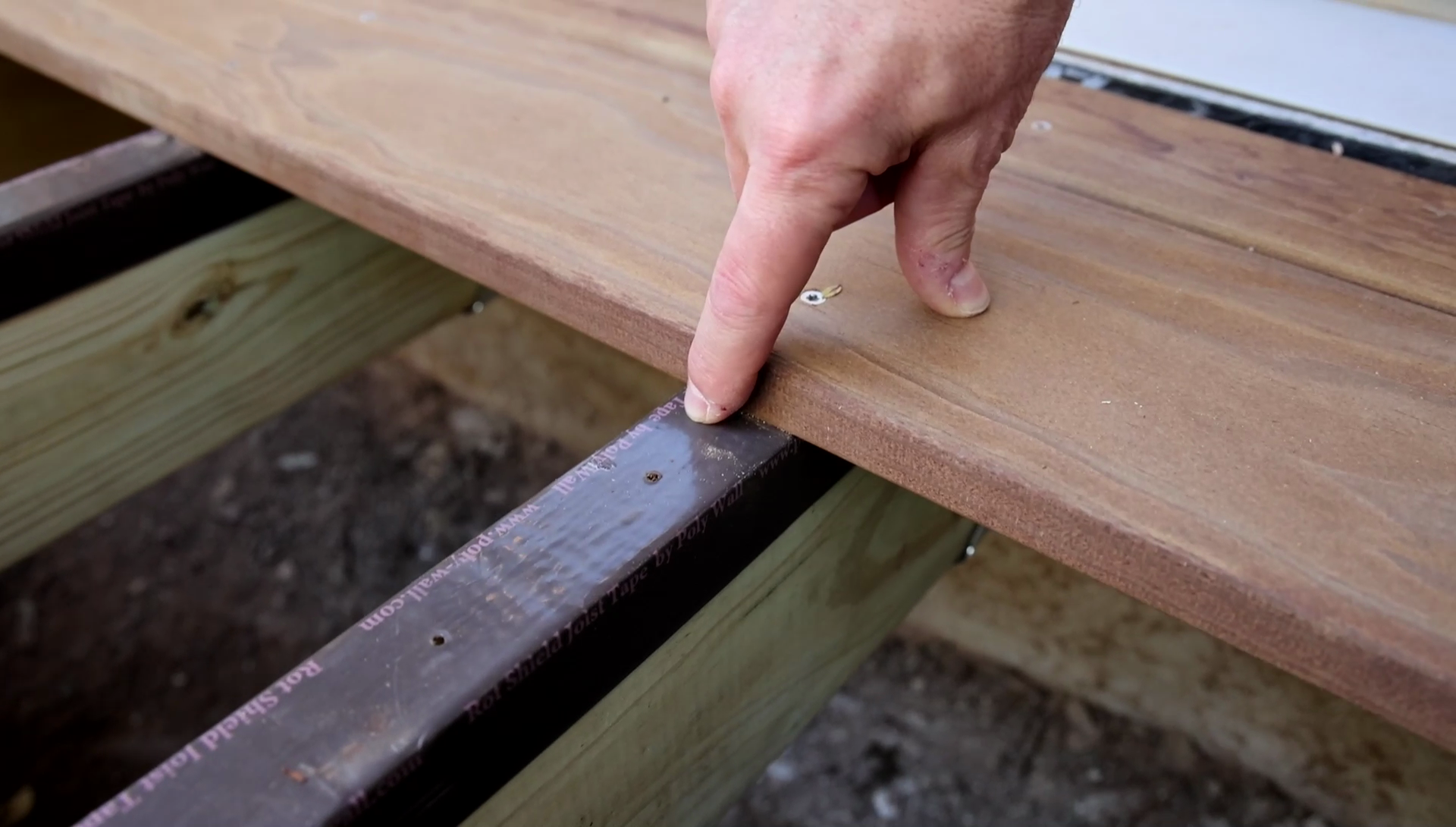 Notably, choosing the best deck joist tape, like PolyWall's (a division of Polyguard Products Inc.) Rot Shield Joist Tape will significantly improve your deck's durability, to ensure that your deck will last the lifetime of your home. PolyWall's Rot Shield Joist Tape includes a rubberized-asphalt 'sticky' compound with high-density polyethylene (HDPE) plastic film face that protects the long-term integrity of your deck by stopping water damage and preventing corrosion. In addition, the brown-colored Rot Shield Joist Tape camouflages beneath deck boards.
Why You Need Joist Tape
Typically, builders cold apply self-adhering deck joist tape as a flashing on deck joists and ledger boards to create a water barrier between non-corrosive galvanized metal hangers and treated lumber, to prevent vulnerable joists from water damage.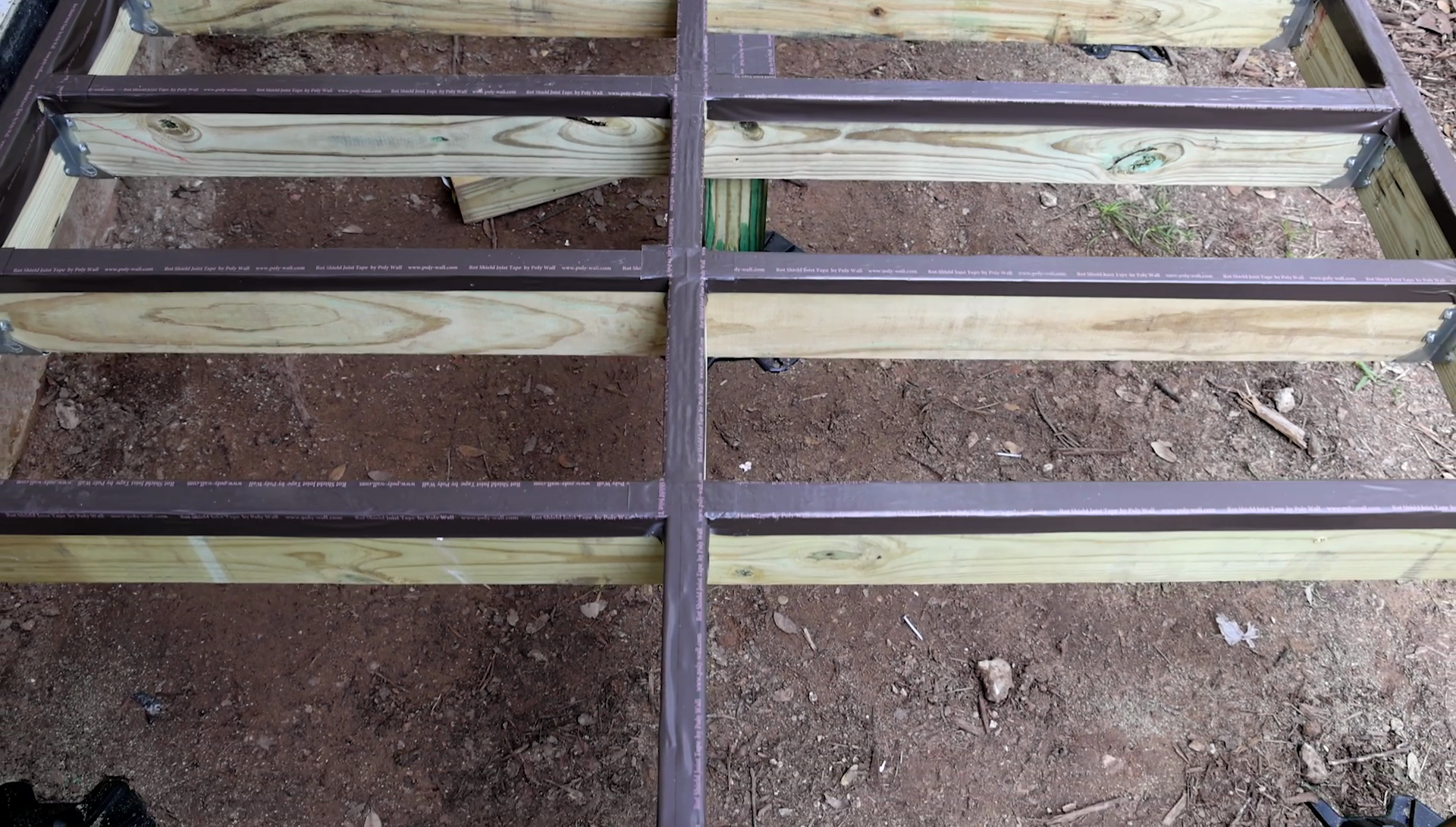 Without the waterproof barrier created by deck joist tape, water and debris will accumulate in the spaces between the deck boards and joists, which can break down the wood joists (treated or untreated) and cause them to rot. In addition, deck joist tape placed between metal hangers and treated wood stops leaching copper (used as a preservative) from treated wood from corroding the joist hinges that hold together the deck.
A high-quality deck joist tape or joist flashing tape, like PolyWall's Rot Shield Joist Tape, will protect the top of the deck joist, ledger board, and rim joist against rot and wood decay. In addition, the flashing tape stops water infiltration and helps seal around screw holes, metal fasteners, and hidden deck fasteners, to prevent cracks and corrosion of the metal surface.
What to Consider when Selecting the Best Deck Joist Tape
When shopping for the best deck joist tape, you should consider the material, thickness, durability, coverage, available widths, ease of installation, and costs.
Durability and Thickness
A thicker deck joist tape offers more strength and durability than a thinner tape. However, builders may find it difficult to install the thick tape.
Coverage
Typically, deck joist tape comes in rolls of 50-feet to 75-feet. To determine the number of rolls needed to cover your deck, calculate the total length of the joist in the framing.
Available Widths
The deck joist tape should accommodate the width of the joist, and allow for an overlap that creates a cap over the joist's top. It is important to note that double joints require wider width tape to prevent water from infiltrating the seam between double joints, which can lead to rot.
Ease of Installation
Easy to apply, self-adhesive tapes should lie directly on the boards with little overlap, minimizing trimming.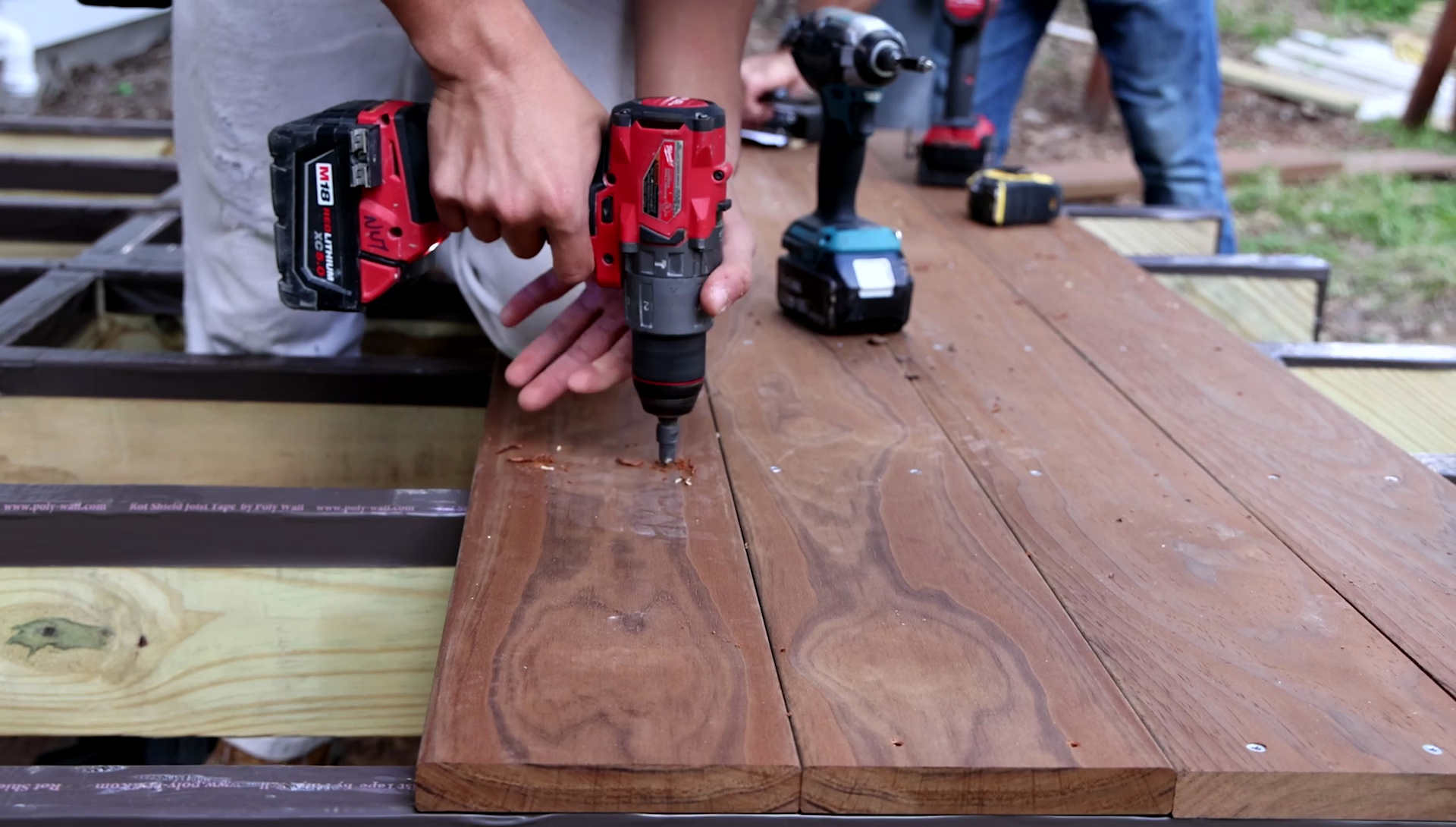 Cost
Rubberized-asphalt-based deck joist tape performs equally as well by costing nearly 50 percent less than butyl-based tape.
The Best Deck Joist Tape
PolyWall Rot Shield Joist Tape
PolyWall's Rot Shield Joist Tape protects the integrity and value of your new deck by providing a durable water and debris barrier between the ledger board, joists, and deck boards, which stops water damage and rot, mold, and fungus growth.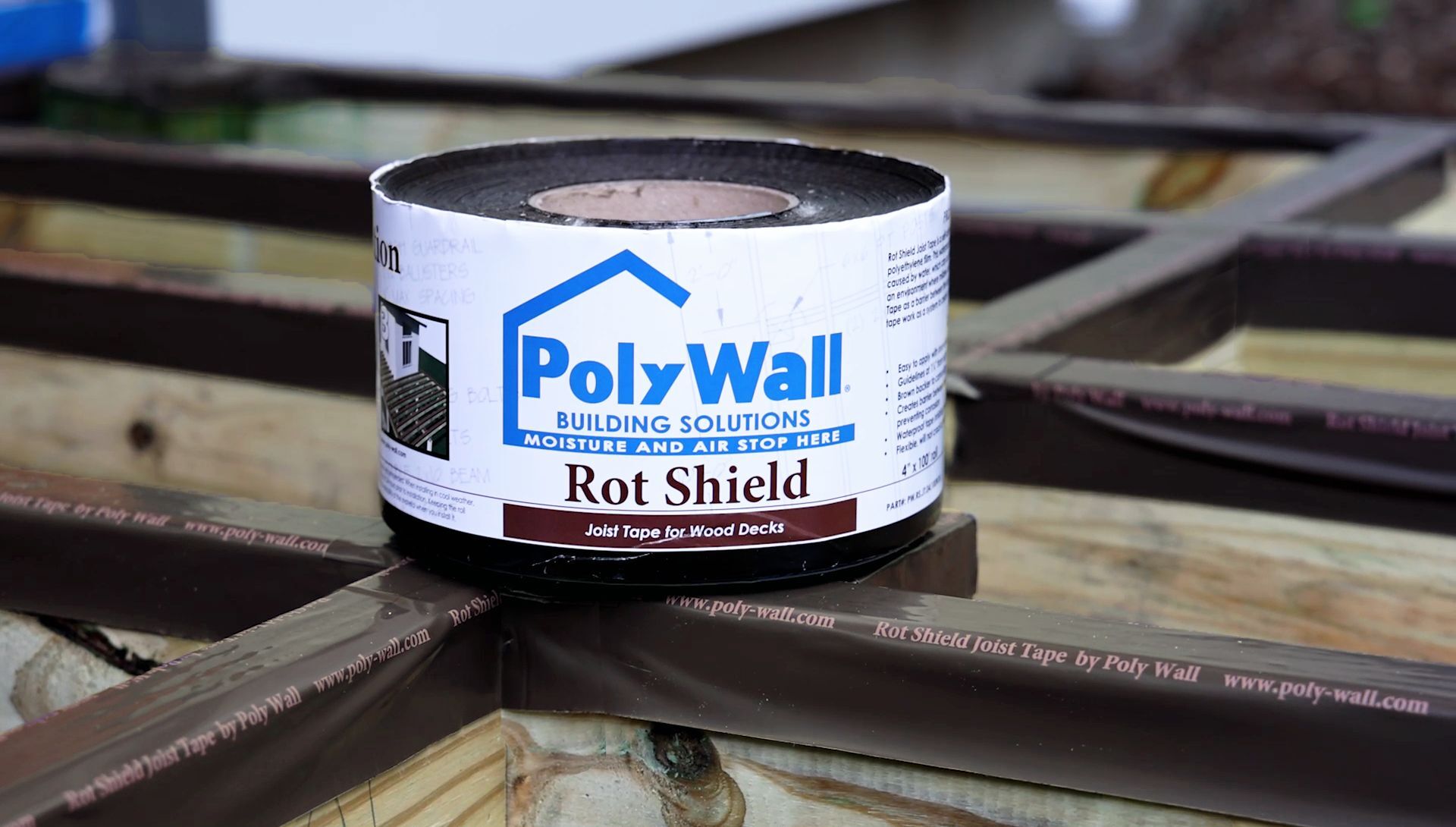 Furthermore, Rot Shield Joist Tape blocks contact between galvanized metal fasteners and treated wood to prevent corrosion. Easy-to-apply Rot Shield Joist Tape improves deck longevity, helping to maintain its value.
Simple to Apply
Rot Shield Joist Tape offers builders an easy, single-step method to protect deck joists from water damage.
Rot Shield Joist Tape comes in wide, 4-inch by 100-foot rolls with an easy-to-apply split release liner. The tape provides guidelines at 1.25-inches from the edge on each side to ensure a smooth, clean installation and a high-quality appearance with fewer adjustments and wrinkles.
Moreover, builders can apply the tape in cold weather and without priming.
Rot Shield Joist Tape Helps Maintain Your Deck's Integrity
Properly installed Rot Shield Joist Tape will improve your deck's durability and enhance its longevity by preventing water damage and stopping corrosion. Furthermore, UV stable (up to 120 days) joist tape will minimize your need for initial callbacks and repairs.
For more tips on making your deck last a lifetime and why PolyWall's Rot Shield Joist Tape is the best deck joist tape, contact Polyguard professionals today.