The damp, unventilated area under a deck makes deck joints extremely susceptible to fungal rot, which can lead to costly repairs and potential failure. The fungi hyphae spread through the wood, disintegrating the cell walls and lessening their strength.
To stop deck joist rot and preserve your deck's value and integrity, you must eliminate the wood-rotting fungi by removing one of the elements it needs to thrive. These elements include:
Moisture
Substrate (food)
Oxygen
Source of a fungi infection
Suitable temperature
How to Protect Your Deck Joists From Rot – 10 Tips
Removing moisture is the most efficient and effective way to stop deck joist rot, and ensure that your deck joists last for years. Fungi need moisture levels above 18 percent to grow. Therefore, keeping the joist's moisture level below 18 percent should prevent rot. Unfortunately, there is no practical solution to controlling oxygen, temperature, or the fungi's infection source. In addition, eliminating the food source (wood) requires using an alternative joist material or treating the wood.
How can you protect deck joists from rot? PolyWall offers ten tips for minimizing the moisture that can rot your deck joists.
1. Apply a Quality Deck Joist Tape
A high-quality deck joist tape, like PolyWall Rot Shield Joist Tape, will significantly improve your deck's durability, ensuring the deck's long-term integrity and minimizing costly repairs. Cold-applying self-adhering deck joist tape as a flashing on ledger boards and deck joists creates a durable moisture and debris barrier between the joists, deck boards, and ledger boards, enhancing the deck's durability and lowering or eliminating expensive repairs.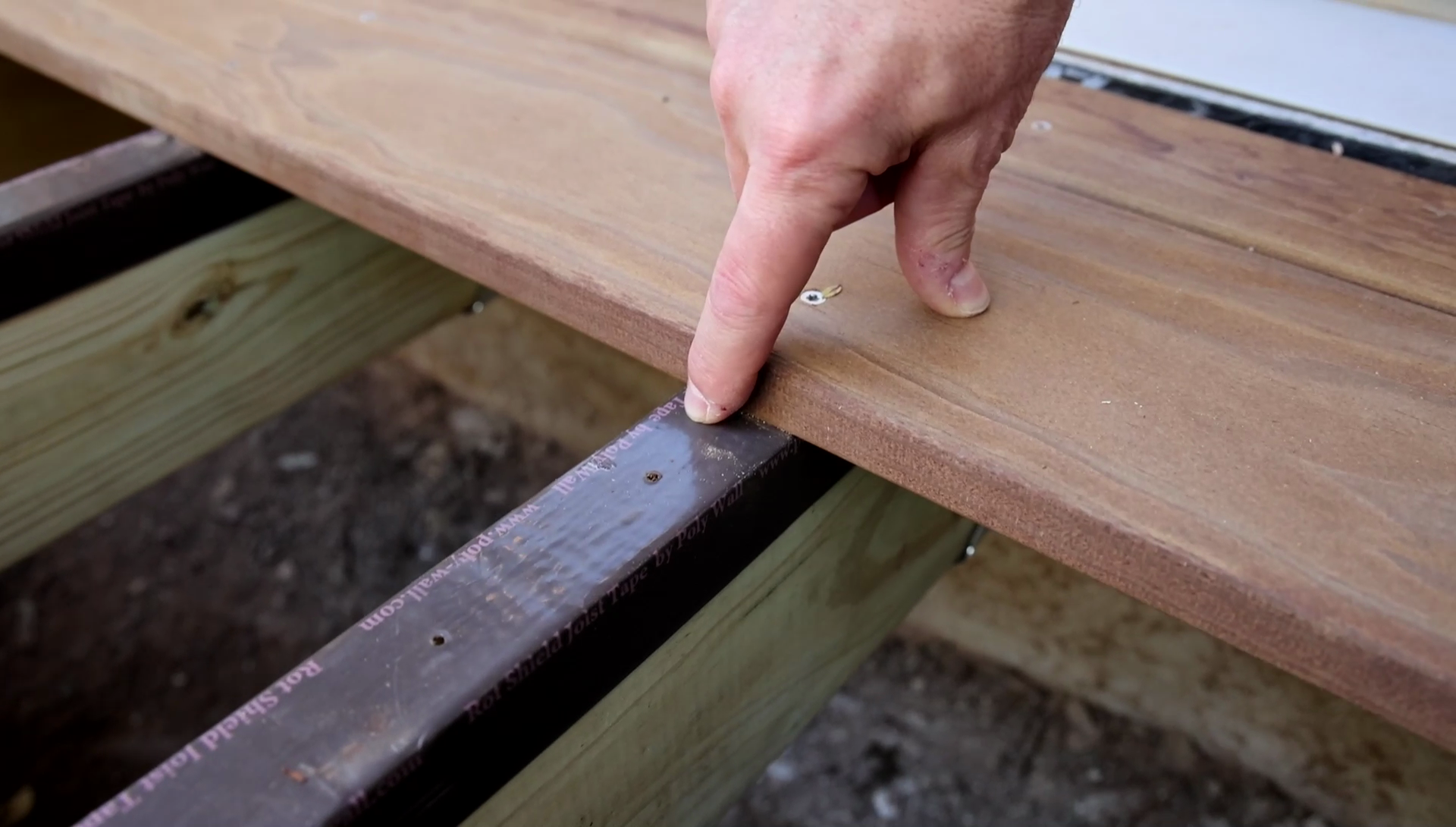 PolyWall Rot Shield Joist Tape
PolyWall Rot Shield Joist Tape contains a rubberized-asphalt 'sticky' compound with a high-density polyethylene (HDPE) plastic film face. The brown-colored Rot Shield Joist Tape camouflages below deck boards.
The Benefits of PolyWall Rot Shield Joist Tape
Rot Shield Joist Tape creates a water and debris barrier between non-corrosive galvanized metal hangers and treated lumber, to protect vulnerable wood joists (untreated and treated), ledger boards, and rim joists from moisture and potential damaging rot.
Rot Shield Joist Tape blocks contact between the galvanized metal fasteners and treated wood to prevent corrosion.
The flashing tape stops water infiltration by helping to seal around screw holes, metal fasteners, and hidden deck fasteners. It also stops cracks and corrosion of the metal surface.
Deck joist tape between metal hangers and treated wood stops leaching copper from corroding the joist hinges that hold together the deck.
Simple to Apply Rot Shield Joist Tape
Rot Shield Joist Tape provides deck builders and DIYers with a simple, one-step method to protect deck joists from water and rot damage.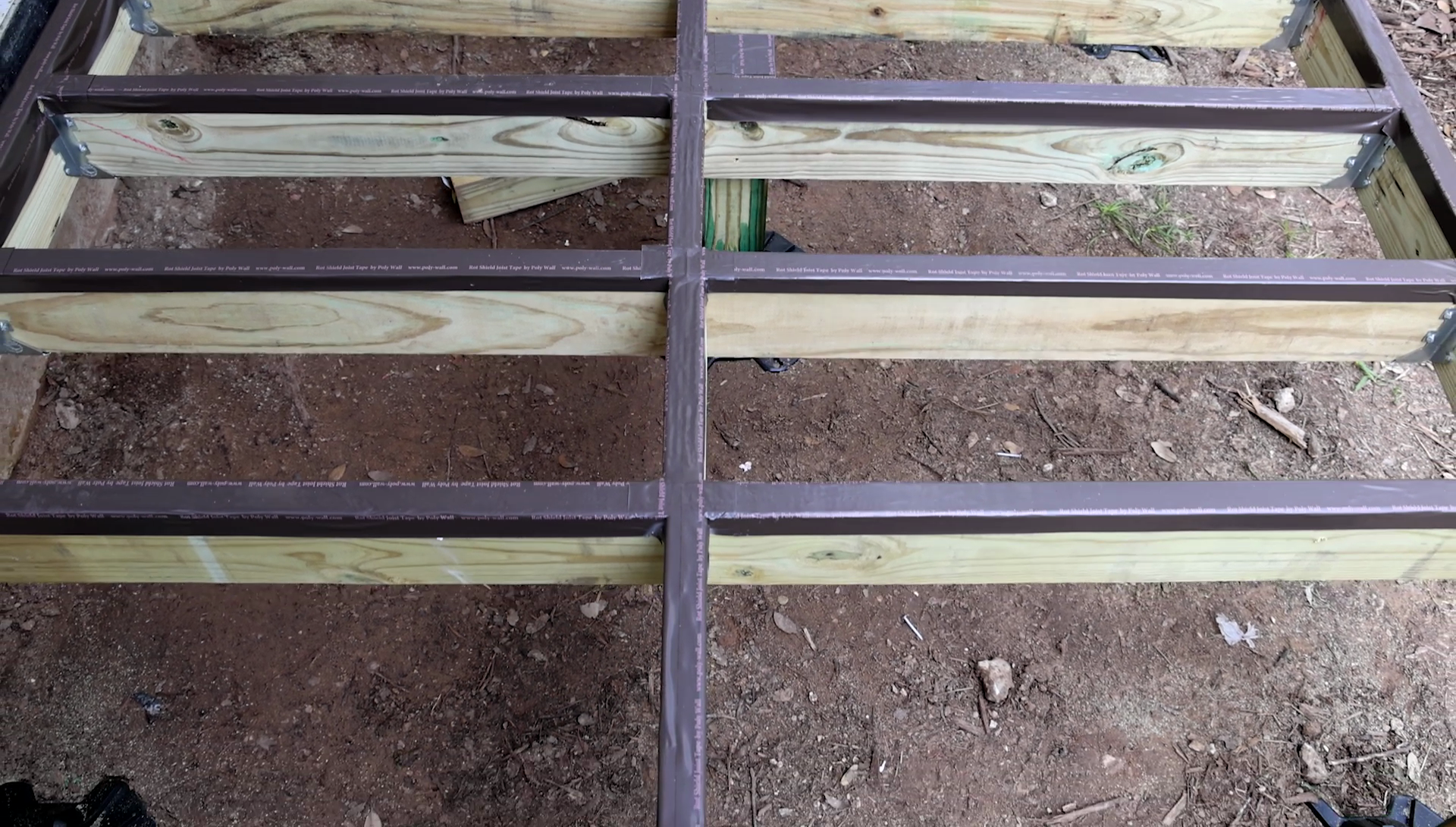 PolyWall manufactures Rot Shield Joist Tape in wide, 4-inch by 100-foot rolls with an easy-to-apply split release liner. The tape guidelines (1.25-inches from the edge on each side) create a smooth, clean installation and a high-quality appearance to minimize adjustments and wrinkles.
Furthermore, deck builders can apply the joist tape without priming and in chilly-winter weather. In addition, our UV-stable (up to 120 days) joist tape will minimize initial callbacks and repairs.
Contact Polyguard professionals for more information on how PolyWall's Rot Shield Joist Tape can protect your deck joists from rot and make your deck last a lifetime.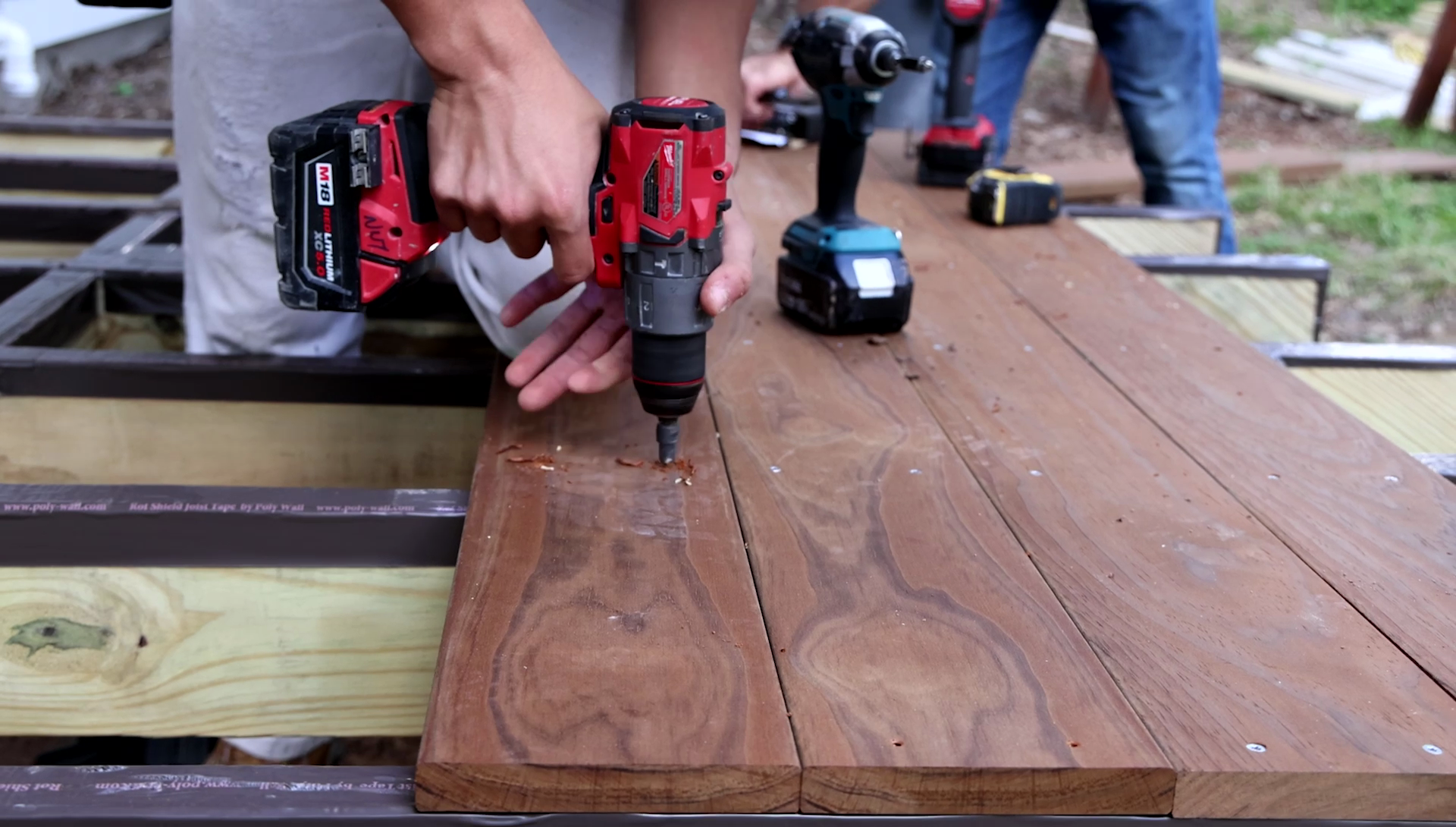 2. Treat End Cuts of Joist
Treating the untreated ends of treated wood will add years to your deck joist's lifetime.
3. Ventilation Dries Deck Joist
Providing fresh air movement by under deck venting will reduce harmful humidity and keep your joists dry. A straightforward way to allow moisture to escape under the deck is by designing your deck with vents or ¾" gaps between skirting material.
4. Slope the Deck
Adding a slight slope to the deck (⅛-inch to 1/32-inch over a foot) will allow water to drain off the decking boards and not seep down to the joists. Allowing moisture to pool on the deck will increase moisture in the wood to the level needed for fungi growth.
5. Overhang the Decking
Avoid cutting decking flush to the edge of the adjacent structure so that water will run off the edge and not soak into the joist.
6. Use Treated Wood for Joist
Wood treated against fungi and insects will last longer than untreated wood. However, choosing wood treated to a higher level – 0.40 PCF (chemical injected per cubic foot of wood – will significantly improve the wood's rot resistance.
7. Secure Deck's Edges
Securing the deck's edging will prevent it from cupping, which can lead to pools of water that will make their way to the joists.
8. Remove Organic Material from Deck
Organic material on a deck and between the boards acts as a sponge and provides an ideal breeding ground for fungi. Spacing the boards at least ¼-inch apart will allow you to remove trapped debris before it rots the joists.
9. Seal the Joist with a Water Repellent Sealer
Applying a water repellent sealer to the joist will help repel moisture and inhibit rot growth.
10. Treat Joist with Antifreeze
Adding a little water and boric acid to antifreeze and brushing or rolling it over the joists provides a cheap and effective way to stop fungi growth.
Protecting Your Deck Joist from Rot with Rot Shield Joist Tape
Properly installed, Rot Shield Joist Tape establishes a barrier between the ledger board, joists, and deck boards, to protect your deck from damage caused by water that can accumulate under the deck and create an environment where rot will thrive.
For more on how to protect your deck joist from rot and how PolyWall's Rot Shield Joist Tape will protect a deck's aesthetics, integrity, and value, minimizing expensive repairs to your deck, don't hesitate to contact us at PolyWall today.