When it comes to building science, hydrostatic pressure plays a vital role in designing and constructing any structure, particularly regarding the waterproofing systems for below-grade walls. You can simply define hydrostatic pressure as resting water exerting a load on an adjacent solid entity, like a concrete foundation wall. The consequences of hydrostatic water pressure on unprotected below-grade walls can lead to significant structural damage, unhealthy mold, and pest (carpenter ants and termites) infestation.
Fortunately, Poly Wall® Building Solutions (a division of Polyguard) offers durable, flexible, temperature, pest, and chemical-resistant foundation waterproofing products that can protect against hydrostatic pressure. Hydrostatic pressure protection will limit moisture infiltration and significantly contribute to a home's or building's long-term integrity, safety, and health.
What is Hydrostatic Pressure?
What is a straightforward hydrostatic pressure definition? Hydrostatic pressure occurs when gravity pushes stagnant-dense (static) water (hydro) against below-grade walls built partially or entirely below the water table or on a hillside. Hydrostatic pressure increases with depth and soil wetness.
What is Hydrostatic Water Pressure?
Rising groundwater creates hydrostatic pressure on foundation walls, causing moisture to infiltrate through cracks and joints and permeate solid concrete through capillary action (wicking). Capillary action refers to water's ability to flow into narrow channels between porous building products, like concrete, acting like tubes due to adhesive and cohesive forces interacting between the liquid and the surface, without the assistance of gravity.
Hydrostatic water pressure will intensify in areas with naturally high soil saturation levels, like those near ponds or creeks. Eventually, the water will accumulate to the point that it will exert hydrostatic pressure on the foundation walls.
What is Hydrostatic Pressure in Concrete?
Hydrostatic pressure on concrete will force water into any crack, gap, or imperfection in the concrete foundation, adding loads to the structural elements of the building. A basement can crack or break a concrete below-grade wall, flood a basement, and cause costly and long-term structural damage to the home or building.
Polyguard Provides Hydrostatic Pressure Solutions
Now that you understand what causes hydrostatic pressure, what are some hydrostatic pressure solutions?
A secure, strong foundation requires a waterproofing system to withstand hydrostatic pressure for the structure's lifetime, preventing moisture infiltration into the wall system by hydrostatic pressure and capillary action. Moisture infiltration into a below-grade wall will weaken the foundation, create a musty smell, and cause the walls to bow inward and crack.
The ASTM mandates that a waterproofing membrane should resist damaging chemicals and root growth, maintaining its watertight integrity for the structure's life in a constant or sporadic moist environment against continuous or intermittent hydrostatic pressure. Therefore, the building's design must include high-quality, below-grade waterproofing products, like Poly Wall Building Solutions, to avoid moisture infiltration due to hydrostatic pressure.
Underseal® Underslab Membrane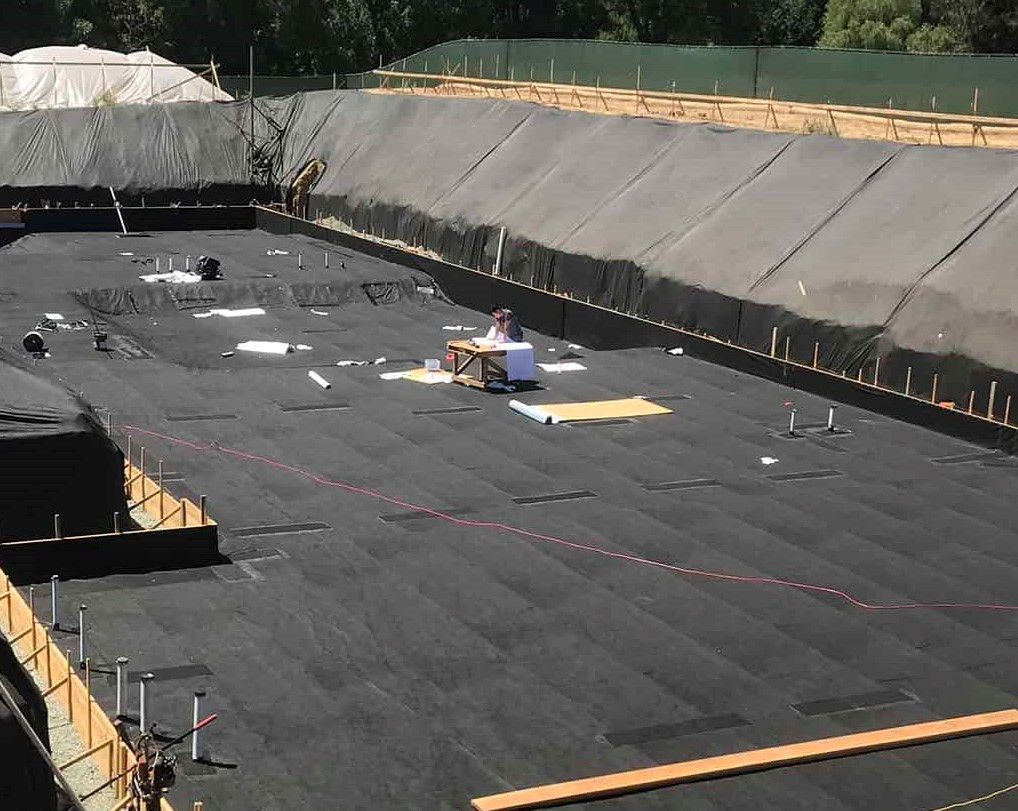 Underseal® Underslab Membrane provides a tough, 85-mill pre-concrete pour horizontally or vertically applied waterproofing membrane that can eliminate vapor and water transmission through concrete slabs on grade. A solid mechanical bond forms between the concrete and membrane during the concrete pour, creating a puncture-resistant product with superior adhesive bonding and protection against cracking and water migration.
Commercial Stretch Fluid-Applied Waterproofing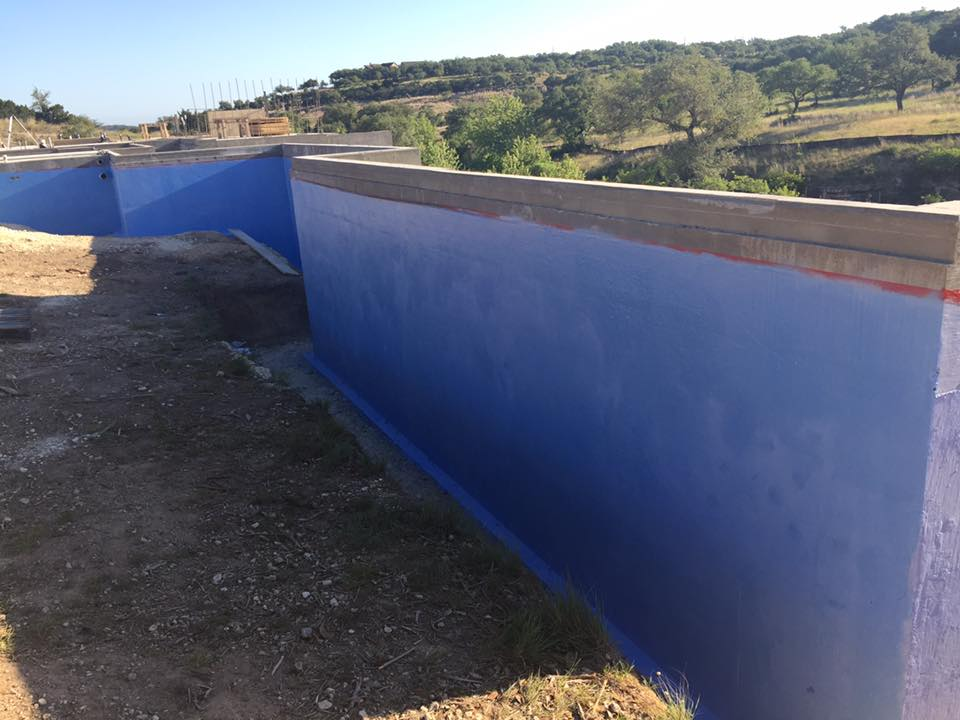 Polyguard's Commercial Stretch protects against hydrostatic pressure on cracks, poured masonry, and poured cement. It is a fluid-applied single component developed with our patented thermoplastic technology. It provides a spray, cold-applied (as cold as -20° F) material with a durable, seamless, waterproofing membrane that can bridge substrate shrinkage cracks up to 1/16-inch, reducing surface breaches and stopping problems at the joints. We designed Commercial Stretch for quick installation to below-grade exterior waterproofing of precast concrete, concrete CMU foundations, and other structural substrate surfaces on the hydro-positive side.
Fluid-Applied Damp Proofing PRO 1000
The design of PRO 1000 permits positive-side hydrostatic pressure installation over below-grade poured precast concrete, concrete, and concrete masonry walls. You can also apply PRO 1000 as a negative-side, vapor impermeable coating on the inside of a below-grade wall in combination with damp or waterproofing the exterior of the wall with PRO 1000 or other Polyguard material.
POLYFLOW® 10, 10P, 15, 15P and Totalflow™ System Below-Grade Drainage Solutions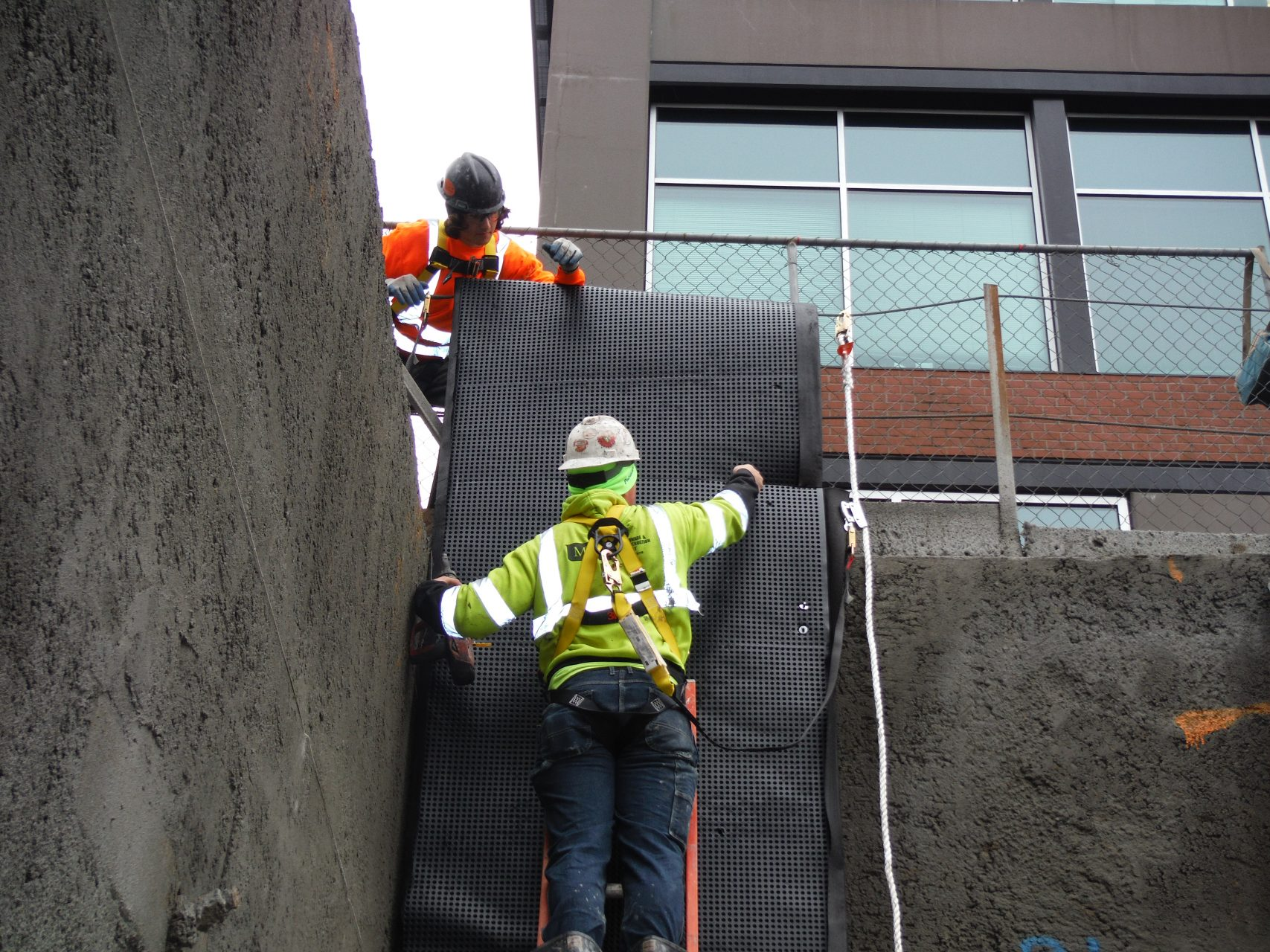 Polyflow® 10, 10P, 15, and 15P Sheet Molded Drainage Mats, applied over Polyguard waterproofing membranes, provide below-grade relief of hydrostatic pressure over foundation, retaining, and planter walls when connected to a passive gravity drain or operational sumps, like our Totalflow™ high capacity collector and outlet drainage system.
You install the Totalflow™ system at the wall's bottom, sitting at the top of the footing with the high-profile section of the drain at the bottom to allow high lateral water flow. You then attach Polyflow 10, 10P, 15, or 15P soil sheet drain above the Totalflow sheet drain for complete wall drainage. .
We manufacture Polyflow® 10, 10P, 15, & 15P Sheet Molded Drainage Mats with a geo-composite, covering one side of the formed impermeable polymeric core with a polymeric filter fabric. In addition, the Polyflow 10P & 15P also have a protective layer of polyester (PET) film, which adds durability, toughness, and chemical resistance.
The fabric directs moisture into the drain core while limiting the movement of soil particles which can clog the core. The core allows the moisture to flow towards the Totalflow™ system, collecting the water, allowing for high-capacity water flow to designated drainage exits.
Polyguard PRO 3101 Moisture and Chemical Barrier
Resistant to hydrostatic head, UV rays, and extreme temperatures, PRO 3101 provides a single component, cold-applied, non-elastomeric, non-breathable thermoplastic that stops water and chemicals from moving through a substrate. Typical applications include swimming pool enclosures, concrete wastewater storage tanks, and car wash enclosures. In addition, for maximum protection against mold, we can add Proban® mold inhibitors at the factory.
Polyguard TERM® Underslab Water|Termite Barrier
Resistant to hydrostatic head, Polyguard TERM® provides protection against water and subterranean termites where the concrete slab rests on the soil, a most vulnerable part of a structure. Concrete slabs have cracks, joints, and water, and pests can penetrate. Installed adequately as part of the building envelope, Polyguard TERM® blocks both termites and water, without pesticides.
Strong TERM® Underslab Water|Termite sheet Barrier includes an 8.5 mils high strength cross‐laminated polyethylene backing topped with a 69‐mil thick layer of TERM barrier sealant integrated into a non‐woven geotextile fabric. Polyguard TERM® has a factory-controlled thickness of 95 mils.
Stand Up to Hydrostatic Pressure with Polyguard Products
Designing your below-grade walls to withstand hydrostatic pressures requires the use of strong, high-quality products like Polyguard's Commercial Stretch, PRO 1000, Polyguard's PRO 3101 Moisture and Chemical Barriers, Polyflow® 10, 10P, 15, & 15P Sheet Molded Drainage Mats, Totalflow™ drainage systems, and TERM® Underslab Water Termite Water and Insect Barriers. All these products will help protect your foundation from hydrostatic pressure that can lead to significant moisture and pest-related structural damage, along with unhealthy mold and mildew.
Contact our Polyguard professionals for more on why the design of your foundation must include protections against hydrostatic pressure.