Proper waterproofing of basement floors and walls will protect your home or building's strength and durability. A concrete basement waterproofing system needs a high-quality membrane, like Polyguard® architectural and residential waterproofing products, and a dimple drainage board, like the Polyflow® Drainage products, to keep water and soil away from the below-grade structure.

Why Waterproof a Basement?

Effectively waterproofing porous basement concrete walls will protect them from cracking due to water pressure or the structure settling. Is it worth it to waterproof the basement? Yes!
Cracks in a basement will increase long-term maintenance and repair costs, damage your building's integrity, and cause the following basement moisture-related problems:
Structurally damaging and unhealthy mold

Outward or Inward bowing walls

Damage to the interior flooring

Unpleasant smells in the basement

Crystalline deposit of salts (efflorescence) on basement walls or floor
Costs of Waterproofing vs. Not Waterproofing a Basement

Waterproofing a basement costs between $2,000 and $7,000 on average. However, most homeowners pay around $5,000 to waterproof their basements, crawl spaces, and foundation.
Not adequately waterproofing a basement can lead to costly repairs. Nationally, on average, it costs $4,500 to repair basement foundation walls; however, severe foundation problems can cost up to $15,000 to $25,000.
Is basement waterproofing worth it? Yes!
Contact our Polyguard® professionals for a waterproofing quote for your basement with Polyguard® Building Envelope Solutions.
Polyguard® Basement Waterproofing Solutions

Polyguard® Building Envelope Solutions offers architectural and residential waterproofing products and Polyflow® Drainage products to protect basement foundation walls and floors from water intrusion (interior) and infiltration (exterior).

Architectural Basement Waterproofing
Polyguard® architectural basement waterproofing products include membranes for pre- and post-applied applications, including peel-and-stick and fluid-applied products. Polyguard® products have been designed to withstand the most challenging conditions and protect basement walls from water and contaminant infiltration due to cracks and gaps in the concrete.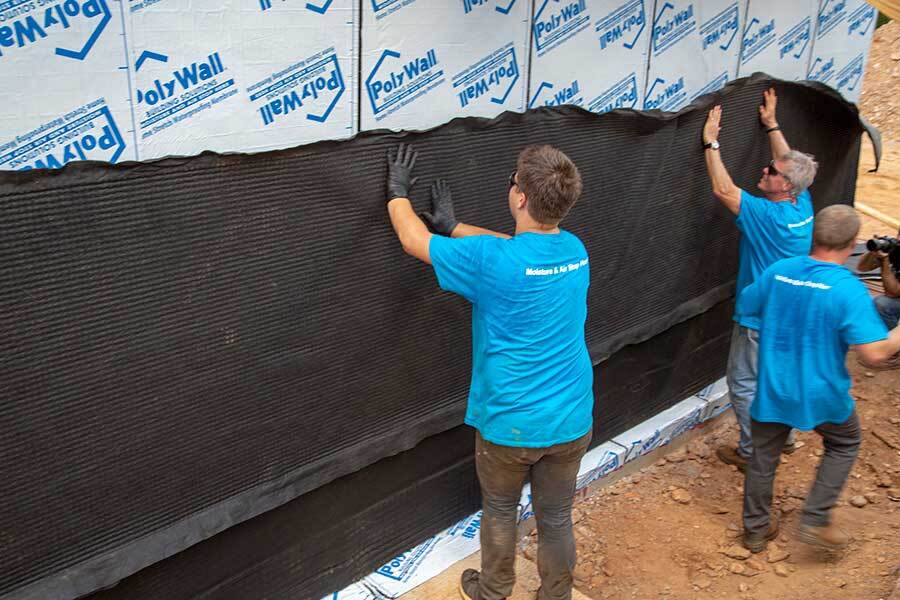 Post-Applied 650 Sheet Membrane

Polyguard® self-adhesive 650 Sheet Membrane applies post-concrete pour on insulated concrete forms (ICF), concrete blocks, and wood basement foundation walls. Builders can also use it on sills, mud slabs, spandrel beams, tunnels, plaza decks, and parking garages.

Post-Applied Ultra CRM™ - Chemical Resistant Membrane

Strong, 60-mil Ultra CRM™ water and chemical-resistant membranes post apply on concrete or CMU basement walls, along with other below-grade applications like concrete tunnels, parking garages, and related applications.
Stretch Flex for Below-Grade Exterior Waterproofing

Single component, cold liquid-applied, elastomeric Stretch Flex coating cures to form a durable waterproofing membrane that can bridge substrate shrinkage cracks up to 1/16 of an inch. Stretch Flex allows easy spray exterior application of basement waterproofing on concrete, precast concrete, CMU basement walls, and other structural surfaces on the hydro-positive side.

Pre-Applied Underseal® Blindside™ Membrane

Robust, 73-mil Underseal® Blindside™ Membrane waterproofing membrane/vapor barrier installs pre-concrete pour on basement walls and other structures requiring vertical (and specific horizontal applications), positive-side waterproofing.

Pre-Applied Underseal® CRM™ - Chemical Resistant Membrane

Builders can install tough, 85-mil Underseal® CRM™ - Chemical Resistant Membrane horizontally (and specific vertical applications) below the slab and behind vertical walls of a basement. The membrane can withstand elevated concentrations of soil, water, spill, and vapor contaminants.

Post-Applied Underseal® PRM™ - Puncture Resistant Membrane

Self-adhering, 65-mil, Underseal® PRM™ post-concrete pour sheet waterproofing membrane/vapor retarder applies vertically and horizontally. It contains a double thick, high-strength, co-extruded backing laminated to a thick rubberized asphalt compound that forms a continuous water and vapor barrier.

Post-Applied Underseal® Underslab Membrane

Robust, 85-mil Underseal® Underslab Membrane applies vertically and horizontally to eliminate water and vapor transmission through concrete basement foundation slabs and elevator pits. It also protects floor finishes and indoor air quality by acting as a barrier to methane and radon gas.

TERM™ Foundation Barrier - Above-Slab Moisture Barrier

The peel-and-stick above-slab TERM™ Foundation Barrier prevents water and termites from infiltrating concrete basement walls.
Residential Basement Waterproofing

Polyguard® high-performing residential waterproofing basement products have been engineered and designed to protect against moisture and air infiltration and contribute to a home's safety, health, and long-term integrity and value. Polyguard® offers two basement waterproofing systems: liquid and membrane.

Stretch Flex Liquid Waterproofing

Builders can use Stretch Flex Liquid Waterproofing on below-grade CMU, poured concrete, precast concrete, and other vertical foundation surfaces exposed to hydrostatic pressure.

Home Stretch™ 40 Mil Membrane

Builders can use Home Stretch™ 40 Mil Membrane for ICF, CMU, and poured concrete foundation walls. It offers the best way to waterproof exterior basement walls.

Polyflow® Drainage Products

Polyflow® Drainage products provide our customers with various solutions for lightweight below-grade drainage. In addition, our high-capacity, simple-to-install drainage products can lessen excavation needs. Polyflow® Drainage products are compatible with our engineered waterproofing products with many options to fit the requirements of your waterproofing system:

Vertical or horizontal installation

Strong Polymeric film on one side and products without the film

Comprehensive strengths of 15,000 and 21,000 psf
Polyflow® 10, 10P, 15, and 15P SHEET MOLDED DRAINAGE MATS

Polyflow® Sheet Molded Drainage Mats apply vertically over Polyguard® waterproofing membranes. The mats aim the water into the drain core while limiting the flow of soil, which can clog the core. The compressive strength of Polyflow's® 10, 10P, 15, and 15P drainage mats (15,000 psf) can also reduce hydrostatic pressure when attached to our high-capacity collector and outlet drainage product, Totalflow™.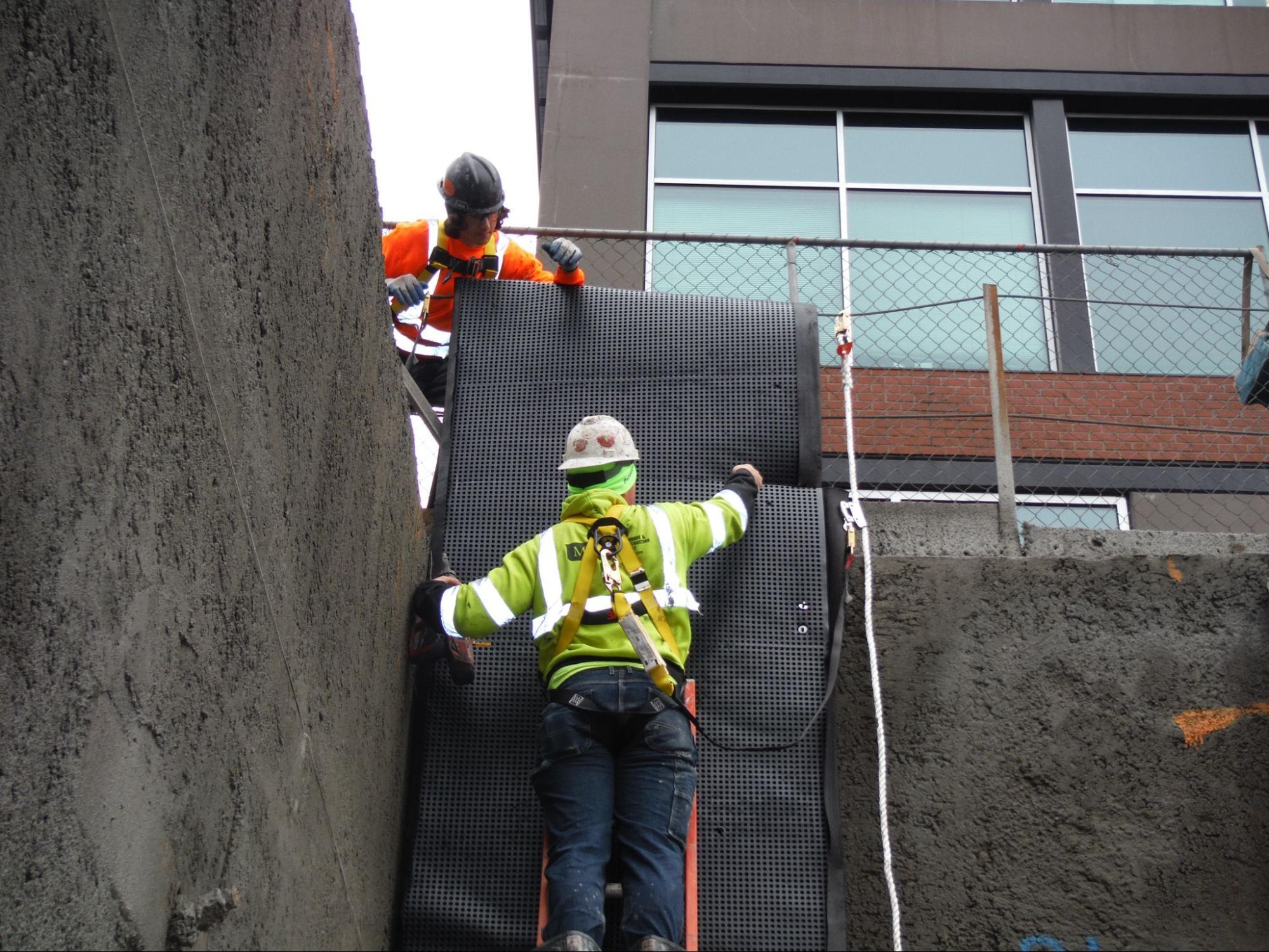 Polyflow® 18 DRAINAGE MAT

Lightweight, high-capacity Polyflow® 18 applies horizontally and works with our engineered liquid and sheet membrane products for below-grade waterproofing applications.
Simple-to-install, the Polyflow® 18 drainage mat offers a compressive strength of 21,000 psf and can handle the most complex horizontal applications. The Polyflow® 18 drainage mat uses a woven filter fabric specifically for concrete pours to permit flow under loaded conditions.

Polyguard® Basement Waterproofing Solutions

Polyguard® Building Envelope Solutions offers high-performing, long-lasting architectural and residential waterproofing systems and drainage solutions for basement exterior and interior walls and floors. Utilizing high-performing Polyguard® waterproofing and drainage products will protect your basement integrity and building's health, to significantly save money on long-term maintenance and repairs.
For more on why it is worth waterproofing a basement, don't hesitate to contact our Polyguard® professionals!