Contemporary builders use concrete masonry units (CMU) or concrete blocks for below- and above-ground wall systems in both commercial and residential construction. The basic design of CMU has stayed the same for decades. Manufacturers make CMU from Portland cement and aggregate like quartz, stone, and water, to create blocks in an assortment of solid or hollow shapes with two or three voids or cores.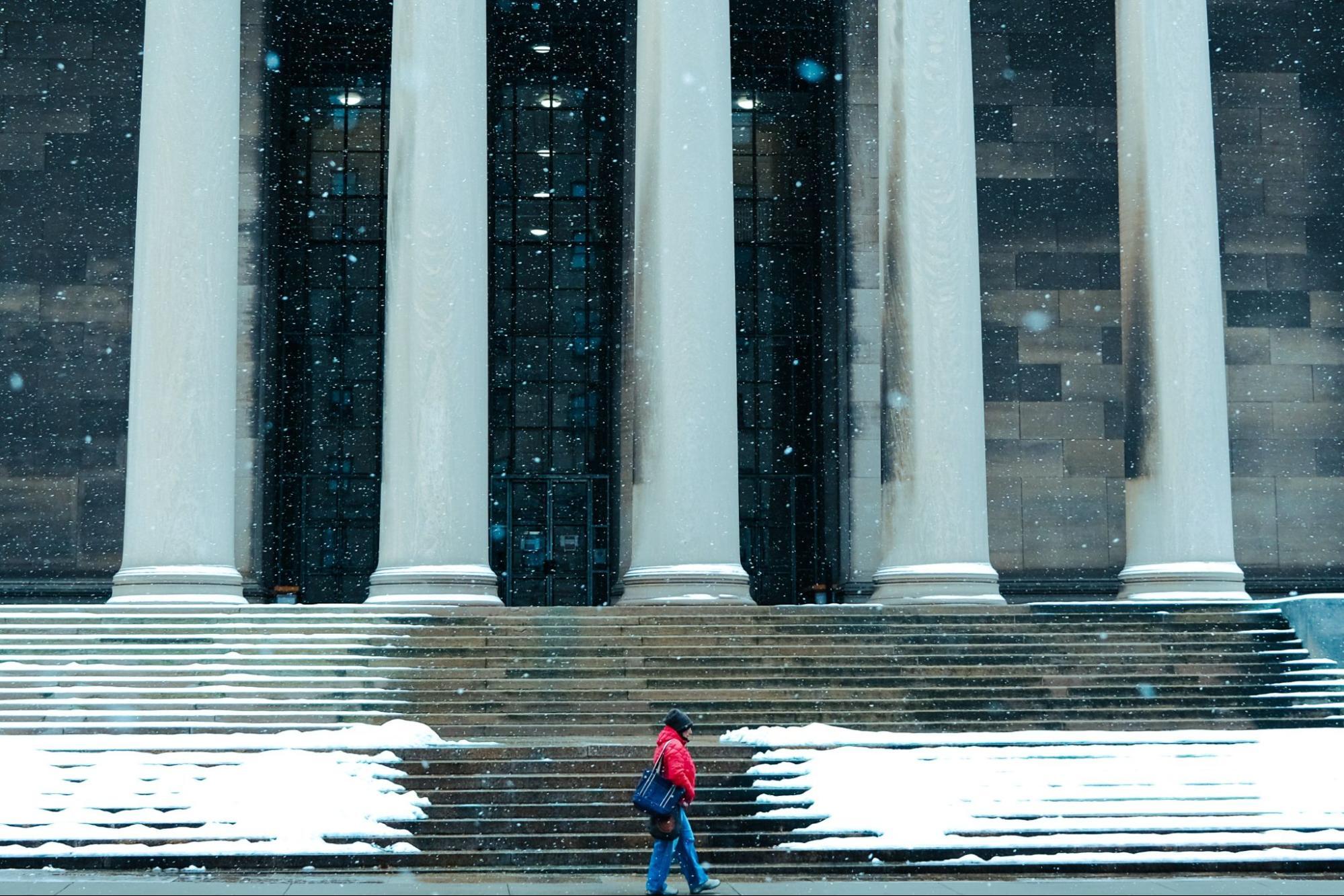 CMU wall systems aim to create durable structures that resist fire and provide excellent indoor environmental quality (IEQ) with an application of either sheet or liquid moisture barrier on the CMU. Insulated CMUs also have an R-value (4 to 14) compliant with zones 1-5, according to the ASHRAE 90.1, which reduces energy use and protects the environment.
Builders may find stacking hollow-lightweight concrete blocks easier than pouring concrete. In addition, concrete blocks eliminate the curing time required when pouring concrete.
Moisture Problems with CMU Walls
Several factors contribute to moisture problems within CMU walls (which a CMU vapor barrier can prevent) that can damage a building's integrity:

The porous nature of concrete blocks

Excessive moisture in the blocks increases the pore and sizes, which can lead to further structural damage

Potential for hairline cracks

Must adequately fill the hollow cells of the blocks with concrete to avoid moisture leaks

Concrete blocks require proper sealing to avoid leakage

The mortar can wear down over time and lead to leaks.
Preserving a structure's integrity requires the application of the best moisture barrier CMU wall.
Porous CMU Walls

Manufacturers mix Portland cement, sand, aggregate, and water to produce a wet concrete paste that is poured into concrete block molds to dry and harden. The evaporation process creates pores and tiny tubes that give the blocks a rough, gritty texture and makes them semi-permeable (3.2 perms per inch of thickness).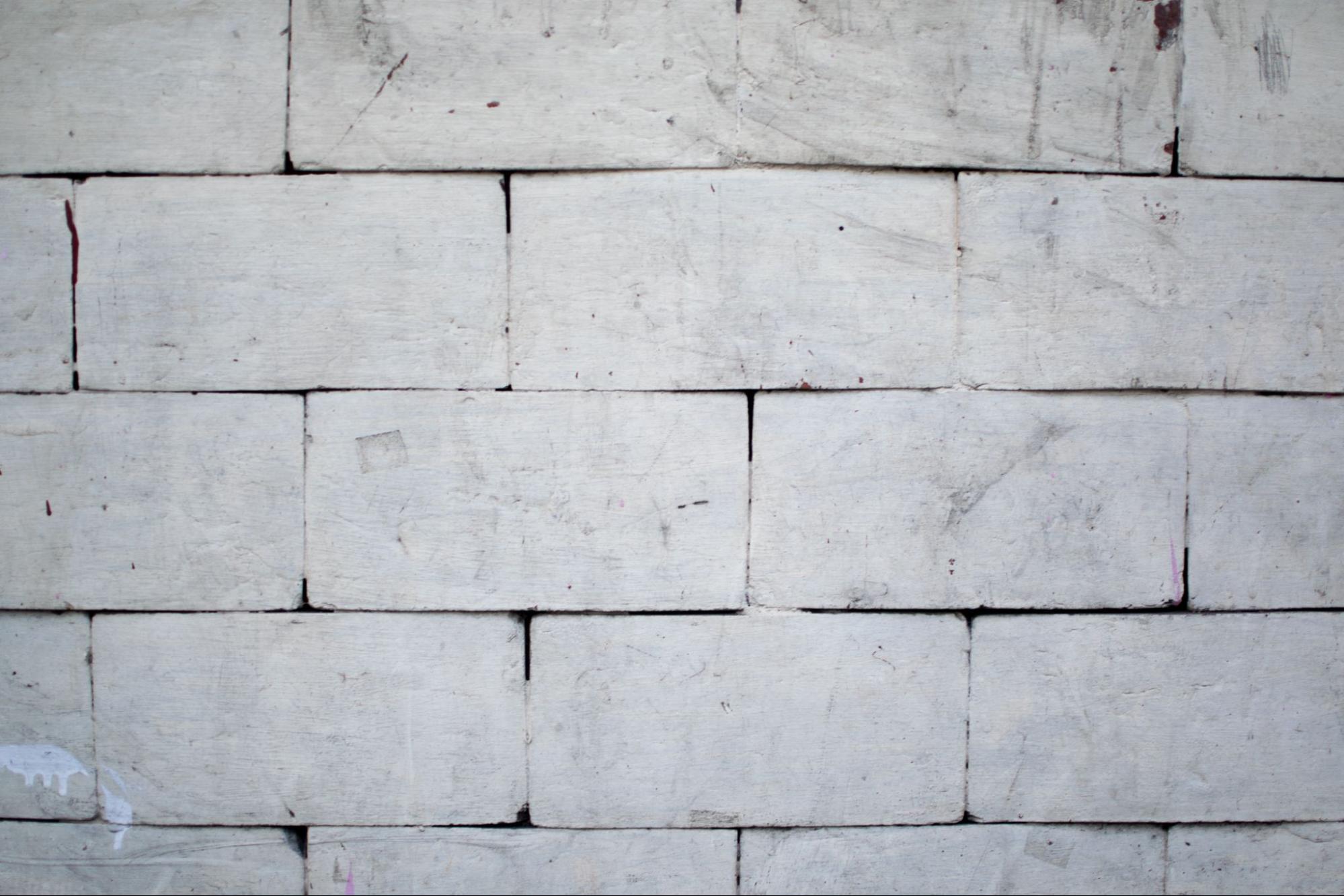 Several factors can affect the level of void spaces within a concrete block:

Aggregate type and size

The ratio of water to Portland cement - increasing the water creates more pores and a weaker block

Type of cement used (e.g. Cinder blocks don't use much Portland)

Additional ingredients
Hairline Cracks in CMU Blocks
A block typically takes 24 hours to cure (at an average temperature of around 100℉) and harden. However, concrete blocks will continue to cure and grow strong for about 30 days. NOTE: Placing loads on not fully cured blocks can lead to hairline stress cracks.

Soil settlement and hydrostatic pressure can impact the joint areas of concrete block walls, which can lead to hairline cracks.
Hollow Concrete Blocks

Manufacturers produce concrete blocks with cells in the middle to reduce weight, and make them easier to install. The cells also provide a space for vertical rebar and poured concrete. However, builders must adequately fill these cells with concrete to avoid them filling with water, and leading to leaks into a building.
What is the Best Moisture Barrier for CMU Walls?
Successfully waterproofing CMU or concrete block walls involves properly applying high-quality moisture barrier products, like Polyguard's architectural products.
It is important to know that you need to take the following steps, before applying moisture barrier products:
Clean the concrete surfaces to remove any overcoating, damaged mortar, or contaminants in order to achieve an open pore profile.

Gather all of your tools to have everything you need when you start working.
Smooth and fill rough flush concrete, surface defects, surface protrusions, and voids greater than 1/2-inch in depth with a quality product like Detail Sealant PW™ or Polyguard BB GF, and allow it to sufficiently dry according to the manufacturer's instructions before applying flashing and air barrier.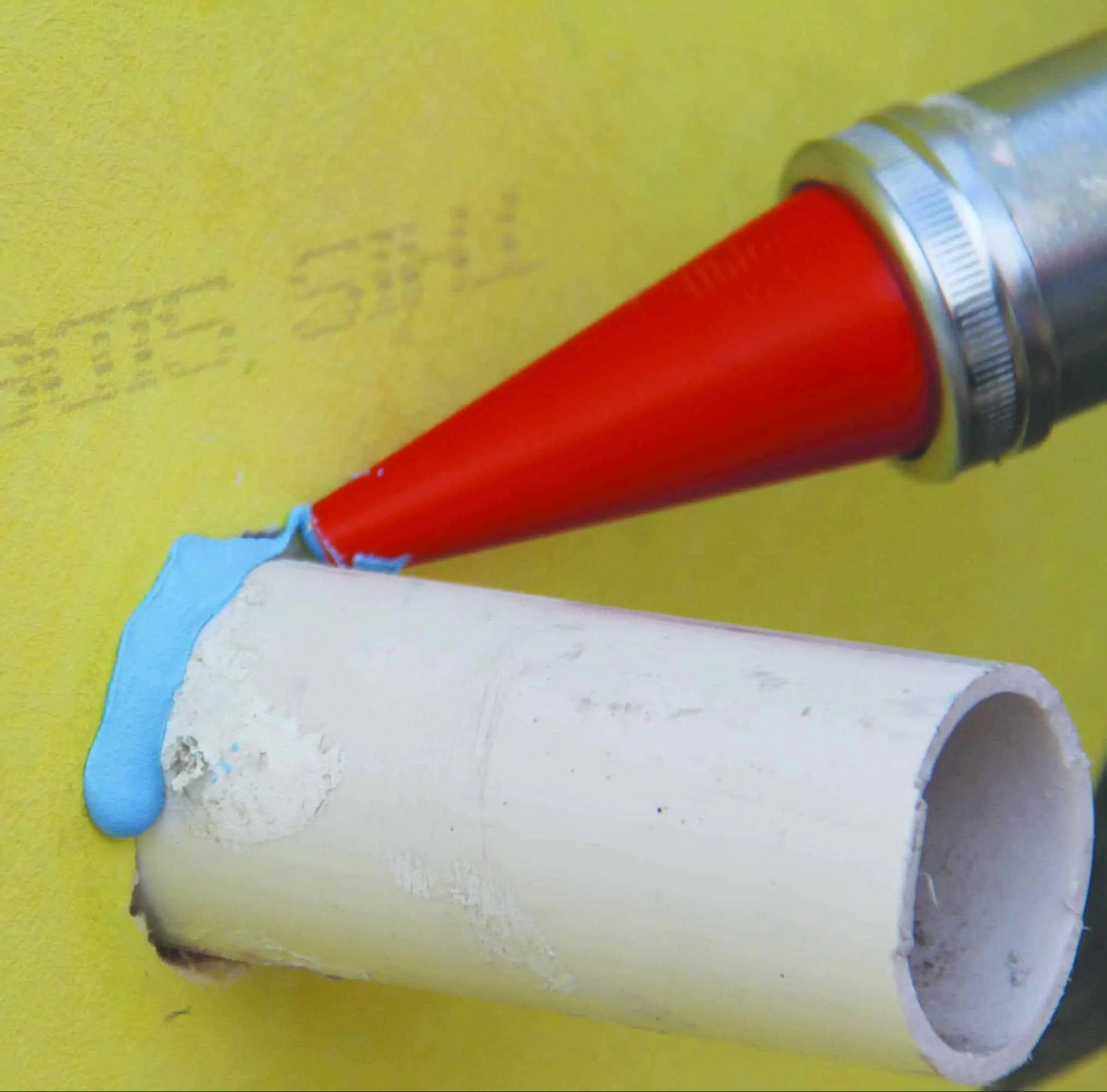 Above-Grade Moisture Barrier for CMU Walls
Permeable, water-based, non-combustible Airlok Flex® WG (Weather Guard) and WG LT (Weather Guard Low Temp) air, weather, and vapor barrier systems easily seal and protect against moisture and air intrusion on above-grade CMU walls. Polyguard's Airlok Flex® barrier systems roll or spray directly on the block wall's bare side to provide a first-line defense against moisture intrusion. Builders can use both products on CMU walls and exterior-grade gypsum sheathing, concrete, plywood, and oriented strand board (OSB) for long construction schedules.
Airlok Flex® WG and Airlok Flex® WG LT contain a non-combustible, water-based blend of high-performance, elastomeric acrylic polymers. However, Airlok Flex® WG contains selected fillers with a VOC content of 79 g/l, while Airlok Flex® WG LT contains 115 g/l.
Temperature Limitation

Airlok Flex® WG LT allows a maximum application temperature of 65°F (18ºC).

Airlok Flex® WG allows application temperatures starting at 40°F (5°C) and above.
Benefits of Water-based Airlok Flex® WG and Airlok Flex® WG LT
Water-based Airlok Flex® WG and Airlok Flex® WG LT both have several common benefits:

Permeable up to 21 perms

20 wet mils to 10 dry mils

UV resistance of up to 2 years

NFPA 285 compliant

Forms durable protection up to 100 PSI adhesive pull-off strength

Blocks inward-moving water from penetrating through the coating to the substrate to reduce energy loss

Low cost

Easy to prep, easy to roll or spray and clean up, to save time and money
Poly Wall® Blue Barrier™ Liquid Wrap 2300
Environmentally friendly, permeable Polyguard's Poly Wall® Blue Barrier™ Liquid Wrap 2300 allows the substrate to breathe and cures over damp, above-grade CMU walls. It provides a thin mil, seamless substrate coating, to create a fully-adhered, protected moisture and air-building envelope membrane developed using the latest Silyl Terminated Polyether Technology (STEP).
Benefits of Polyguard's PolyWall® Blue Barrier™ Liquid Wrap 2300
Blue Barrier™ Liquid Wrap 2300 is a single component that does not require priming

It easily applies by power or hand rolling or with an approved airless sprayer.

It is mold-resistant

It offers embedded adhesion (bond) into the wall substrate - other products offer only surface adhesion properties.

It has low VOC

Allows for wet surface applications

Permeable - allows the surface to breath

Polyguard has specifically designed easy-to-apply rolls of Aluma Flash™ for walls with a simple-to-remove film release sheet.
Polyguard UV2-40
Rubberized asphalt, 40-mil Polyguard UV2-40 provides a waterproofing sheet membrane laminated to two high-strength polyethylene films with a top protective layer of aluminum. Polyguard supplies the coating in rolls with a simple-to-remove film release sheet.
The elastomeric nature of UV2-40 allows it to stretch and not tear if the building moves slightly. In addition, builders can expose robust UV2-40 to up to two years of sunlight without compromising its waterproofing capabilities.
To create an impermeable barrier, prime the substrate with
Polyguard 650 LT Liquid Waterproofing Adhesive
, then apply the Aluma-Flash
™
by overlapping seams by 2 to 3 inches. Apply a bead of
detail sealant
over the seams for an extra layer of protection.
Below-Grade Moisture Barriers for CMU Walls
CMU foundation walls require a waterproofing membrane and a reliable drainage system to reduce moisture intrusion from water and soil. Builders often prefer peel-and-stick or self-adhered waterproofing membranes to waterproof CMU foundation walls.
Easy-to-apply peel-and-stick waterproofing membrane peel barriers provide a uniform surface due to factory-set thickness dimensions. Also, they do not require taping and fastening.
A high-quality peel-and-stick waterproofing barrier for CMU foundations, like Polyguard''s Home Stretch™ 'Peel' N Stick/ICF Waterproofing membrane, will offer long-term performance, adhesion, and durability when properly applied.
A strong adhesion and firm bond require a clean and primed substrate for the installers to roll the membrane and remove any bumps. In addition, an application of a dimple drainage board over the membrane provides hydrostatic pressure relief.
Flexible and strong self-adhering Home Stretch™ ICF, 40 mils thick sheet waterproofing membranes consist of high-density polyethylene (HDPE) facing bonded to a rubberized asphalt waterproofing compound. Polyguard offers Home Stretch™ ICF in 36-inch wide by 66.7-foot long rolls for straightforward application, with an expendable release liner.
Polyguard's Home Stretch™ Benefits

Employee-owned and USA-made Polyguard offers decades of high-quality waterproofing experience to ensure long-lasting protection for below-grade CMU, ICF, and poured concrete walls. Builders can also use it for spaces with positive-side hydrostatic pressure or in crucial need of waterproofing. Advantages of Polyguard Home Stretch™ include:

Excellent durability, puncture resistance, and tensile strength

Starts waterproofing immediately after installation

Used with Polybond™ Clear Liquid Adhesive, builders can apply in frigid weather (25℉ and greater)

Extended selvage edge for asphalt-to-asphalt adhesion at the seam

Release film protects the adhesive layer and does not easily tear

Factory-controlled manufacturing offers 40-mil uniform and consistent thickness

Lacks V.O.C.s and does not produce odors

Side lap design more effectively delivers water tightness
Polyguard - The Best Moisture Barriers For CMU Walls

Easy-to-install concrete masonry units (CMU) provide fire resistance, good IEQ and thermal performance. However, several situations can create moisture problems with CMU walls that require builders to apply the best moisture barrier available for CMU walls. Without adequate moisture barriers, the integrity of the structures will degrade. Polyguard makes high-performing moisture barrier products to protect above- and below-ground CMU walls.
Don't hesitate to contact Polyguard today for more about choosing the best moisture barrier for your CMU wall project!