Water and vapor can infiltrate concrete slabs on grade externally and internally, which can damage your flooring and building envelope, compromise the indoor air quality, and even raise your energy bills.
Externally, moisture can come from poor plumbing and drainage, rain, below or at the slab's sides, air humidity, poor ventilation, etc. Internally, moisture comes from the water mixed with the cement to create the concrete. The amount of water used tremendously impacts how long a concrete slab needs to cure and dry. Excess water in concrete increases the space between the cement's aggregates, and reduces the compressive strength and durability of the concrete.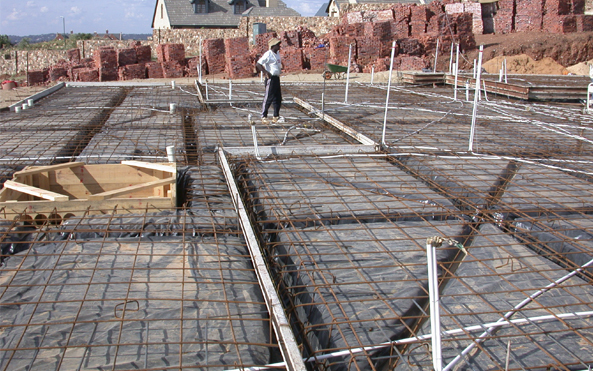 Image Source: Wikimedia.org
Managing the moisture in a concrete slab on grade requires proper installation, with adequate curing and drying. In addition, you will need heavy-grade, low-permeance puncture-resistant moisture barriers for the concrete floor and slab, like the Polyguard TERM™ Floor Underlayment Barrier and Polyguard Underseal® Underslab Membrane. These will shield the flooring and slab from the structurally damaging, costly, and unhealthy problems associated with moisture and vapor transmission through the concrete slabs on grade.
Vapor and Moisture Issues with Concrete Slabs on Grade
Applying flooring product or coating before the concrete slab on grade adequately dries, or not using a high-quality moisture barrier on the concrete slab and floor can lead to several flooring failures and other structural and air quality problems:
Adhesives Failures
Increasing humidity levels in concrete raises the concrete's pH. The higher pH levels can cause the adhesive bonds of the flooring to fail, which can lead to flooring problems like cupping, bulging, and swelling.
Curling
Curling occurs when high-humidity conditions below the slab drive toward the relatively low humidity above the slab via capillary action, which leads to the concrete's slab edges or counter to warp (curling).
Efflorescence
As moisture evaporates from the concrete, it carries water-soluble minerals with it. When it reaches the slab's surface and evaporates, it leaves behind a visible-whitish residue, which can lead to flaked or chipped tile grout or complete grout failure. Furthermore, these marks absorb moisture, and can cause damp and slippery conditions on the slab.
ASR
ASR occurs when the slab's interior relative humidity reaches 80 percent or more, which causes the cement (alkali) solids to react with reactive, amorphous silica found in aggregates, to form a destructive gel that can crack slab and close joints.
Mold Problems
The temperature of the concrete goes up with increasing relative humidity, which can result in a less structured, more porous product to create a perfect breeding ground for structurally damaging and unhealthy mold.
Increased HVAC Use
The upward movement of water and vapors through the slab will make your HVAC system work harder, which costs more money for electricity.
Acceptable Moisture Levels in Concrete to Install Flooring
Durable, strong, and visually appealing concrete floors require proper installation and moisture management to prevent dangerous and unattractive flooring failures. During installation, to minimize the chance of moisture-related failures and to stay on schedule and budget, contractors should adequately test the concrete slab for dryness before installing the flooring.
Relative Humidity of Cured Concrete
The ASTM standard (ASTM F2170) mandates an acceptable relative humidity (R.H.) level of a concrete slab at or below 75 percent to accept flooring products or according to the flooring system manufacturer's specification. However, it commonly takes 30 days to dry per inch of slab depth, depending on internal and external water sources, ambient temperature, and air circulation.
How Vapor Barriers Can Solve Concrete Moisture Issues
You can solve many problems associated with water and vapor transmission through concrete slabs on grade by applying high-quality concrete moisture barriers to the concrete slab and floor.
Proper installation of the right vapor barriers can prevent vapor and water transmission through the concrete slab and protect the building envelope, floors, and indoor air quality. Ultimately,it will save money on costly repairs and maintenance and safeguard the occupant's health.
Under-Slab Moisture Barriers
Protecting a concrete slab on grade and flooring from damaging moisture infiltration involves applying a non-penetrable, heavy grade, low-permanence vapor barrier (or retarder) over a layer of prepared sub-bases such as compacted soil, mud slab, carton forms, or #57 Stone.
The Guide to Concrete Floor and Slab Construction recommends a vapor retarder thickness of at least ten mils thick to resist puncturing during and after construction. (one mil equals one-thousandth of an inch). In addition, the ASTM E1643 and ASTM E1745-17 provide the guidelines for using, installing, and inspecting under concrete slab vapor barriers.
Above-Slab Vapor Barriers
Applying a vapor barrier on top of the slab and under the flooring underlayment prevents moisture (and the alkaline salts that moisture can pull from the concrete) from diffusing through the concrete slab. It slows or prevents water in the concrete from damaging the floor. Moisture can break down the water-based adhesive used to secure costly floor coverings and discolor or deform the flooring products. To avoid moisture imbalance and flooring failure, choose a concrete floor vapor barrier with lower permeance than the flooring cover above the slab.
Fortunately, Polyguard makes several high-performing concrete moisture barrier products designed to protect concrete slabs and floors: Polyguard Underseal® Underslab Membrane and Polyguard TERM™ Floor Underlayment Barrier.
Polyguard Underseal Underslab Membrane
For new construction, correctly installing Polyguard Underseal® Underslab Membrane will prevent moisture from infiltrating the underside of the concrete slab. In addition, it offers low diffusion, substantial damage resistance, and longevity (more than either E.P.A. or ASTM standards), to make it more cost-effective over the lifespan of your home or building.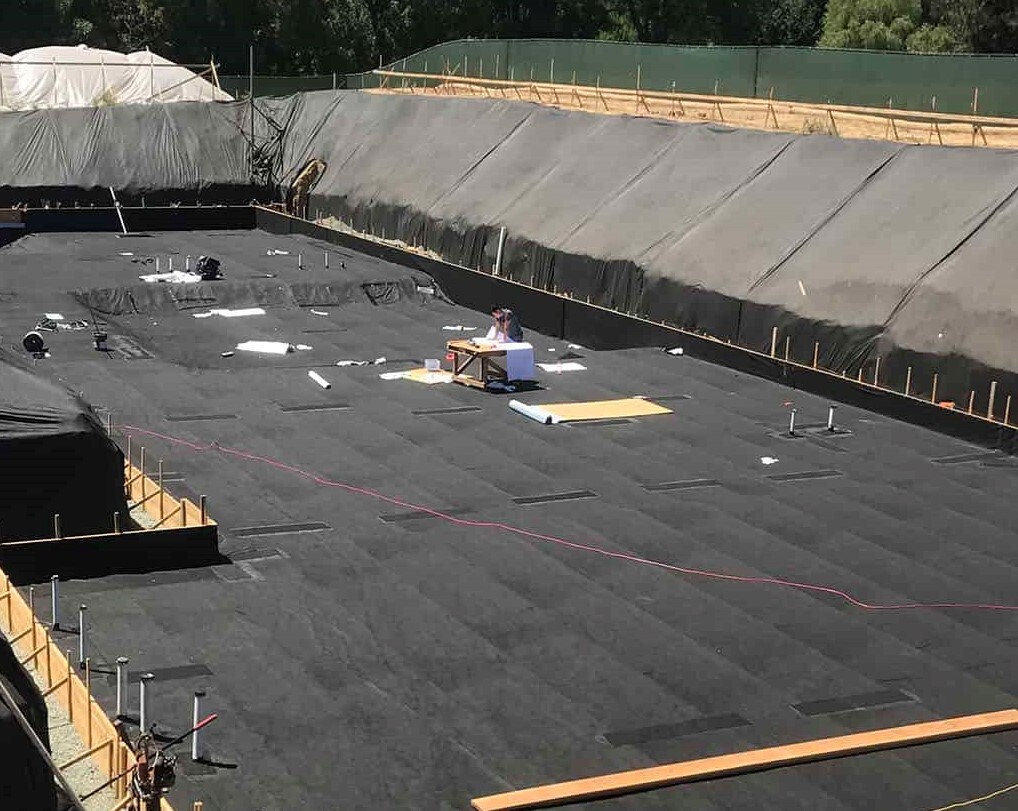 For horizontal, vertical, and shotcrete applications, tough 85-mill, pre concrete pour, roll-on Underseal® Underslab waterproofing membrane/vapor barrier effectively eliminates water and vapor transmission through concrete slabs on grade, in order to protect floor finishes. In addition, Underseal® Underslab 3-layer composite membrane improves indoor air quality by acting as a barrier to radon gas and methane.
Underseal® Underslab Membrane typically installs horizontally over a prepared sub base like #57 stone, compacted soil, or mud slab. While pouring the concrete, the concrete will intermingle with the fibers of the nonwoven geotextile, forming a solid mechanical bond, providing a continuous seal under the concrete slab. Installation of Underslab Membrane should only occur at temperatures above 24°F (-4°C).
For vertical applications, refer to guidelines in the Blindside Membrane datasheet. Examples of vertical installations include elevator pits, against adjoining structures, or on removable formwork for perimeter and grade beam installation.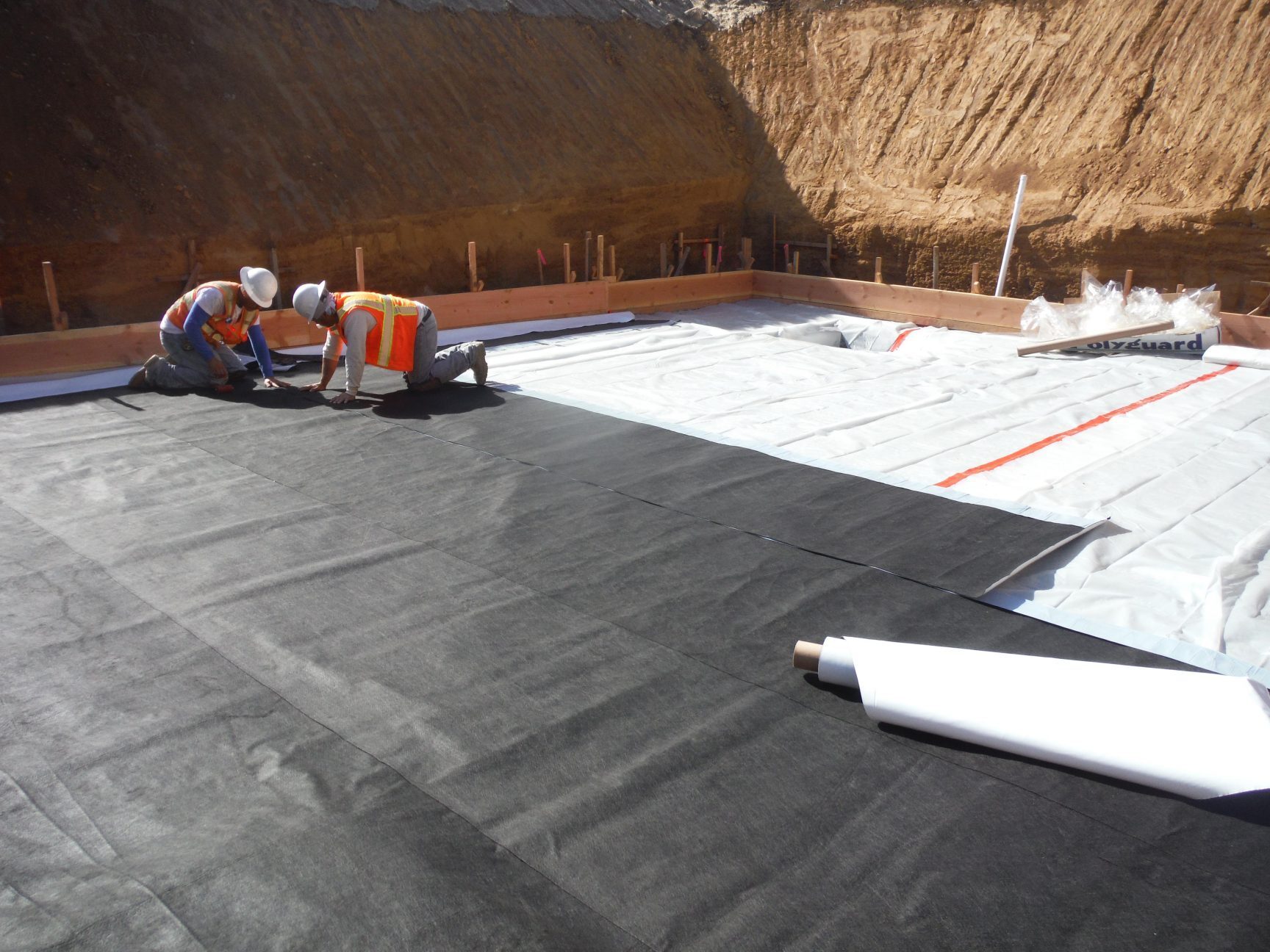 For shotcrete applications of the Underseal® Underslab Membrane in the water-table, contact Polyguard Architectural Technical Services at archtech@polyguard.com.

Other Advantages of Underseal Underslab Membrane
Eliminates water and vapor migration
Creates a solid adhesive bond with the concrete surface to prevent water migration between the concrete and membrane
Offers full-adhering, watertight laps at all joints
Installs easily due to its flexibility to adapt to the job site
If a crack develops in the slab or base material, the barrier's stress-absorbing and elongation properties will maintain a watertight seal
Offers superior puncture resistance of 220 lbs, 64 times greater than the requirements of a Class A Vapor Barrier, and will stand up to abuse during construction

May qualify for L.E.E.D. Certification via these credits:

ID Credit 1 -Innovation in design

A.Q. Credit 5 -Indoor Chemical and Pollutant Source Control (below-grade

toxin barrier).

S.S. Credit 3 – Brownfield redevelopment
TERM Floor Underlayment Barrier
TERM Floor Underlayment stops moisture vapor within the slab from reaching the floor, which can damage your flooring products and building envelope, compromise the indoor air quality, and even increase your energy bills. The sealant component's self-healing properties enable it to create seals around nails driven through the barrier during installation.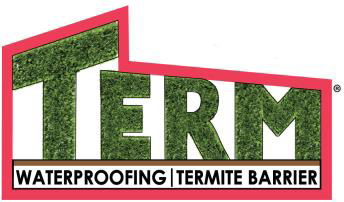 Other Benefits of TERM Floor Underlayment Barrier
Non-structural, non-chemical TERM Floor Underlayment Barrier, when adequately constructed as part of a complete TERM Barrier system, creates a barrier to termites and other insects. In addition, TERM Floor Underlayment Barrier's sound-absorbing and insulating qualities make the floor quieter and warmer in winter.
The composition of the TERM Floor UnderlaymentTermite Barrier includes a membrane of polyethylene backing and TERM Sealant Barrier, 40 mils in thickness with a ½-inch extended ensuring a complete overlap seal at the edge. It is as easy as removing an elastomeric, self-adhesive barrier, wound on cores with a disposable silicone-coated release sheet, and immediately applying the barrier.
Polyguard – The Best Prevention Against Water and Vapor Transmission Through Concrete Slabs on Grade
The long-term integrity of flooring products, like wood flooring, vinyl composition tile, and linoleum, depends on preventing water and vapor from transmitting through concrete slabs on grade with products like our
Polyguard Underseal Underslab Membrane and Polyguard TERM Floor Underlayment Barrier.
Our under-slab and above-slab barriers will stop water and vapor transmission through concrete slabs on grade, to protect your flooring and structure from damaging, unhealthy, and expensive moisture-related problems. Furthermore, the durability and strength of our puncture-resistant and heavy-grade barriers will maintain their integrity during and after construction.
For more on how to prevent water and vapor transmission through concrete slabs on grade, don't hesitate to contact our Polyguard professionals today. We can answer all your questions.