High-performing new construction foundation waterproofing provides the most economical and efficient method for preventing below-grade water infiltration and ensuring a strong, durable, and safe building. Waterproofing can also offer insulation and reduce insect problems. Designing a foundation without adequate waterproofing can lead to cracked walls, uneven floors, potential structural collapse, and costly and complicated repairs.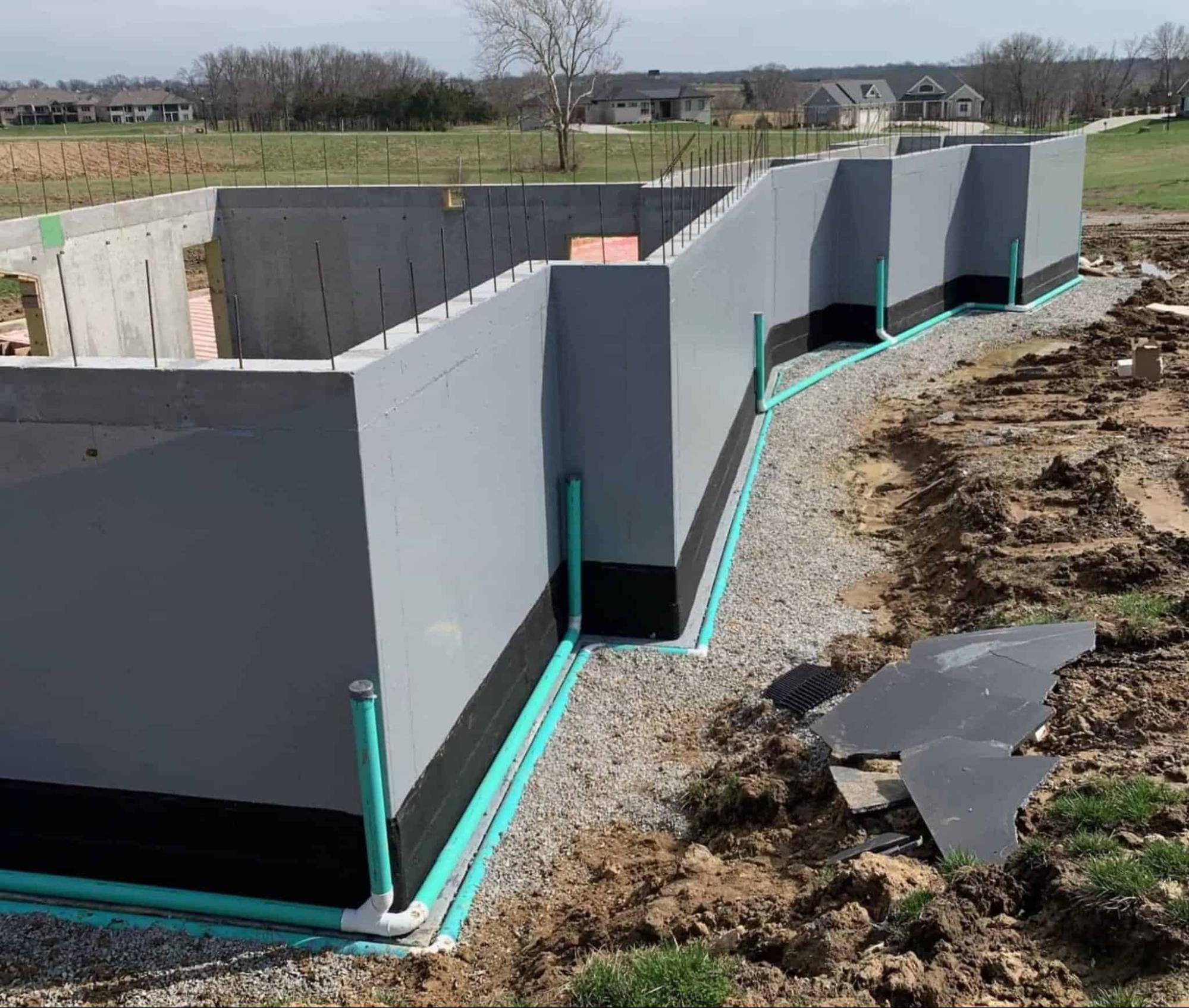 A building's long-term integrity depends on quality new construction foundation waterproofing methods that protect against water and vapor infiltration into the concrete by hydrostatic pressures and capillary action.

Fortunately, Polyguard waterproofing products will protect against hydrostatic pressures and capillary action. As a result, our products ensure protection against moisture and air infiltration in the most severe conditions, which can significantly contribute to a building's long-term integrity, health, and safety.

Vital New Construction Foundation Waterproofing Methods

Adequately waterproofing a foundation during new construction involves strategies to prevent below-grade liquid and vapor water infiltration due to hydrostatic pressure and capillary action.
Hydrostatic pressure happens when gravity pushes static (stagnant-dense) water (hydro) against below-grade walls built entirely or partially on a hillside or below the water table. Hydro pressure rises with depth and soil wetness. Hydrostatic pressure on foundation walls causes moisture to infiltrate through joints and cracks, which permeates solid concrete through capillary action (wicking).
Capillary action refers to water's ability to flow into narrow channels between porous building products, like concrete, which act like tubes due to cohesive and adhesive forces interacting between the surface and liquid without the assistance of gravity.
For reference, the 2021 International Residential Code (IRC) (Section R406) and the 2021 International Building Code (IBC) (Section 1805) specify the conditions that require either waterproofing or damp proofing foundations.
Drainage Methods Protect Foundation from Hydrostatic Pressure

Hydrostatic pressure prevents water infiltration to the foundation and requires adequate drainage that eliminates water pressure against the foundation's floor or walls.

Backfill

Backfilling with at least 16 inches of granular material next to the foundation wall will keep water away from the wall, to prevent leaks through cracks. Water that gets this far should drain freely to the footing drains. The backfill should slope about 10 feet away from the foundation in order to remove water away from the foundation quickly.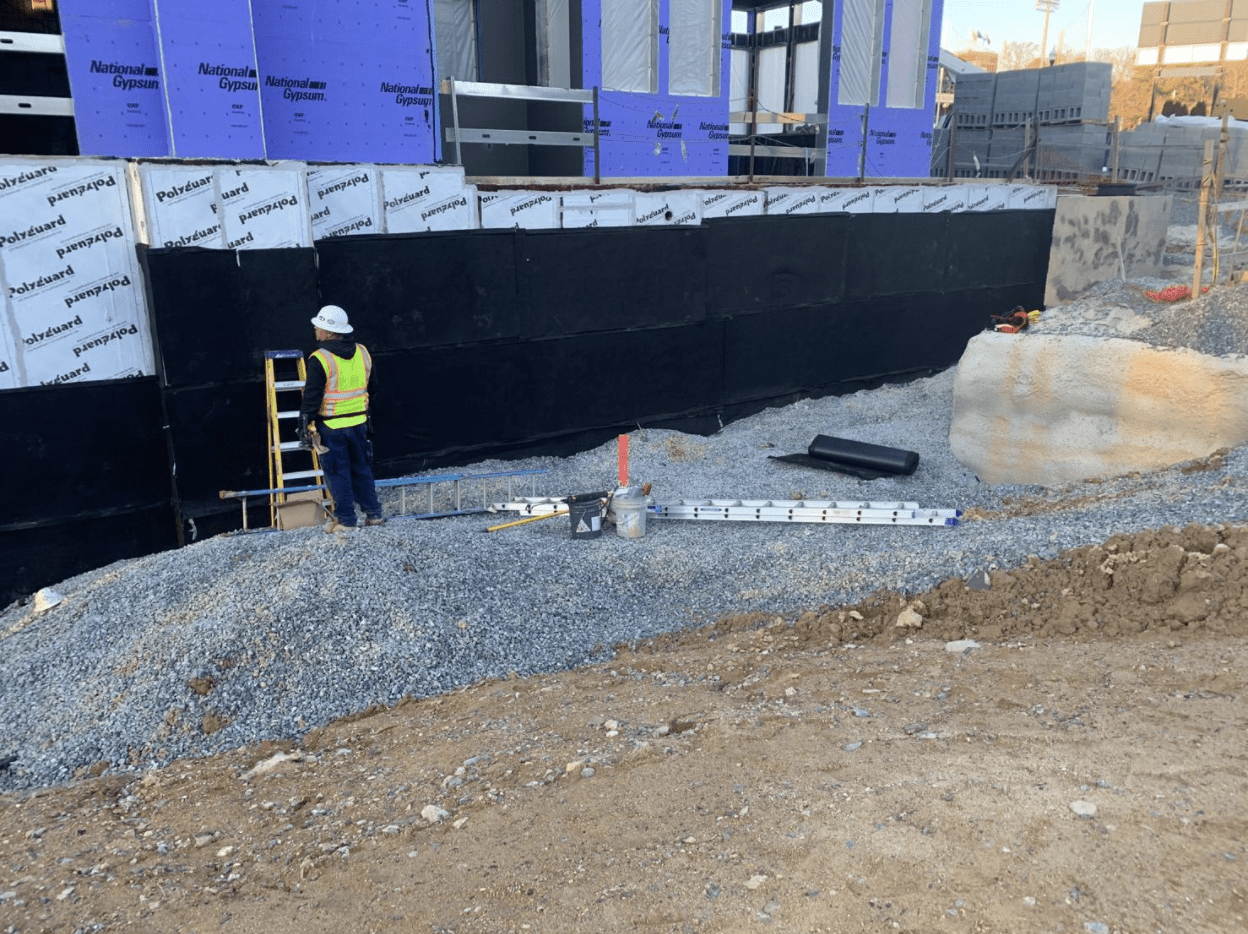 Footing Drains

Gutters and grading provide the first line of defense against a wet foundation. However, the foundation waterproofing methods must also include footing drains to keep the below-grade walls dry.
New construction foundation waterproofing must include perforated drain piping around the foundation's perimeter (footing drains) to direct water away from the footings. Typically, residential builders place the drain pipe a couple of inches below the footing's top and at least 6-inches below the slab's top.

Preventing Capillary Action When Waterproofing Foundation

Even with good surface water drainage management, soil still contains a high level of water vapor that can migrate into a building through the foundation walls by capillary action.
A white powdery substance on the foundation's interior wall indicates a problem with capillary action. As moisture passes through concrete, it dissolves salts, and carries them to the foundation's floors or walls, leaving behind white efflorescence (salt deposits) when the water dissolves.
Methods for waterproofing a new construction foundation against capillary action include:

Dampproofing

Dampproofing involves spraying or rolling a coating onto the outside of the wall. A dampproofing barrier prevents water from the soil seeping into the permeable foundation. In addition, adding dampproofing to the concrete mix will make the concrete water-resistant.
However, dampproofing does not stop liquid water or bridge the tiny shrinkage gaps between a floor slab and the foundation wall. Thick and flexible waterproof coatings can bridge these gaps and prevent water from accumulating around the base of the foundation, by exerting hydrostatic pressure against the walls.

Vapor Barrier

Installing a vapor barrier on a foundation will stop vapor and liquid water in the soil from passing through the foundation and into the building through capillary action.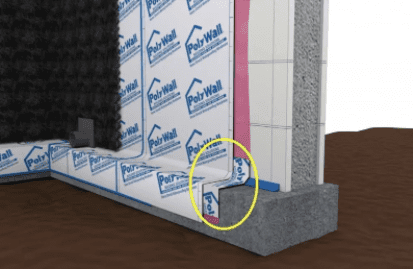 Capillary Break

Capillary breaks (physical gap) can help stop capillary transmission of water from the soil to a concrete foundation. You can create a capillary break with a waterproof membrane material, a granular fill layer (crushed stone or gravel), or a manufactured drainage membrane against the foundation wall.

Polyguard Offers the Best New Construction Foundation Waterproofing Methods

Polyguard's new construction foundation waterproofing methods protect, in the harshest conditions, against liquid and vapor water infiltration into the concrete foundation or slab by hydrostatic pressures and capillary action. Our products include sheet and fluid applied products and drainage systems.

Polyguard Below-Grade Sheet Membranes

UNDERSEAL® UNDERSLAB MEMBRANE

Tough, 85-mil Underseal® Underslab Membrane vapor barrier/waterproofing membrane installs horizontally over prepared sub-bases like mud slab, compacted soil, carton forms, or #57 stone, and stops vapor and water transmission through concrete slabs.
During the concrete pour, the concrete blends with the fibers of the nonwoven geotextile in order to create a tough and secure mechanical bond with the membrane and acts as a barrier to radon gas and methane, to protect both the indoor air quality and floor finishes.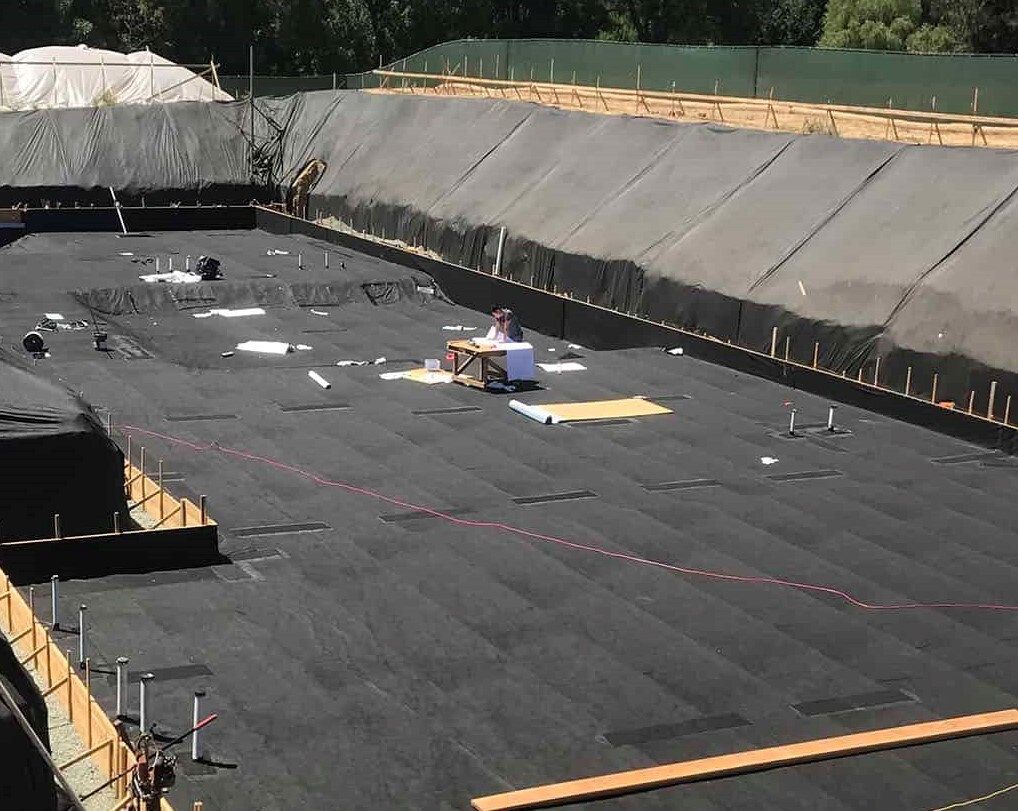 Builders can also install Underseal® Underslab Membrane vertically on removable formwork for waterproof protection for elevator pits, perimeter, and grade beam installations, or against adjoining buildings to provide waterproofing protection.

UNDERSEAL® BLINDSIDE™ MEMBRANE

Puncture-resistant, flexible, 73 mil Underseal® Blindside™ Membrane waterproofing membrane applies in areas where soil retention does not permit access to the positive side (post applied). It installs vertically before pouring the concrete. As the concrete cures, it creates a mechanical bond with the membrane. The membrane's cold flow tendencies produce an outside adhesive layer for a tight seal and excellent protection against moisture, methane, and radon gas infiltration into the concrete.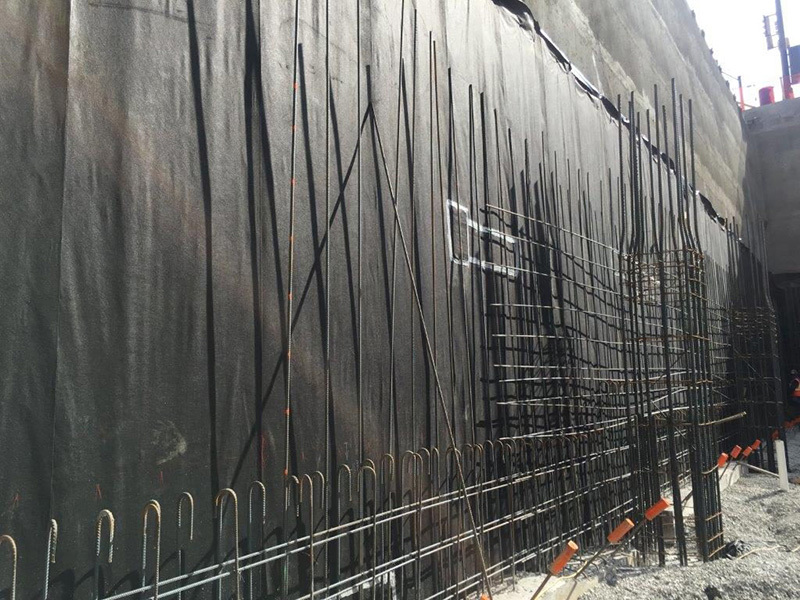 Builders can install the Underseal Blindside™ Membrane horizontally over prepared sub-base like Polyguard approved drainboard, carton forms, mud slab, carton, or fine crushed beds/pea gravel.

UNDERSEAL 650 MEMBRANE

Flexible, strong, 60-mil 650 Sheet self-adhesive vapor retarder/waterproofing membrane prevents vapor and water transmissions through poured concrete foundation walls, CMU, insulated concrete forms (ICF), and wood. In addition, the 650 Membrane's design allows for use in vertical/secure wall and horizontal/split slab applications for vital waterproofing projects.
The Polyguard 650 Membrane comes in a wide membrane (up to 48-inches), to permit fast and simple application to continuous flat surfaces. However, we also offer it in a narrow width for construction joints, trimming corners, and other applications.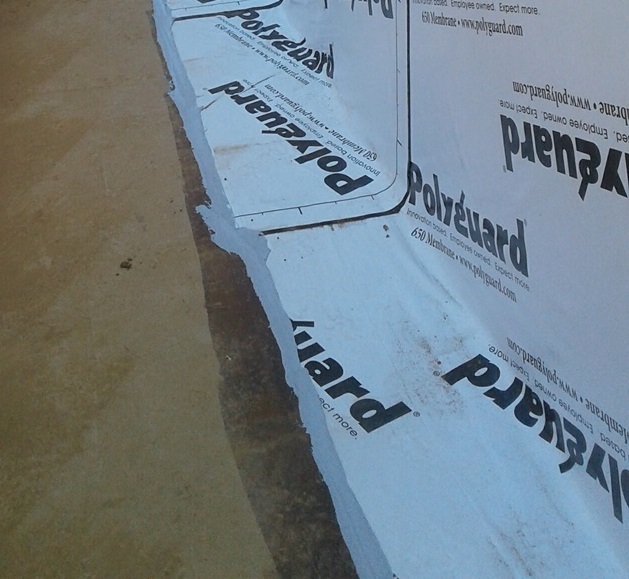 UNDERSEAL ® PRM™ Puncture Resistant MEMBRANE

Self-healing, high-strength 65-mil Underseal® PRM™ is a post-concrete pour sheet vapor retarder/waterproofing membrane with a double-thick, cross-laminated polyethylene backing laminated to a thick layer of rubberized asphalt compound.
Underseal® PRM™ adheres permanently and tightly to concrete. It's backing also creates a continuous barrier to water and moisture vapor infiltration.
Builders can apply Underseal® PRM™ vertically to concrete foundation walls, tunnels, and related applications, and for exterior sides needing waterproofing, it provides quicker application by removing the step of installing a protection course before backfilling operations.
Builders can also apply Underseal® PRM™ to horizontal slab applications like plaza decks, parking garages, plywood decks, and similar applications. In most situations, it also permits concrete topping slab installation without a separate protection course.

Polyguard Chemical Resistant Membranes

UNDERSEAL® CRM™

For chemical resistant walls, 85-mil Underseal® CRM™ offers a superb solution to withstanding high concentrations of water, soil, and vapor contaminants.
Fortified, pre-applied Underseal® CRM™ sheet membrane includes a multi-unit, chemical resistant backing that covers a superior layer of waterproofing adhesive compound and an integrated strong, nonwoven geotextile fabric. Applied horizontally, Underseal® CRM™ creates a continuous seal behind vertical "blind-side" cast-in-place concrete walls or underneath the concrete slab.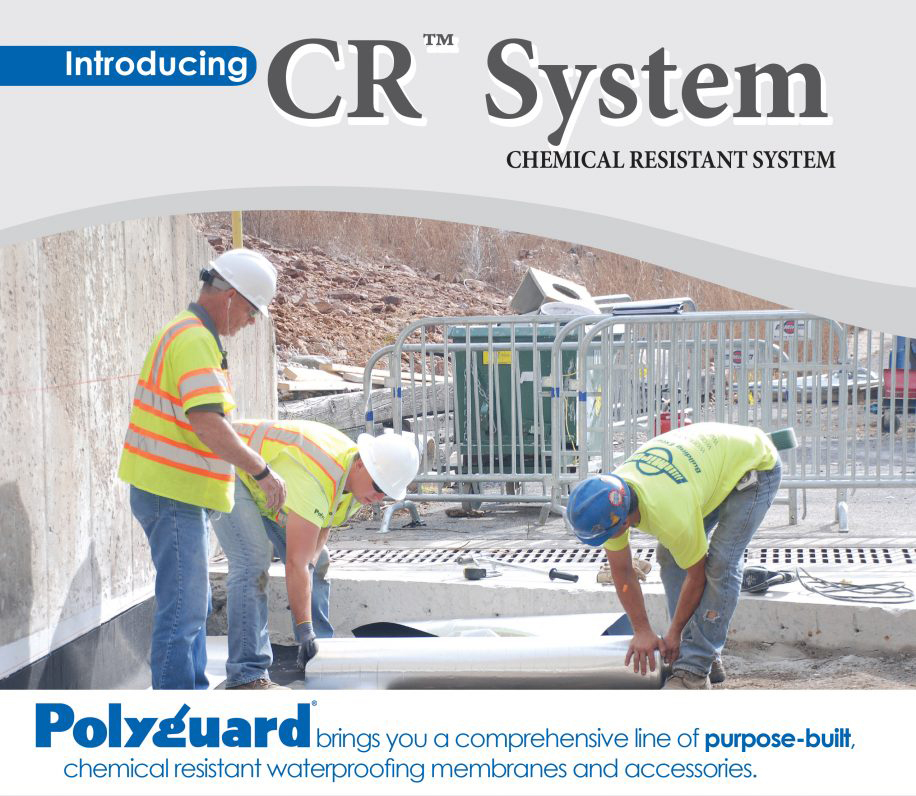 ULTRA CRM™

Post-applied, 60-mil Ultra CRM™ provides a strong sheet membrane with multi-component, chemical resistant backing laminated to a thick layer of waterproofing adhesive compound. It can withstand high concentrations of fluid, vapor, and soil contaminants. We designed the Ultra CRM™ for poured concrete foundation walls, parking garages, tunnels, etc., that need chemical-resistant waterproofing.

FLUID-APPLIED Below-Grade WATERPROOFING

Polyguard developed our fluid-applied single component Commercial Stretch with our patented thermoplastic technology. It offers a spray, cold-applied (down to -20° F) product that creates a durable, seamless waterproofing membrane, bridges substrate shrinkage cracks up to 1/16-inch, eliminates problems at the joints, and minimizes surface breaches. We designed Commercial Stretch for simple application to below-grade exterior waterproofing of precast concrete, concrete, CMU foundations, and other structural surfaces on the hydro-positive side.

FLUID-APPLIED DAMPPROOFING PRO 1000

PRO 1000's design allows for positive-side hydrostatic pressure application over below-grade precast concrete, poured concrete, precast, and concrete masonry walls, to retard moisture infiltration by blocking the capillaries of the concrete.
Builders can also apply PRO 1000 as a negative-side (interior), vapor impermeable coating on the inside of a below-grade wall in combination with dampproofing or waterproofing the wall's outside with PRO 1000 or other Polyguard material.
The single-component, patented cold-applied PRO 1000 produces a non-elastomeric, non-breathable, thermoplastic membrane. The membrane dries to a tough, UV-resistant, recoatable, hard-coat, protective film that stops water passage through a substrate, to protect against melting snow and rain in spots between the exterior finish and the grade.

Polyguard Offers The Best Drainage Options

The design of our high-capacity Polyflow® Drainage products provides builders with various solutions to lightweight drainage that is compatible with our engineered liquid and sheet membrane products. Our simple-to-install products lessen excavation needs, saving both time and money.

Polyflow® 15 and 15P SHEET MOLDED DRAINAGE MATS

Polyflow® 15 and 15P Sheet Molded Drainage Mats, applied vertically over Polyguard waterproofing membranes, direct moisture into the drain core while minimizing the movement of soil particles to prevent clogging of the core. When connected to our high capacity collector and outlet drainage system, Totalflow™, our Polyflow® 15 and 15P drainage mats can minimize hydrostatic pressure.

Polyflow® 18 DRAINAGE MAT

High-capacity Polyflow® 18 is a lightweight drainage system compatible with our engineered sheet and liquid membrane products for below-grade waterproofing.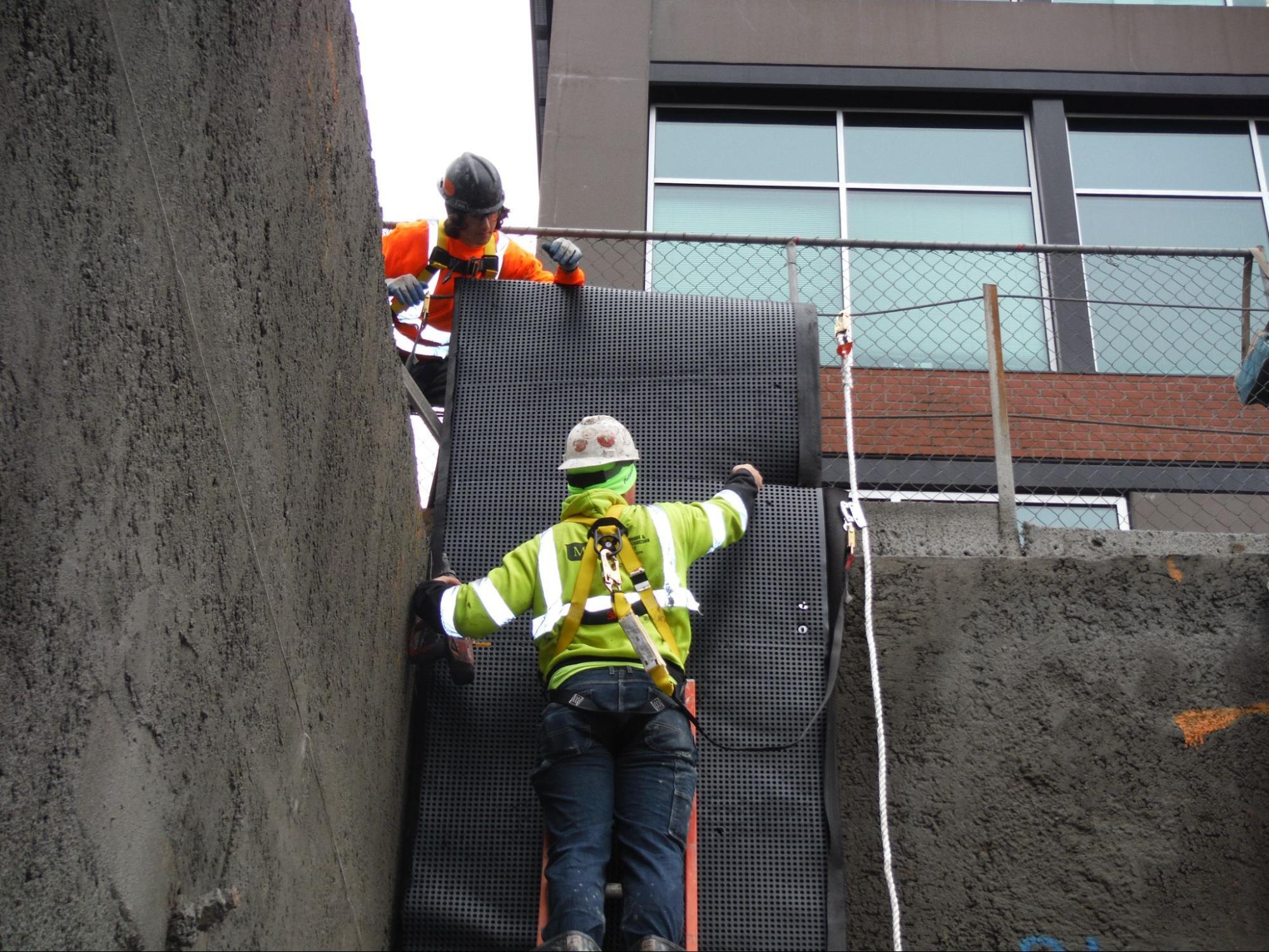 Lightweight and simple to install, the Polyflow® 18 drainage mat offers a compressive strength of 21,000 psf. It can handle the most complex horizontal applications. In addition, this product uses a woven filter fabric specifically for concrete pours, allowing flow under loaded conditions.

Why Choose Polyguard Foundation Waterproofing Methods?

A foundation's strength and durability significantly impact a building's longevity and performance. Extensive and costly problems to a building's integrity will occur from inadequate design and installation of the foundation's waterproofing and drainage systems.
To avoid expensive and complicated repairs due to below-grade leaks, always choose and properly install high-quality below-grade waterproofing and drainage solutions like Polyguard products.
Don't hesitate to contact a Polyguard professionalfor all your questions concerning new construction foundation waterproofing methods.