Waterproof porch flooring is important to preserving the aesthetics and performance of a porch. Heavy rain may pool and leak into the foundation without sufficient waterproof flooring for the porch, causing chips, cracks, and unsafe sealants and joints. Therefore, the best floor waterproofing system pays attention to the critical leakage points of the porch.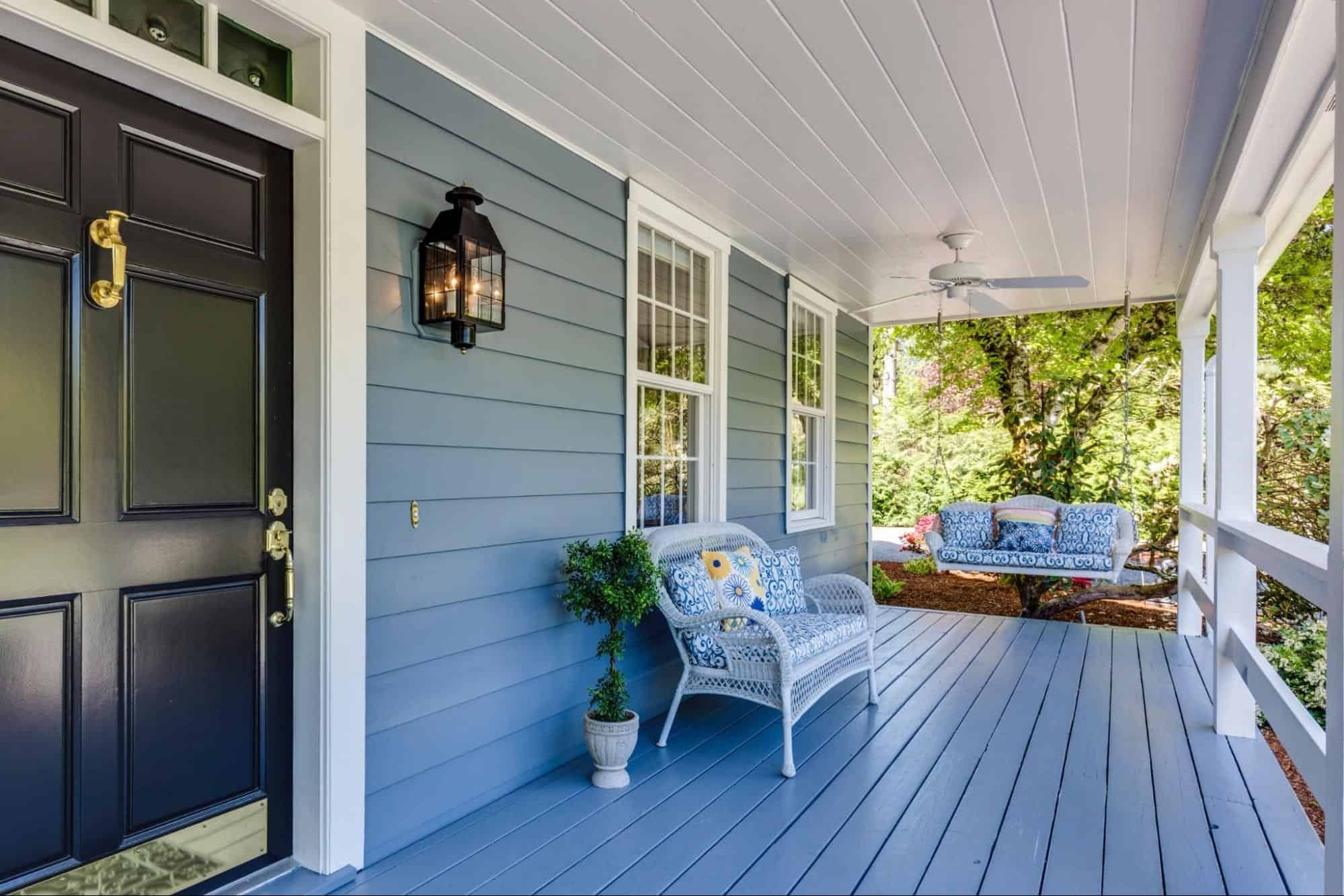 Fortunately, Polyguard makes several high-quality porch flooring waterproofing products, along with companion products, that will help you maintain your porch's integrity and home's value: Tileguard™ anti-fracture underlayment membrane and Polyguard's Balconyguard™ Membrane rolled waterproofing membrane.
Contact Polyguard's architectural division today for help deciding the best waterproofing options for your porch floor.
Waterproof Porch Flooring: New Construction vs. Remodeling
For new construction, the best porch flooring waterproof system includes a drainage membrane on the lower side of the substrate. However, when remodeling, the porch conditions will determine the optimum solution for waterproofing a patio.
Selecting the Best Waterproofing Solution for Existing Porch Floors
The best way to waterproof an existing porch floor depends on the condition of the substrate and floor, along with adequate sloping.
Before choosing your porch waterproofing solution, check the flooring for holes and cracks. If present, remove the finished floor layer and inspect the substrate (typically concrete or wood ) for damage. In addition, your porch should provide positive drainage with a minimum slope of 2 percent (1/4 inch per foot).
Waterproofing Floors and Substrates in Good Condition
You can easily and quickly apply flooring-specific liquid membrane waterproofing to the finished floor with brushes or rollers for porch floors without tenting and cracks.
Following the manufacturer's instructions, the process should create a thickness of just a few millimeters and leave no gaps. In addition, the liquid membrane waterproofing solution you choose should resist bad weather, temperature changes, stagnant water, and chemical substances.
Waterproofing Damaged Substrate and Finished Flooring
Rusts, cracks, discoloration, or salt on the floor indicate problems with your porch floor. When this happens, you will need to remove the finished flooring, to expose the substrate (the last line of defense between the crucial structural parts of the porch floor and moisture).
For concrete substrates, look for and fill in with an adhesive membrane any visible chips or cracks. For larger damaged concrete substrate pieces, use a concrete patcher with a trowel to cover and smooth the new concrete. Before installing the adhesive membrane, ensure a clean, smooth, dust-free, and dry substrate.
Waterproofing Options for a Porch Floor
Manufacturers usually offer two solutions for the best porch waterproofing membrane: wet/liquid and rolled/sheet membranes. However, the success of porch waterproofing depends on following manufacturers' instructions.
Wet Waterproofing Membrane
Cost-effective wet or liquid membranes are not the best waterproofing for porch flooring. Builders often find the application of liquid membranes more complex and less effective at producing an even surface than rolled waterproofing membranes.
Rolled Waterproofing Membranes Are the Best Option for Waterproofing a Porch
Sheet or rolled membranes come in long, adhesive sheets that you lay over the subfloor. They guarantee an even surface, and provide a reinforcement layer for the subfloor. In addition, sheet or rolled membranes install more effortlessly and quickly than liquid membranes.
Balconyguard™ Membrane — A Superior Rolled Waterproofing Membrane
Polyguard's Balconyguard™ Membrane is a superior rolled waterproofing membrane combined with our high-performing products.
Builders can use Polyguard's 60-mill, self-adhesive Balconyguard™ waterproofing membrane on wood porches covered with lightweight concrete.
Simple to install, Balconyguard™ Membranes offer numerous impressive features and advantages specially designed for waterproofing porches, along with balconies and exposed multi-story walkways covered with lightweight concrete:
High-strength PET film
Tensile strength meets ASTM D412
Elongation meets ASTM D412
Treated removable release film
48-inch wide by 50-feet rolls (200 ft2 rolls), minimize seams up to 25 percent (compared to 36-inch wide products), to save time, and reduce the number of required seams
Balconyguard™ System includes custom corner boots, to simplify installation and detailing, which saves builders time and money.
Before applying the Balconyguard™ Membrane, Polyguard recommends contacting the team of Polyguard Professionals or an authorized company representative for shop drawings or job-specific details.
Tileguard™ Anti-Fracture Underlayment – The Best Waterproofing Option for Tiled or Brick Porch Floors
Tileguard™ anti-fracture underlayment membrane produces a stress-absorbing layer between the subfloor (concrete or wood) and the tile. Tileguard™ rubberized asphalt absorbs the damaged subfloor's stress, so it doesn't move up and crack the tile or brick floor. Tileguard™ also helps create drier, warmer, and quieter porch environments.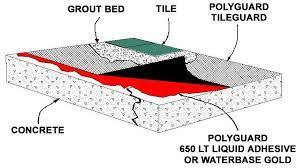 Builders can simply apply elastomeric, self-adhesive Tileguard™ membranes over various subflooring surfaces and under a brick or ceramic flooring with thin or thick tile-setting materials. In addition, the silicone-treated release liner stops sticking when rolled, which allows for simple application.
Polygaurd manufactures peel-and-stick Tileguard™ as a composite 40 mils thick membrane of rubberized asphalt, topped with fabric, that the thin-set mortar bed adheres to. The elastomeric, self-adhesive, strong membrane winds on cores with a disposable silicone release sheet.
Guarantee Waterproof Porch Floors with Polyguard Companion Products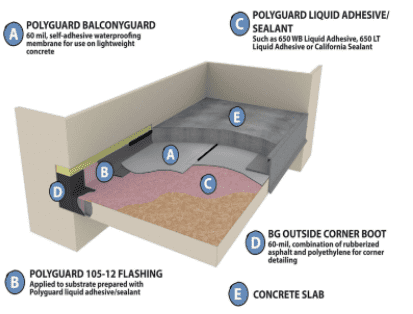 Polyguard offers several companion products to help ensure a water-tight porch floor.
Polyguard 105 Flashing Membranes deflect water and the exterior flashing applications include: the flange flashings, spandrel beams, sills, copings, and window and door headers.
Priming masonry, wood, structural concrete, or wood surfaces with Polyguard's rubber-based 650 LT Liquid Adhesive before applying waterproofing membranes will produce superior adhesion for the Polyguard® waterproofing membranes. Builders can use 650 LT Liquid Adhesive on installations down to 25° F (-4° C).
Rubber- and water-based 650 WB Liquid Low-Tack Adhesive provides superior adhesion. Builders can use 650 WB Liquid Adhesive at ambient and above ambient and surface temperatures of 40° F (5° C).
The Balcony Guard™ Outside Corner Boot simply installs to the outside face of the porch at the wall-porch interface.
Flexible, non-staining, and non-corrosive Polyguard Detail Sealant PW™ fills minor concrete masonry cracks, gypsum sheathing joints, cast concrete cracks, gaps at the head joints, and penetrations, to produce a continuous smooth surface.
Polyguard Detail Tape applies to the inside and outside corners, penetration control joints, expansion joints, and cold joints to patch damaged membrane areas.
Polyguard's two-component, semi-self-leveling, asphalt-modified urethane liquid membrane LM-85 SSL membrane comes in a pourable sealer. Polyguard manufactures LM-85 SSL specifically to use with Polyguard waterproofing membrane in pitch pan and Dual Core applications.
Polyguard Polyflow® BD (balcony drain) drainage and protection system provides drainage for foot-traffic decks with less than 3-inches of concrete.
Polyguard Polyflow® 18 Drainage Mat contains a two-part, molded-sheet drainage geocomposite with an impermeable polymeric core covered on one side with a strong woven filter fabric.
Why You Need to Waterproof Your Porch Flooring with Polyguard Products
Sufficient waterproofing of your porch floor will help preserve the durability and aesthetics of your home's outdoor space, and significantly reduce maintenance and repair bills over time. On the other hand, a leaky porch can lead to unhealthy living conditions and long-term structural damage.
Fortunately, Polyguard makes several porch flooring waterproofing products and companion products, including Tileguard™ anti-fracture underlayment membrane and Polyguard's Balcony Guard™ Membrane rolled waterproofing membranes. These products and our companion products can help with your porch waterproofing needs, to secure your home's value and integrity for years to come.
For more questions on the best options for waterproofing a porch's floor, don't hesitate to contact the team of Polyguards professionals today!