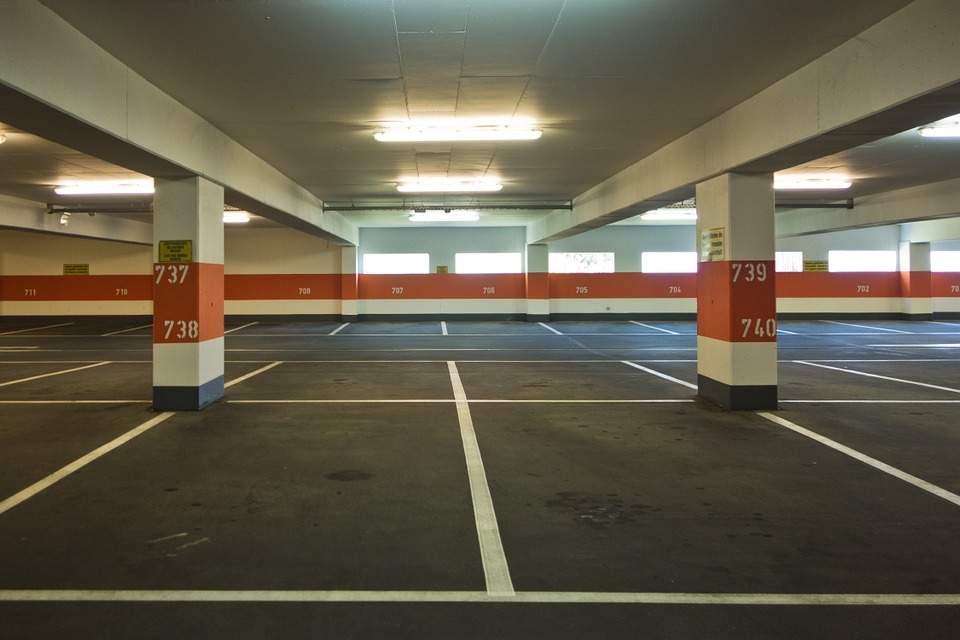 Properly installed and maintained waterproofing membranes for a parking garage deck will minimize maintenance and repair costs and extend its service life.
Modern methods of parking garage waterproofing better understand deterioration mechanisms. Specifically, the long-term performance of a parking garage depends on the effectiveness of the waterproof barriers in preventing moisture and chemical contamination and managing the salt-laden water entering the structure.
Proper installation and maintenance of a parking garage waterproofing system will slow its rate of deterioration and ensure safe, uninterrupted, long-term use of the structure. Protecting a parking garage with high-quality waterproofing will also limit closures, reduce long-term capital expenditure costs, and maintain its initial value. Conversely, a lack of adequate waterproofing often results in costly structural repairs, loss of revenue to extensive closures, and damage to vehicles.
A properly installed and well-maintained high-quality waterproofing system, like those offered by Poly Wall® Building Solutions (a division of Polyguard) for a parking garage, provides the front line defense against damaging moisture, chemicals, and salt-infused water.
Three Considerations for Waterproofing a Parking Garage
Preventing water intrusion in a new parking garage demands detailed, professional design instructions, like from our waterproofing specialists at Polyguard. Our team can help you avoid critical waterproofing design mistakes, particularly when it comes to terminations, transitions, and penetrations during construction, which can lead to time delays, budget overages, and even court. We also suggest that general contractors assign responsibility to a single person for the critical systems that impact waterproofing, like the building envelope, HVAC, etc., instead of relying on each building specialist to ensure their tasks meet an adequate level of waterproofing.
1. A Robust Waterproofing Design
The waterproofing system for a parking garage must withstand an aggressive environment, with heavy wear and tear from cars, trucks, and other vehicles. A poorly designed waterproofing system for a parking garage will quickly deteriorate, allowing moisture and chloride to enter the structures.
An effective waterproofing system must bridge cracks that will open and close as the temperature changes, along with cyclical loading as the structure ages. If the system stops bridging cracks, it becomes an easy path for moisture and chlorides to evade a surface-applied waterproofing system.
2. Sealing Joints in Precast Parking Structures
To maximize a precast concrete parking garage's lifespan and avoid significant maintenance and repair costs, you must adequately engineer and install joint sealants between the precast concrete members.
Ensuring the good design, installation, and leak-free, long-term performance of sealed joints in precast concrete parking structures requires collaboration and coordination between building specialists: architect, precast concrete contractor, welder, concrete finisher, and sealant specialist. Designing sealing joints should consider expected joint movement, sealant material, and joint configuration. For more information on joint design, you can reference ASTM C11931 and ASTM C12992.
Choosing a Quality Sealant for Joints
The sealant must adhere to clean concrete, accept the movement of the joint, and withstand environmental conditions. The market offers single and multiple-component products.
The physical demands on a parking garage sealant require a primer as an extra layer of protection against unplanned conditions, like ponding water or long-term snow cover, chemical exposure, and some forms of surface contamination. In addition, the design of parking structure joints should accept sealants capable of ±25% movement. However, some sealants can take 100% extension and 50% compression. Designing to the lower movement standard will leave room for error.
To combat mechanical forces on the sealants from cars, trucks, etc., you must recess the sealant from the surface of the concrete at the drive lanes and ramps. Finally, the sealant must withstand heavy heat and UV (ultraviolet) rays in warm climates like Texas and Florida. In Michigan and Maine's extreme cold and snow, the sealant must withstand extreme cold and snow, plus the abrasion of sand and salt used on the deck.
3. Provide Proper Drainage to the Parking Deck
Draining water away from the parking garage will protect the deck, waterproofing membrane, and concrete slab, all vital to the structure's service life. Extensive damage will occur if water left pooled in the structure freezes and thaws in colder climates. Therefore, waterproofing for a parking garage must include a drainage system that will direct water away from the structure. In addition, the deck must slope at least 2 percent towards a drainage system.
Polyguard Pavement Waterproofing Membranes for Parking Garages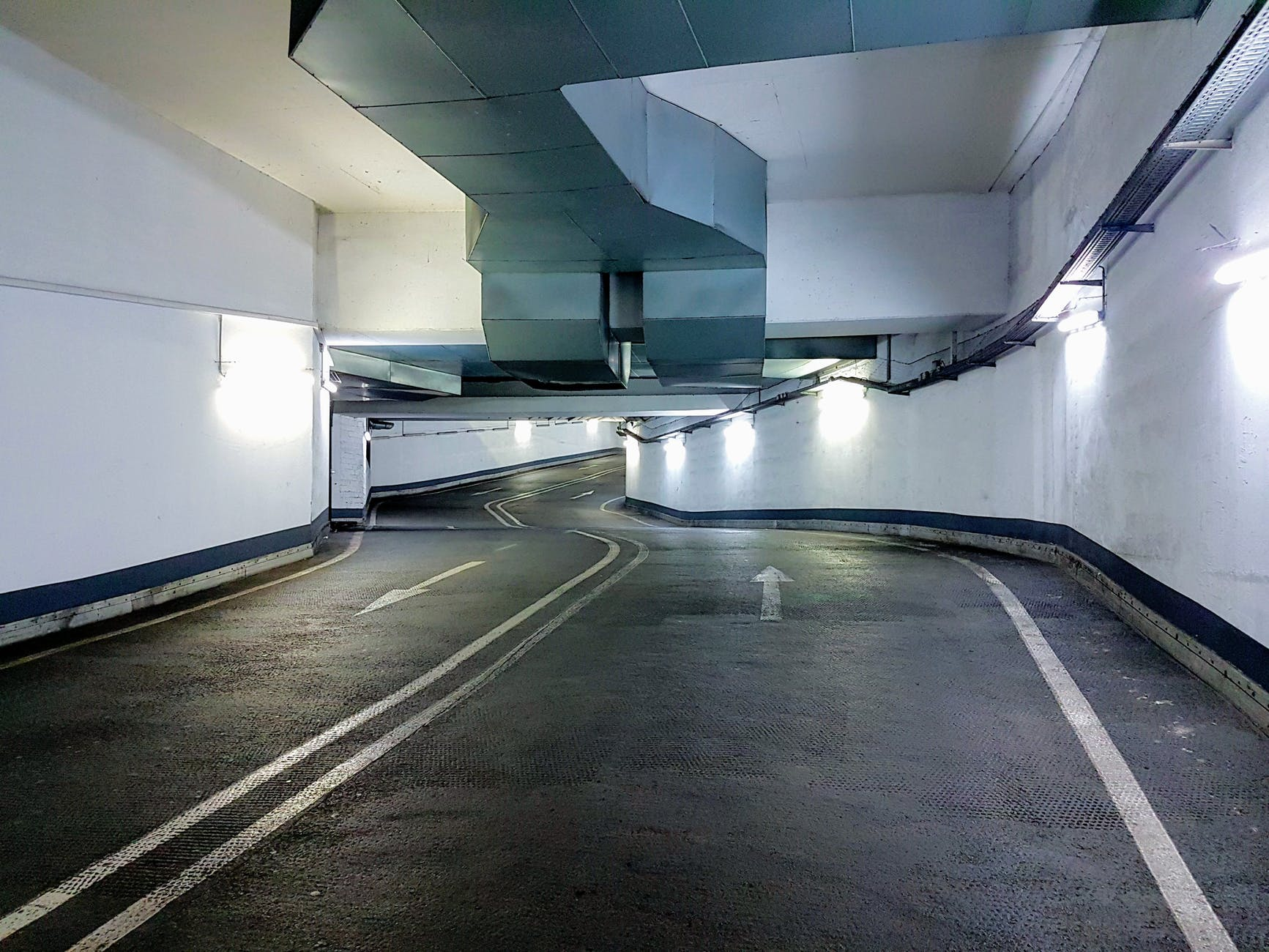 In most states, the Department of Transportation recognizes the use of Polyguard Pavement membranes to protect bridge decks or pavement bases from water and moisture. They contain a rubberized asphalt waterproofing adhesive laminated to polypropylene fabric backings. We applied a disposable silicone-treated release sheet to the laminated membrane to prevent the membrane from sticking onto itself while in the roll. Only use Polyguard Membranes at pavement and air temperatures of 40 ºF and higher.
Polyguard offers several waterproofing membranes and companion products for bridge decks and parking garages:
Durable and Tough 665 Waterproofing Membrane
Self-adhering, 665 Waterproofing Membrane consists of rubberized asphalt laminated to a woven solid polypropylene mesh backing to form a minimum 65 mil membrane.
Durable and flexible 665 Waterproofing Membrane, with a perm of 0.05, provides long-term waterproofing protection by maintaining its integrity against traffic and environmental attacks. 665 Waterproofing Membrane provides:
Puncture resistant up to 200 lbs.

Strip Tensile Strength of 50 lbs./in. Width

Grab Tensile Strength 150 lbs.

20% Elongation at break of fabric

Pliability at low temperatures
You can cold-apply with no special adhesives or heating equipment, the 4-foot wide, 50-feet long membrane, delivered on a silicon release for ease of application. Projects suitable for 665 Waterproofing Membranes do not exceed an overlay temperature of 325°F.
In addition, we recommend an application of 650 RC Liquid Adhesive before applying the membrane to concrete bridge decks or milled pavement surfaces. Between temperatures 40º F and 50º F, new asphalt pavement surfaces do not need adhesive. Therefore, only use liquid adhesive for old concrete or asphalt surfaces (except milled surfaces) for temperatures below 70º F.
650 RC Liquid Adhesive
Polyguard 650 RC Liquid Adhesive is an asphaltic solvent-based liquid adhesive primer below waterproofing membranes for parking garages that enhances the bond between the membrane and pavement. Easy to apply, 650 RC Liquid Adhesive meets the requirements of ASTM D-41.
Solid and Flexible 650 Sheet Membrane
Strong, flexible, 60-mil, post concrete pour 650 Sheet waterproofing/vapor retarder membrane virtually eliminates water and vapor transmission through a parking garage's concrete slabs. Self-adhered and cold-applied 650 Membrane allows for application down to 25° F (-4° C).
Polyguard 650 Membrane comes in a wide membrane, allowing for quick and straightforward application to continuous flat surfaces, like a parking deck. However, it also comes in a narrow width for trimming corners, construction joints, and other applications.
You can purchase 650 Sheet Membrane in sizes: 36″ x 66.7′ and 48″ x 50′ rolls.
Reduce Cracking and Corrosion with NW-75 Pavement Underseal Membrane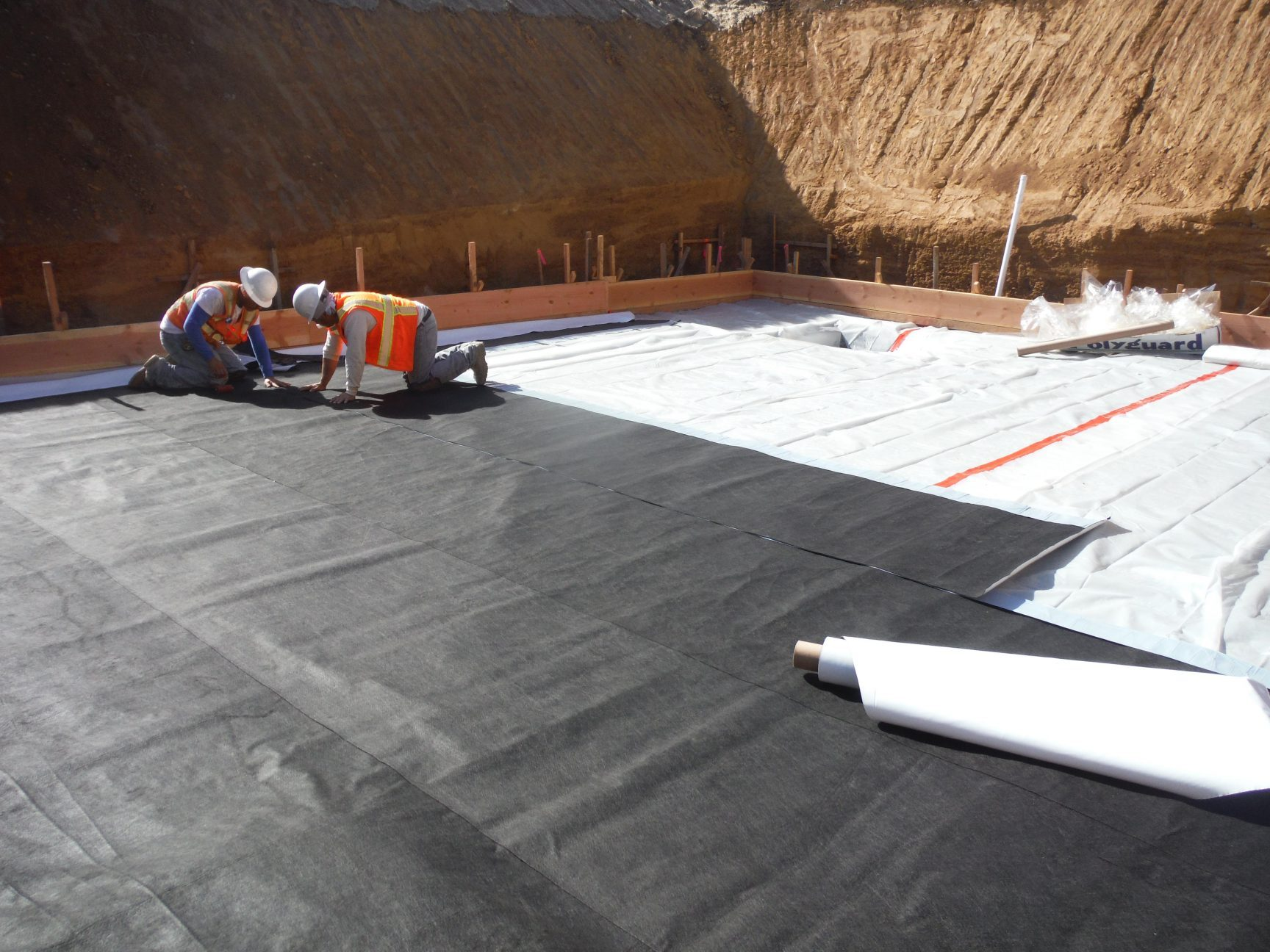 Peel and stick Polyguard NW-75 provides the ideal waterproofing solutions for localized areas of failure in parking lots (less than 10 percent of pavement area) before paving with a new overlay. Weaknesses in the subgrade can cause the asphalt to crack, allowing water to enter the subgrade, accelerating the failure, and creating a bad spot in the pavement, which is a situation that often repeats itself even after digging out and repairing the area. Pavement Waterproofing Underseal can help stop future pavement failure by reducing the extent and severity of reflective cracking.
NW-75 performs two functions. It provides reinforcement against breakup and cracking. If a crack occurs, the waterproofing seal built into the NW-75 stops water infiltration.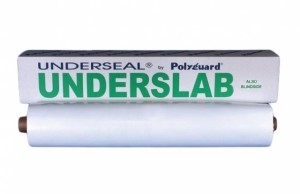 Puncture-resistant, NW-75 Polyguard 65 mil underseal membranes provide a permanent seal underneath the pavement, reducing the severity of pavement cracking and preventing steel corrosion on decks. It is also an excellent solution for joint and cracks repair.
Polyflow® 18 Drainage Mat
The design of our high-capacity Polyflow® 18 Drainage Mat provides a solution to lightweight drainage compatible with our engineered sheet and liquid membrane products used for parking garages.
Lightweight and easy to install, Polyflow® 18 drainage mat contains a compressive strength of 21,000 psf, capable of handling the most challenging horizontal applications like a parking deck, split slabs, and plazas. In addition, this product utilizes a woven filter fabric designed for concrete pours to allow flow under loaded conditions.
Home Stretch™ Liquid Waterproofing
Home Stretch™ Liquid Waterproofing provides waterproofing for below-grade precast concrete, concrete, and other vertical foundation surfaces prone to hydrostatic pressure. Its solvent-based, elastomeric coating cures to form a durable waterproofing membrane capable of bridging cracks up to 1/16th of an inch. For complete garage wall waterproofing, Poly Wall advises using Home Stretch™ Liquid Waterproofing with Blue Barrier™ Joint Filler 2200, Arroyo™ Drain Board, Arroyo™ Outlet Channel, Arroyo™ End Outlet Channel System, and Arroyo™ T Outlet.
Trusted Reliability of Polyguard Waterproofing Products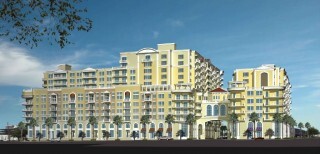 The Alta Dadeland project in Miami, FL, includes 431 residential units, 2,000 square feet of retail space, and a six-story parking garage protected with Polyguard waterproofing products.
For nearly 50 years, Polyguard's Highway Division waterproofing products have protected the integrity of parking garages, saving on expensive repairs and maintenance. Correctly installed and maintained, our durable, strong, and flexible products protect against water and moisture intrusion, particularly around the joints, and reduce the amount and severity of cracking. As a result, Polyguard waterproofing products minimize maintenance and repair costs and preserve the structure's integrity for years to come.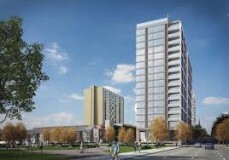 The 16-story Museum Towers II in Philadelphia includes an on-site parking garage featuring Polyguard waterproofing products.
For more information on waterproofing a parking garage, don't hesitate to contact our professionals at Polyguard.