Industrial pipe insulation provides a barrier between the contents of a pipe and the outside environment, which is particularly vital in buildings where iron, copper, CPVC, PVC, and stainless-steel pipe temperatures can range from 0° F to 1,000° F (-18° C to 538° C). Industrial pipe insulation plays a crucial role in a building's efficiency, safety, durability, and indoor environmental quality (IEQ).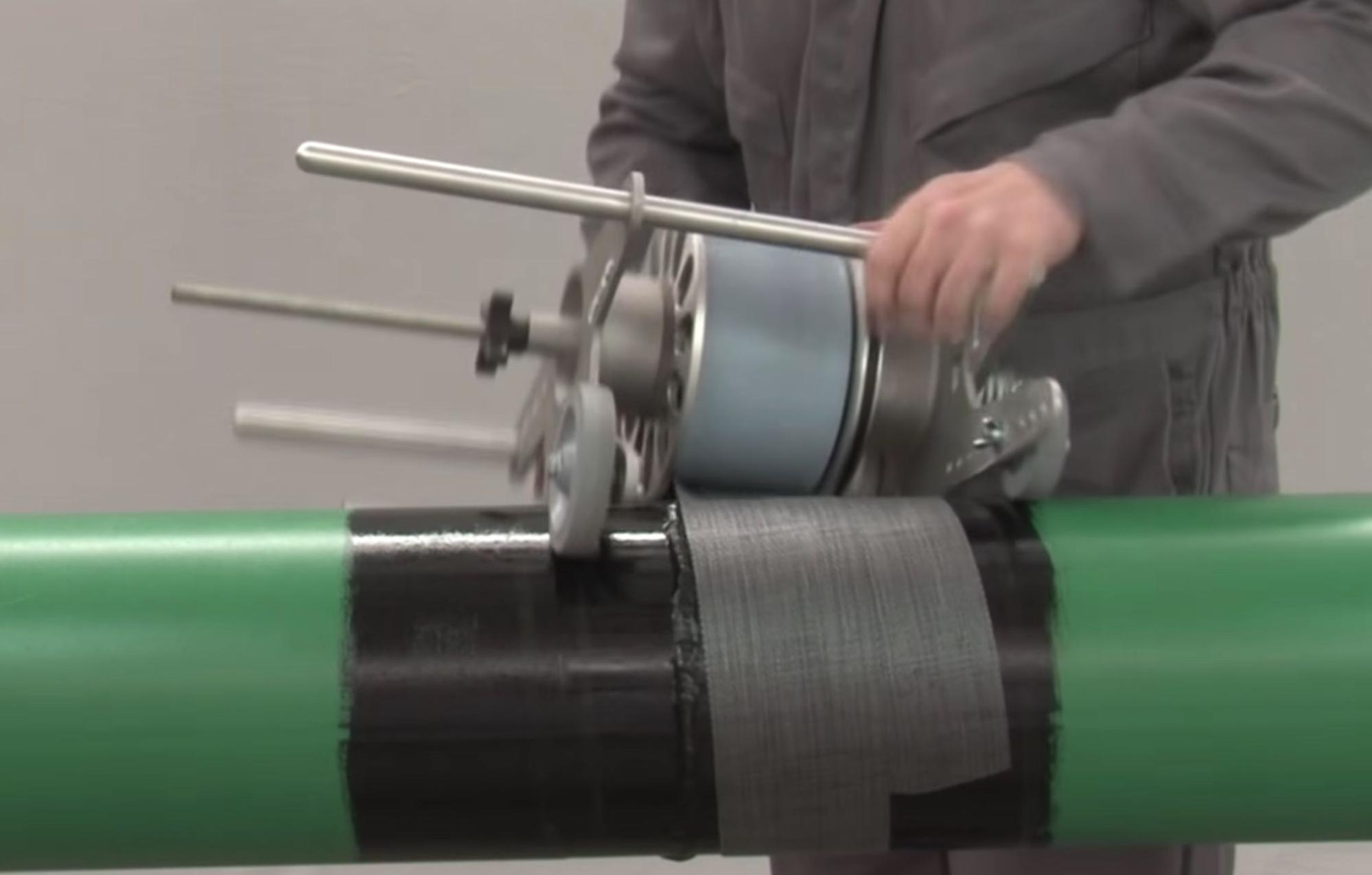 Ensuring that the long-term integrity of the insulation and pipe requires several vital steps before and after applying the pipe insulation:
Why We Need Pipe Insulation
Improves Energy-Efficiency: Thermal pipe insulation on the exterior of pipes prevents heat transfer and significantly improves a structure's energy efficiency.

Enhances Worker Safety: Pipe insulation improves workers' comfort and protects them from injury and burns.

Prevents Freezing: Insulation on outside pipes in below-freezing environments reduces the chance of blockage and possible rupture, potentially damaging both the pipes and building.

Stops Condensation: Insulation stops condensation on the pipes. Condensation can cause rust and lead to unhealthy and structurally damaging mold.

Soundproofing: Acoustic pipe insulation provides a layer of soundproofing for buildings requiring substantial noise control, like movie theaters and hospitals. The conductive nature of pipes makes them especially adept at carrying sound from one building area to another. Acoustic insulation can dampen sound. It also can serve as a buffer, preventing acoustic vibrations from moving from the pipe to another surface, like the floor or wall.
Installing and Protecting Pipe Insulation with Polyguard Products
The 2021 International Energy Conservation Code (IECC C403.12.3) requires insulation for piping associated with a heating or cooling system that carries fluid with an operating temperature of 105° F or more, or 60° F or less. Furthermore, you must protect the weather-exposed insulated piping from sunlight, moisture, and wind, which can damage and diminish the effectiveness of the insulation.
Fortunately, Polyguard provides all the products you need to protect piping against corrosion, heat loss, moisture, and weather damage: Corrosion Control Gel RG-2400, PolyPhen® Phenolic Insulation, Insulrap 30 NG, Alumaguard® Lite, ZEROPERM® film, VaporGuard™ Butyl Tape, and InsulShield™ Outerwrap™.
Four Steps for Ensuring Reliable Industrial Pipe Insulation
Step 1
Apply a layer of ReactiveGel RG-2400 (Blue Goo) to stop corrosion under insulation (CUI).
Using a brush, PVC chemical gloves, or roller, apply a thick layer of RG-2400 to a clean, rust and debris-free pipe until you no longer see the metal. For large pipes or vessels, you can directly apply the RG-2400. For large pipes, we also recommend installing our mesh fabric before applying the insulation and vapor barrier.
Always wear eye protection and a respirator mask when using RG-2400 products.
Polyguard has a series of products to stop CUI, that will meet the specific needs of your industry:
Step 2
Install PolyPhen® Phenolic Insulation to prevent heat loss.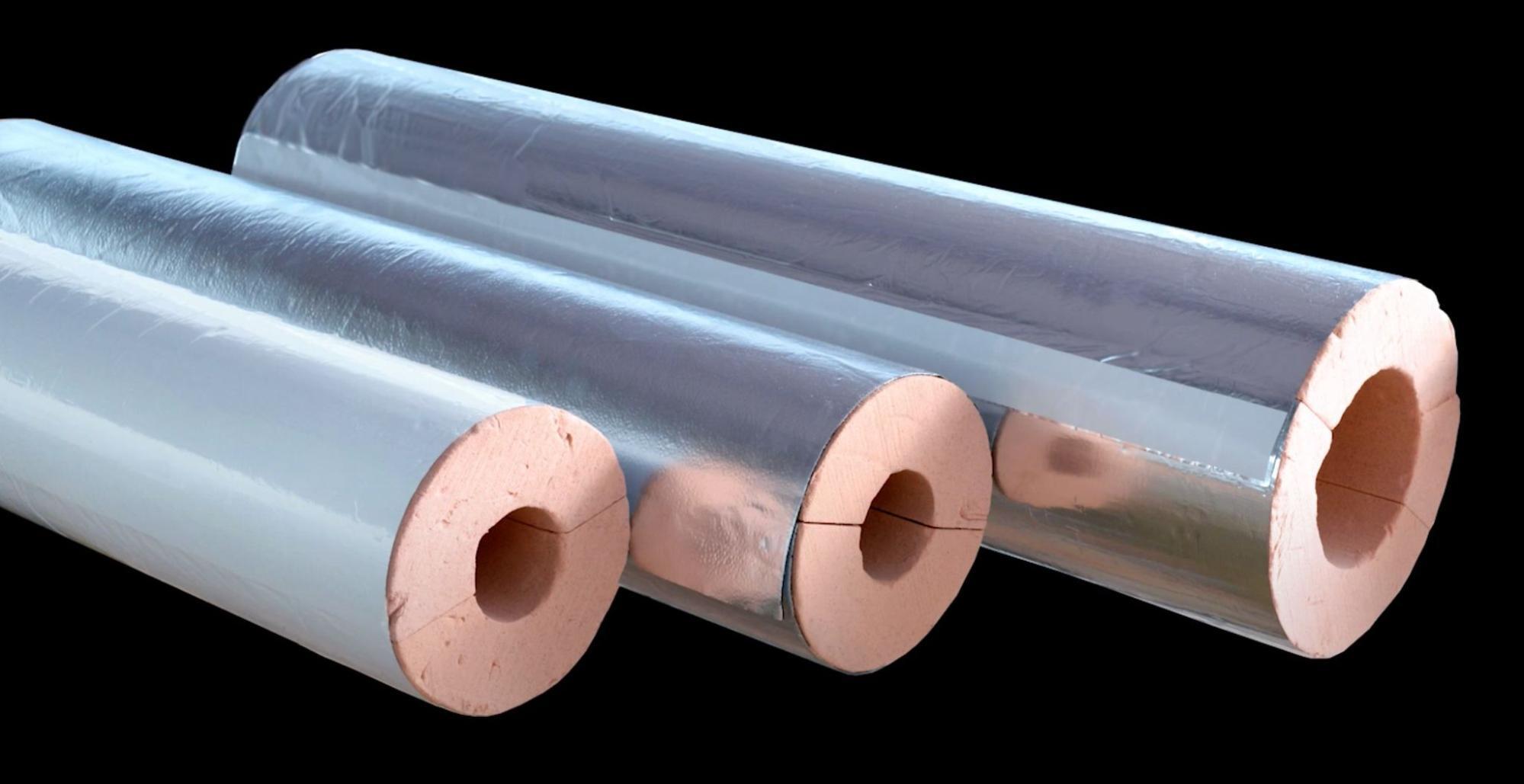 PolyPhen® Phenolic insulation, installed over the RG-2400, will efficiently stop the flow of heat and vapor to and from the pipe. Computer cutting technology by specialist fabricators significantly improves the value of an insulation system by ensuring a consistent tight-fit for applications of PolyPhen® Phenolic Insulation.
Environmentally safe, flame-resistant, closed-cell Polyguard PolyPhen® offers a range of rigid foam, insulation densities designed for commercial and industrial applications like piping systems, vessels, tanks, and ductwork. With thermal conductivities ranging from 0.17 – 0.24 Btu in/(hr ft2), you can apply PolyPhen® closed-cell insulation to insulate surfaces operating within the temperature range of -290° F to +250° F (-180° C to +120° C). The insulation thickness varies depending on the pipe temperature.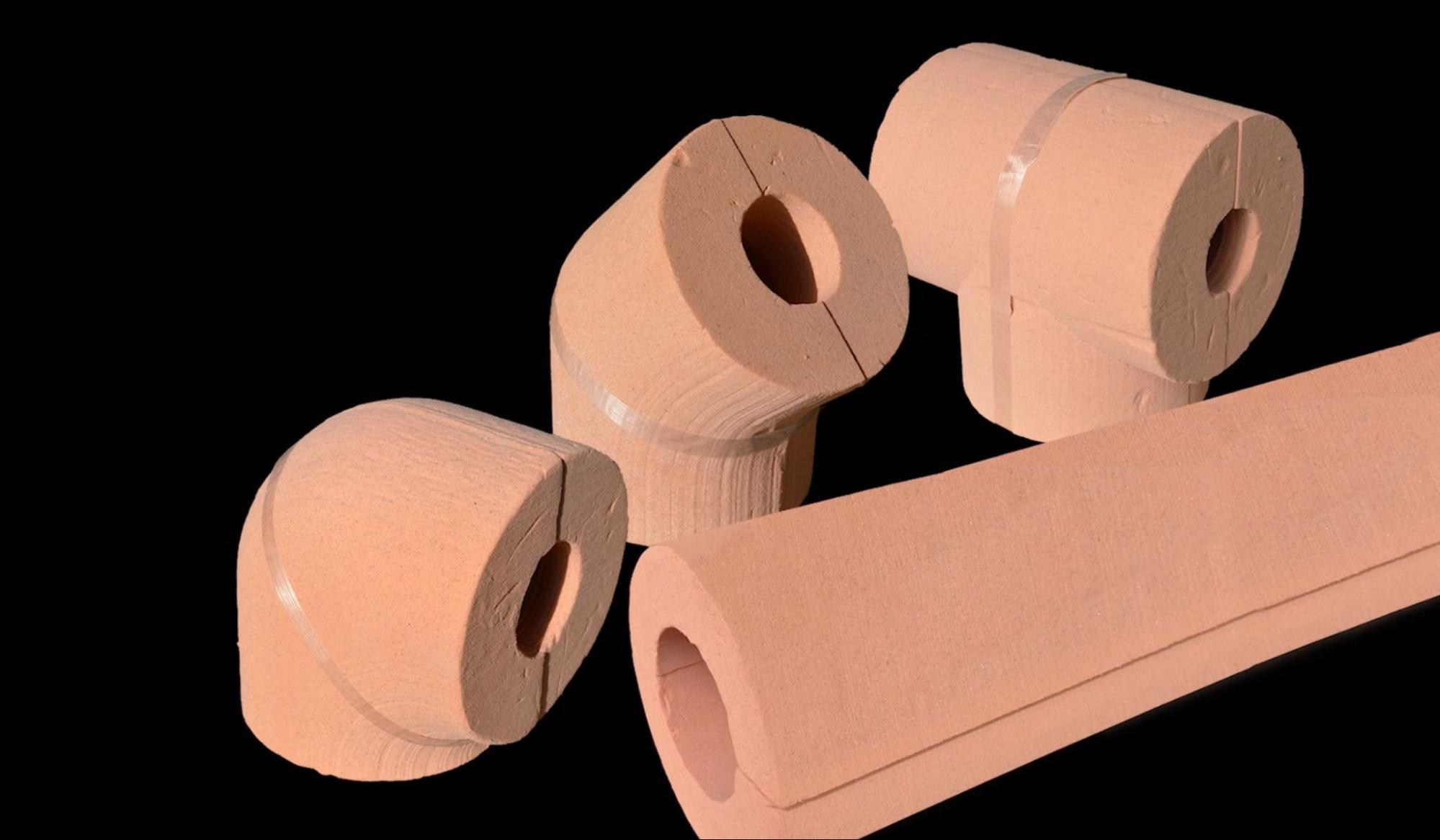 Why Choose Phenolic Insulation?
Phenolic materials result from a reaction when solids, phenolic resin, and a surface-acting agent are mixed to create a network of bubbles cured into a closed-cell foam, enhancing its thermal and moisture resistance when compared to open-cell foam.
The low thermal conductivity

gives it twice the insulating capabilities of other insulating materials like cellular glass (partially closed cell), elastomeric (closed cell), and fibrous glass (open cell).

The high R-value and low thermal conductivity save money because it requires less insulation to maintain the same performance as other common insulation materials.

It achieves an ASTM E84 25/50 Class A flame and smoke rating, and many phenolic foams do not burn at all when exposed to an E84 flame test, yielding a perfect 0/0 rating.

Phenolic insulation produces very low levels of toxic gas emissions. Waste insulation can also be reused and manufactured into a new product.
Step 3
Apply a vapor layer: Insulrap 30 NG, Alumaguard, or ZEROPERM® films over the insulation to control moisture infiltration. For smaller jobs, use VaporGuard™ Butyl Tape.
In conjunction with our RG-2400 on insulated pipes, Polyguard recommends applying our zero-perms rated flexible cladding and vapor barrier products: Insulrap™, Alumaguard®, and ZEROPERM® films. Vapor barriers over insulated piping, especially cold systems or high humidity conditions like the Gulf Coast region, help retard the passage of moisture vapor from the atmosphere to the insulation, ensuring the integrity and function of the mechanical pipe system.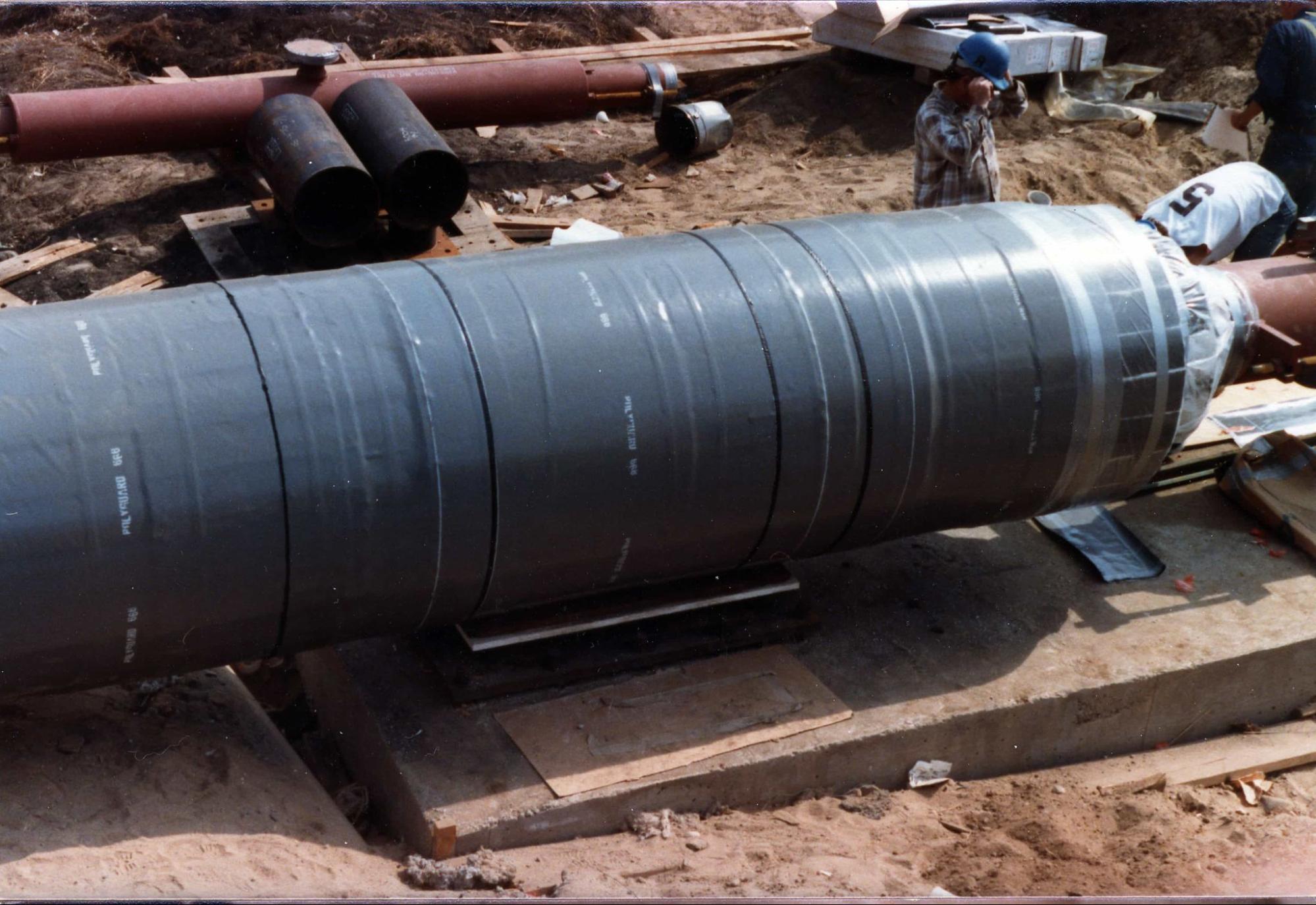 Insulrap™ 30 NG Vapor Barrier
Refrigeration, cryogenic and chemical processing applications typically use our original self-healing vapor barrier membrane, Insulrap™ 30 NG. Low-perm, Insulrap™ 30 NG consists of a tough polymer film coated with a layer of rubberized asphalt specially formulated specifically for this application.
To apply the "peel and stick" Insulrap™ 30 NG:
Remove the disposable silicone-coated release liner and immediately cigarette wrap the pipe, providing a 2-inch overlap of the membrane on itself.

At the joints, wrap with 4-inch butt strips.

Apply pressure with a roller to ensure the barrier conforms to the insulation.
You can use Insulrap™ 30 NG in burial applications if covered with a mechanical jacket. However, refer to the datasheets for Insulrap™ 50 NG or Insulrap™ 125 No Torch for direct burial applications.
Insulrap™ 30 NG has several features that help save on labor and material costs compared to mastic/fab/mastic coatings:
Uniform factory-controlled thickness of 0.30 mils

Self-healing laps

Elastomeric properties that accommodate expansion and contraction of the substrate

White color for improved reflectivity in the field before jacketing
Alumaguard® and Alumaguard® Cool Wrap™
Polyguard's zero perm Alumaguard® weather-proofing, energy-saving, and flexible cladding stops moisture, air, and vapor intrusions into the insulation on exterior ductwork, refrigeration, and chilled water piping, tanks, vessels, and equipment.
Alumaguard® self-heals small punctures, resists ultraviolet (UV) rays, expands and contracts with the underlying substrates, and provides superior emissivity and sound attenuation (STC 18) properties. Bright white Alumaguard® Cool Wrap™meets CA Title 24, CRRC, and ENERGY STAR requirements.
You can easily apply, peel and stick Alumaguard® to either rigid insulation on outdoor piping and ductwork systems or clean and dry bare metal ducts.
ZEROPERM® Reversible Vapor Barrier Membrane
ZeroPerm® vapor barrier provides all types of insulations with maximum moisture protection in below ambient, sub-freezing, and cryogenic applications on pipe, duct, or vessel systems. ZEROPERM's 3-ply composite membrane consists of a white 0.5 mil polyester film, 1.0 mil aluminum foil, and one 0.5 mil transparent polyester film. The foil creates zero permeance, while the polyester layers protect the foil and provide the white finish, toughness, and tear resistance. A fabricator typically installs ZEROPERM in the factory; however, you can also install it in the field.
VaporGuard™ Tape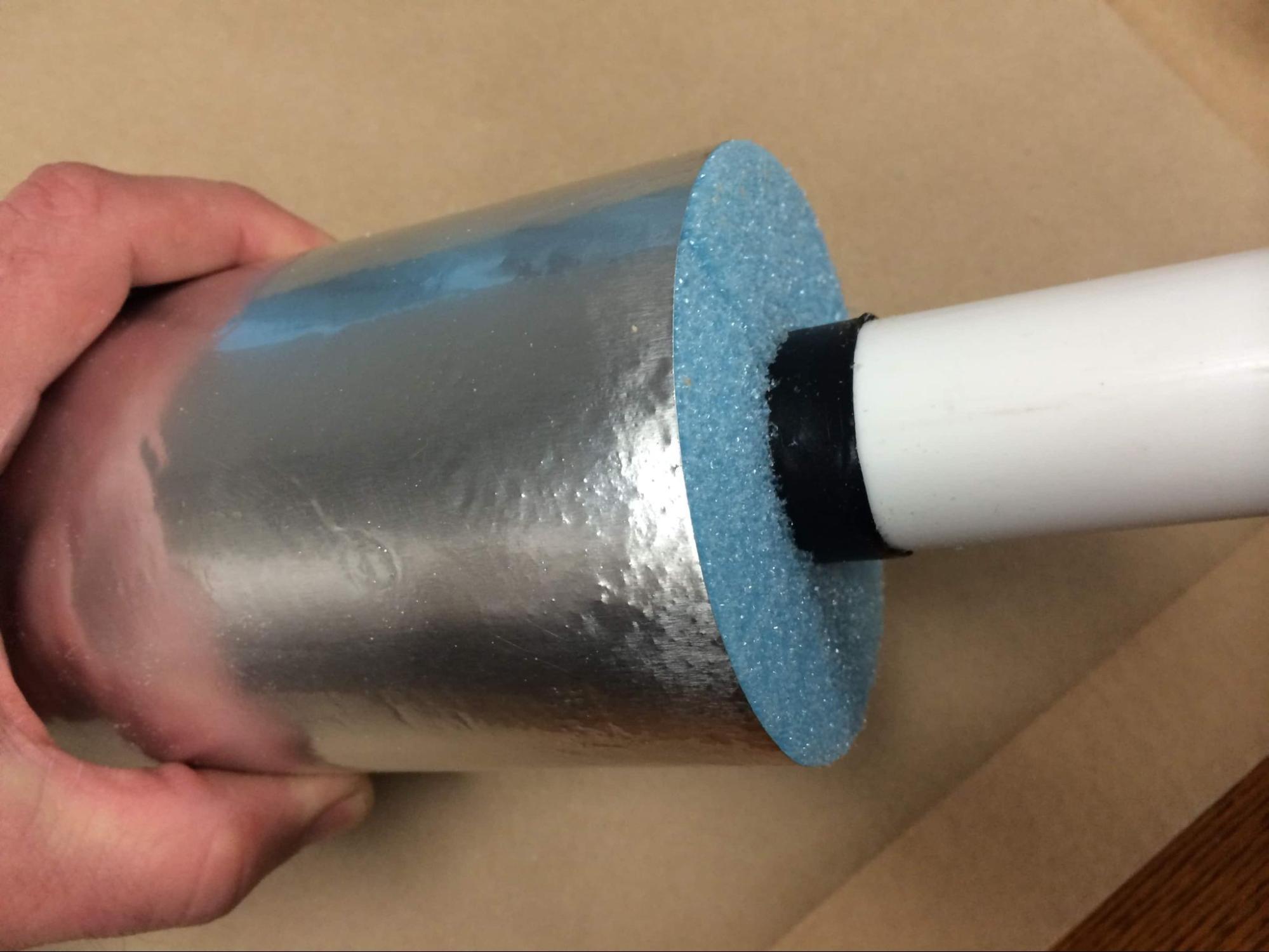 For smaller jobs, VaporGuard™ Butyl Tape (a non-curing elastomer) stops moisture infiltration along the pipe and into sub-freezing insulation systems at termination and insulation joints. It provides superior cold temperature flexibility at -20º F. Furthermore, simple to useVaporGuard™ Tape has removable release paper backing to quicken handling.
Step 4
To protect the vapor barrier, cover it with Polyguard's InsulShield™ Outerwrap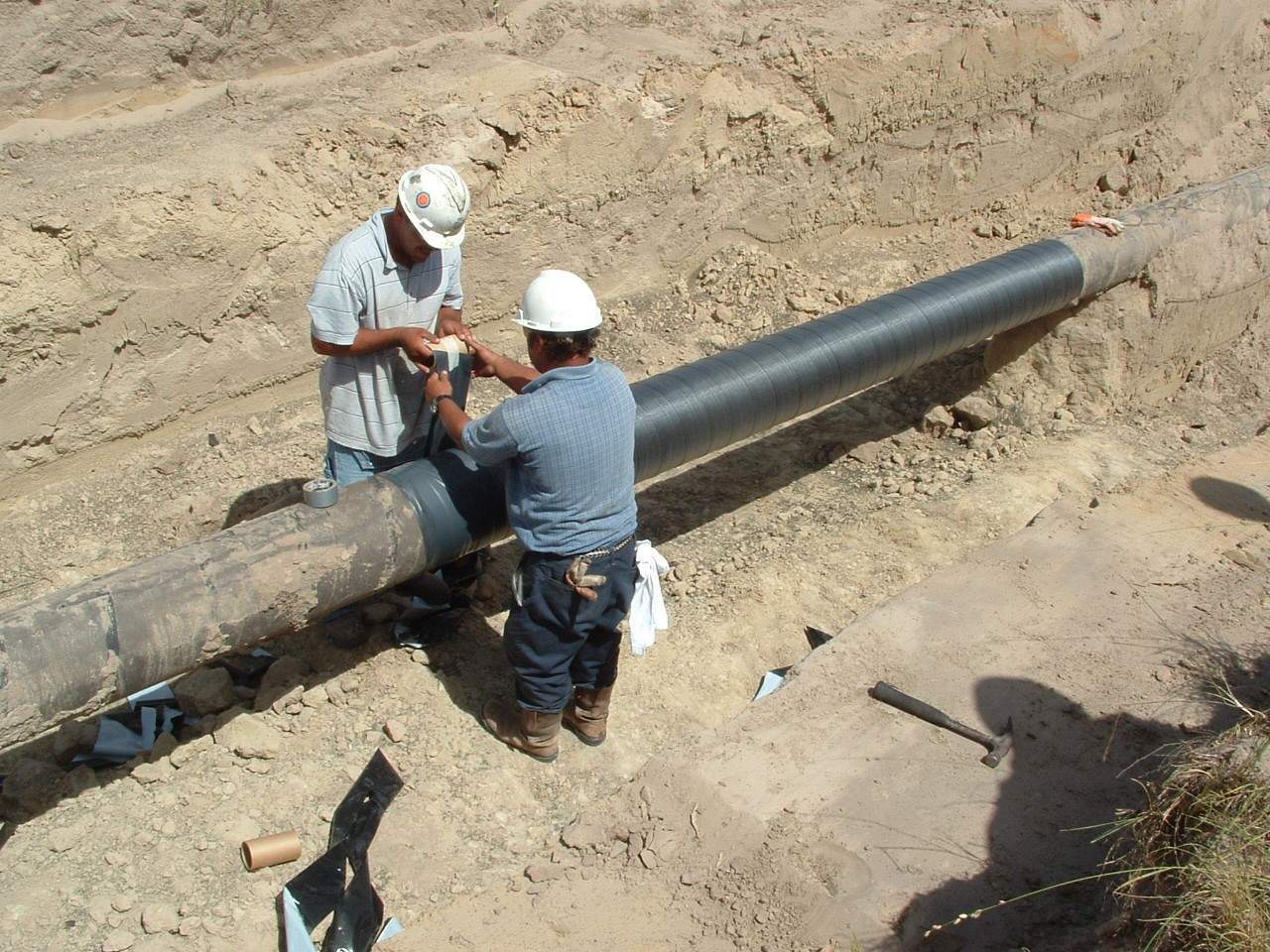 Polyguard's InsulShield™ Outerwrap protects Insulrap™ vapor barriers in direct burial applications in severe rocky areas. Made from recycled fabric geotextile, InsulShield™ absorbs soil stress, provides an extra 400 psi of puncture protection, and moves moisture from the surface of the insulation to the outer side of the outerwrap.
The design of InsulShield™ allows for placement over insulation and waterproofing membrane systems before backfilling operations, protecting the membrane from before and during construction. InsulShield™allows the engineer to substitute clean, rock-free backfill for the more costly sand backfill.
Insulating Industrial Pipes with Polyguard Products
Polyguard products are a superior solution to creating a barrier between a pipe's contents and the outside environment, stopping pipe corrosion, heat loss, condensation, and exterior damage — vital to protecting the pipe's integrity, insulation's performance, and a building's energy efficiency, safety, durability, and IEQ.
Don't hesitate to contact Polyguard professionals for more on ensuring the reliability of industrial pipe insulation.