HVAC ductwork on the exterior of a building frees up valuable interior space and saves on construction costs. However, it can challenge previous insulation and waterproofing methods like metal or PVC jackets, canvas and mastic, or tar paper and fibrated asphalt. None of these products are successful at waterproofing ductwork because they don't protect against ponding water at the seams.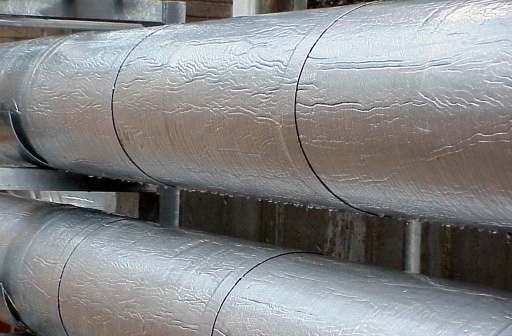 The best products for exterior ductwork insulation systems must combine thermal attributes with superior exterior ductwork weatherproofing. It must also provide simple installation, self-healing features, and puncture, UV rays, wind, and rain resistance.
Why Waterproofing Ductwork is Important
Waterproofing exterior ductwork will protect the insulation from damaging water, preserve the efficiency and integrity of the insulation and reduce energy costs. In addition, it serves as a vapor retarder, to stop moisture migration to the duct's service, which can lead to condensation, corrosion, and mold.
Polyguard's Alumaguard® Family of Cladding Products
Polyguard's Mechanical Products Division specializes in self-adhering peel and stick flexible, zero-perm, weatherproof claddings for exterior ductwork waterproofing. Polyguard offers both self-healing rubberized bitumen and acrylic adhesion systems for all-weather installations. In addition, our products meet ASTM flame and smoke requirements for interior applications.
All of our proven Alumaguard® weatherproofing products, including Alumaguard® All-Weather, Alumaguard®, and Alumaguard® Lite, have a 10-year warranty.
Alumaguard All Weather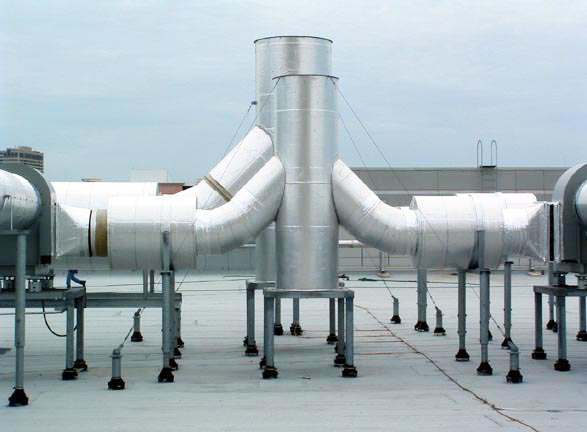 The design of Alumaguard® All-Weather allows for outdoor use, to weatherproof exterior insulated ductwork, and resist moisture, air, and vapor intrusion. It combines rubberized asphalt self-healing characteristics with the ease of application and cold-weather performance of acrylic adhesive-based products.
Polyguard's Alumaguard® All-Weather weather-proofing cladding is the only flexible insulation cladding available in today's market.
The multi-ply Alumaguard composite includes embossed UV-resistant aluminum foil/polymer laminate. To manufacture Alumaguard® All-Weather, we first apply a layer of rubberized asphalt (specially formulated for insulated duct and piping applications). Next, we apply a metalized polyester film coated with a high-quality low-temperature acrylic adhesive to the rubberized asphalt that a heavy-duty kraft liner applies to, in order to a peel and stick membrane.
Most commonly, Alumaguard All-Weather applies over rigid insulation on outdoor piping and ductwork systems. However, you can also apply it to clean, dry, and bare metal ducts.
Alumaguard All-Weather Flexible Weatherproofing Jacket – Benefits and Features
Uses the same outer layer and rubberized asphalt compound as the original Alumaguard membrane, a product successfully used for over 12 years
Provides superior waterproofing with True Zero Perm Performance
Self-healing quality of the rubberized bituminous membrane seals small cuts and punctures in the Alumaguard®
Aluminum makes it UV stable
Acrylic adhesive allows installation down to 10ºF
Requires no pinning or activator
Offers excellent emissivity
Quick and easy to apply allows for year-round installation
Eco-friendly Alumaguard® All-Weather Cool Wrap provides "green" energy-saving flexible cladding
Sustainable, Cool Wrap™ technologies include a matte white finish
Qualifies for LEED credits
ENERGY STAR rating
Exceeds California Title 24 (emissivity and reflectivity)
Companion Products:
Installing Alumaguard® Lite on the underside of the duct eliminates the need for pinning.
Alumaguard® Air Release Valves, installed in the bottom of the duct, provides one-way air pressure release related to stress under the bottom of ducts.
Alumaguard – The Original Self-Healing Membrane
Applying foil-faced, flexible, zero perm, and self-healing Alumaguard® to exterior ductwork provides exceptional weather, vapor, and UV protection, with superior emissivity and sound attenuation properties.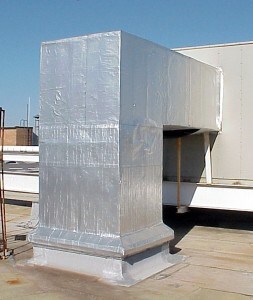 Composite Alumaguard
The composition of Alumaguard® includes a multi-ply embossed UV-resistant aluminum foil/polymer surface applied to a layer of rubberized asphalt that has been specifically formulated for insulated piping and duct applications. The rubberized asphalt serves as the substrate adhesive, and provides the self-healing features necessary to seal around punctures. In addition, an easy-to-remove plastic release liner protects the rubberized asphalt that gives Alumaguard® its peel and stick functionality.
Straightforward Installation
Alumaguard® offers quick and simple peel and stick installation that requires no special tools. The design of a rooftop must provide an adequate slope (watershed) to prevent ponding water when applying Alumaguard® to rooftop ductwork.
Alumaguard Cool Wrap
Alumaguard® Cool Wrap™ is a green, energy-saving, flexible cladding that is available in configurations for all of the Alumaguard® family products. Cool Wrap™ technologies include a matte white finish, qualify for LEED credits, and meet the emissivity and solar reflectance requirements of the Cool Roof Rating Council (CRRC) and California Title 24.
Alumaguard Lite
Ductwork that is not prone to physical abuse can use lightweight, durable, puncture-resistant UV-resistant, and zero-perm Alumaguard® Lite weather barrier membrane for indoor or outdoor applications.
The multi-ply, high-strength Alumaguard® Lite composition includes multiple layers of UV-resistant foil and tough puncture-resistant polymer. Polyguard coats the multi-ply lamination with a proven cold weather acrylic adhesive that the heavy-duty kraft liner applies to, which produces a peel and stick membrane. It is available in an embossed or smooth silver surface finish.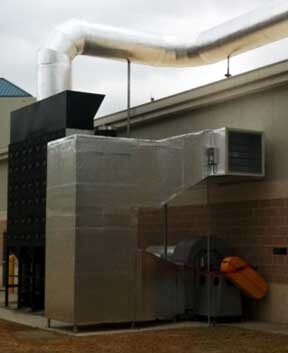 Apply Peel 'N Stick Alumaguard® Lite to an adequately prepared substrate and the underside of the duct. It does not require pinning.
Alumaguard Lite Cool Wrap
Sustainable Alumaguard® Lite Cool Wrap™ with a matte white, high emissivity/reflectivity coated membrane qualifies for LEED credits. It also meets the solar reflectance and emissivity requirements of Cool Roof Rating Council (CRRC) and California Title 24. In addition, for exterior use, Alumaguard® Lite Cool Wrap™ acrylic adhesive is an eco-friendly zero perm vapor and weather barrier.
Polyguard – The Best Products for Waterproofing Ductwork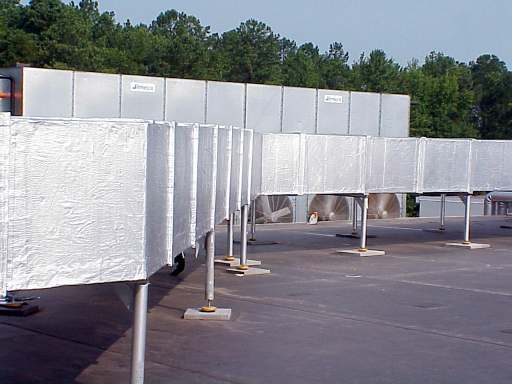 Exterior ductwork needs waterproofing exterior ductwork to preserve the integrity of the ducts and insulation. Fortunately, Polyguard offers several peel and stick, flexible waterproofing products that will provide superior weatherproofing, self-healing, and durability, to protect the integrity of your ductwork system. In addition, we also offer ductwork waterproofing products for sustainable construction and thermal protection.
For more on how to choose the best products for waterproofing exterior ductwork, don't hesitate to contact our team of experts at Polyguard today.