The rising need for liquefied natural gas (LNG) demands high-performance technology, like cryogenic pipe insulation, to transport and store cryogenic gas reliably, ensuring safe and efficient processing facilities. Facilities convert natural gasses to liquid for shipping and storage because LNG takes 600 times less space than gas. However, it takes extremely low temperatures (-322 to -327 ℉) to transform natural gas into a liquid state.
It's important to know that in order to maintain its liquid form, you must apply a proven closed cell insulation in cryogenics around all elements and systems in the facility that come into contact with the liquefied gas, including the pipes.

What is Cryogenic Insulation?

Cryogenic pipe insulation is needed on sub zero applications including ammonia refrigeration & LNG projects. XPS insulation is a great choice for ammonia refrigeration as these lines have to operate at a specific temperature range to maintain the process control throughout the system.
These situations require high-performance cryogenic insulation that will:

Maintain its integrity in frigid temperatures

Absorb high-mechanical forces

Ensure superior low-thermal conductivity
Cryogenic Pipe Insulation

Closed-cell, thermal plastic DuPont™ Styrofoam™ XPS PIB (sold by Polyguard) is a superior solution for cryogenic pipe installations.
The design of easy-to-install Styrofoam™ PIB, with seamless billet and cell structure, allows for shop fabrication and field adjustment. You can cut and form Styrofoam™ in the field with an insulation knife.Polyguard Products offers detailed installation guidelines to assist in designing and installing Styrofoam™ PIB.

What Are the Best Systems?

Polyguard has products and accessories specifically designed to insulate piping in cryogenic, ammonia refrigeration, oil, gas, and chemical processing applications. For 20 years, we have successfully insulated millions of square feet of piping.

Insulrap 30 NG Vapor Barrier Products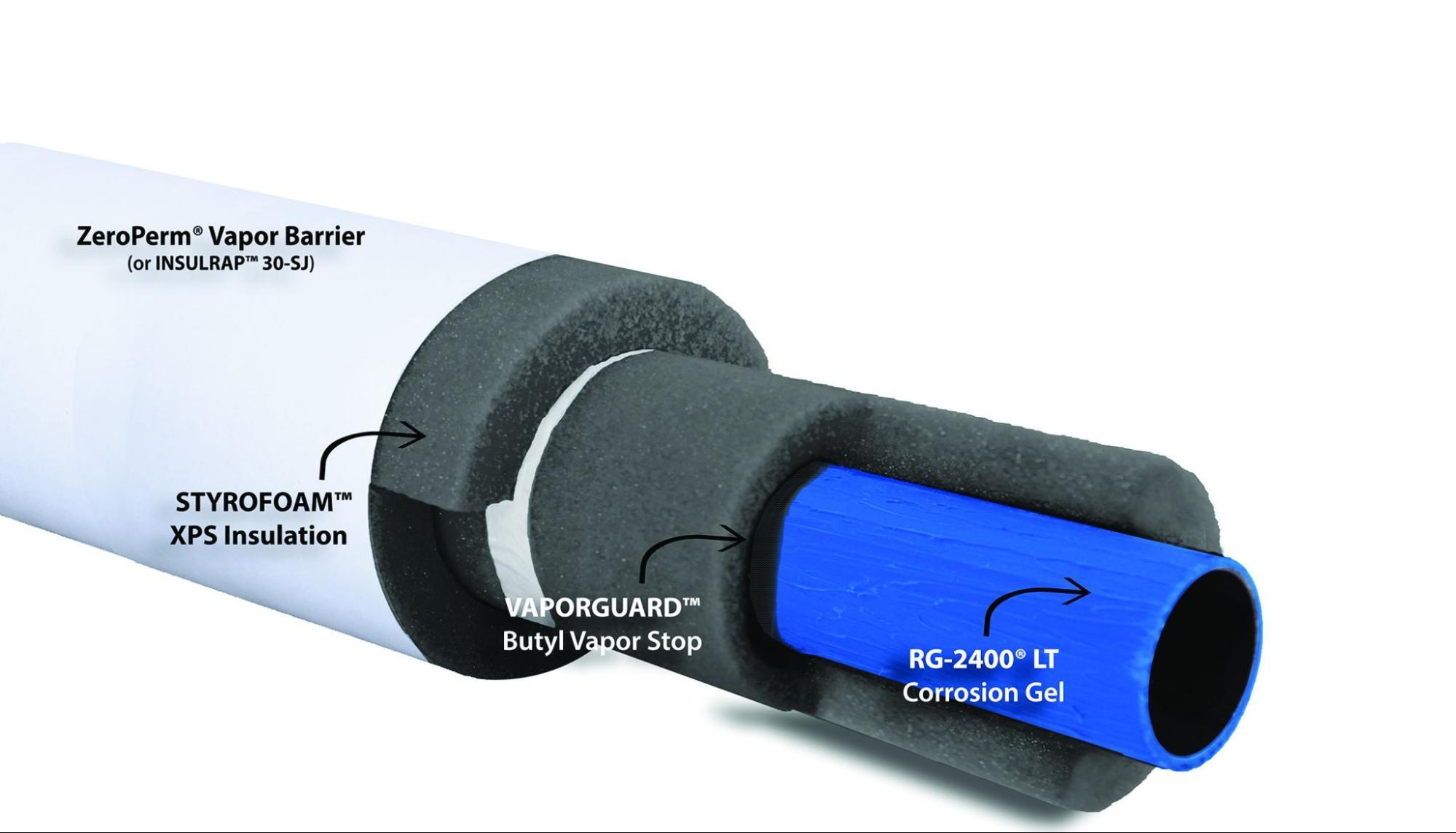 Polyguard designed our zero-perm, Insulrap™ 30 NG self-healing, vapor and moisture barrier/retarder membrane with a puncture-resistant (84 lbs) polymer/foil laminate film coated with a layer of rubberized asphalt. We specifically designed the barrier to insulate piping in cryogenic, ammonia refrigeration, oil, gas, and chemical processing applications.
The superior elastic properties of Insulrap™ 30 NG accommodate the expansion and contraction of the substrate. In addition, its white color improves reflectivity in the field, before jacketing.

Application of Insulrap™ 30 NG
Easy to apply, peel and stick Insulrap™ 30 NG applies over DuPont™ Styrofoam™ XPS PIB insulation, by cigarette wrapping, immediately after removing a disposable silicone-coated release liner, which saves on labor and materials. The cigarette wrapping provides a 2-inch overlap of the membrane; however, wrapping the joints requires 4-inch butt strips. Use a roller to apply pressure and conform the vapor barrier to the insulation. Polyguard recommends the following steps to improve adhesion:
Provide warm storage for Insulrap™ 30 NG.

Before applying, use a heat gun to warm the rubberized asphalt surface.

Apply Polyguard's solvent or water-based activator to the insulation or laps. Note that the solvent-based activator may damage some foam insulation.

Only apply the barrier to clean Insulation, free of frost, moisture, dirt, dust, etc.
I-30-NG's rubberized asphalt coating can lose adhesiveness at temperatures below 50° F. In addition, you must not leave the barrier exposed to ultraviolet light for more than 30 days.
Polyguard has two different Insulrap™ 30 NG products to meet the specific needs of your project:
Factory-controlled 30 mils thick Insulrap™ 30 NG provides a smooth surface.

Factory-controlled 30 mils thick Insulrap™ 30-SJ NG contains embedded fiberglass scrim reinforcement within the laminate to provide a smooth surface and enhance adhesion at the laps.
Burial Applications
If covered with a mechanical jacket, you can use Insulrap™ 30 NG in burial applications. For direct burial, applications refer to the datasheets for Insulrap™ 50 NG, or Insulrap™ 125 No Torch.

Insulrap™ 50 NG Products

Zero-Perm, self-healing, 50 mils thick Insulrap™ 50 NG vapor and water barrier membrane is a durable polymer film coated with a layer of rubberized asphalt.
You can use INSULRAP 50 NG as the outer protective waterproofing jacket in a direct burial application that is clean, uniform, and free of rocks and debris backfill. However, a backfill containing rocks or debris requires Polyguard's InsulShield™ rock shield, an outer wrap explicitly designed to go over Insulrap™ vapor barriers in direct burial applications in severe rocky areas to absorb soil stress.
In addition, you should apply Polyguard Outerwrap to larger pipes because it provides high bursting strength and low tensile and elongation properties, resulting in an outer wrap with improved soil stress resistance.
Insulrap™ 50 offers several significant advantages:

Speeds up completion time and lessens labor needs with no cure time or clean up

Available in several sizes to suit specific projects: 4" x 50', 23" x 75', or 35" x 75' rolls - all with factory controlled uniform thickness

Will stretch and flex to accommodate the movement of the substrate in warm and cold conditions

Resists chemicals, acids, and alkalis
Application of Insulrap™ 50 NG
After removing the disposable silicone-coated release liner, the peel and stick membrane applies simply by cigarette wrapping the insulation around cold pipe and direct burial applications, with temperatures no higher than 150º F.
When cigarette wrapping, overlap the barrier a minimum of 3-inches. For areas where the membrane butts itself, apply 4-inch butt strips over the joints. Applying pressure with a roller will ensure a well-confirmed lap and insulation.
Insulrap™ 50 comes in two product variations to meet your specific application needs:
Works well as an outer protective waterproofing jacket in a direct burial application when using clean, uniform fill, that is free of debris and rocks

Embedded fiberglass scrim reinforcement within the laminate to minimize the scrim profile for a smooth surface and enhanced lap adhesion.
Zero-Perm® Vapor Barrier Membrane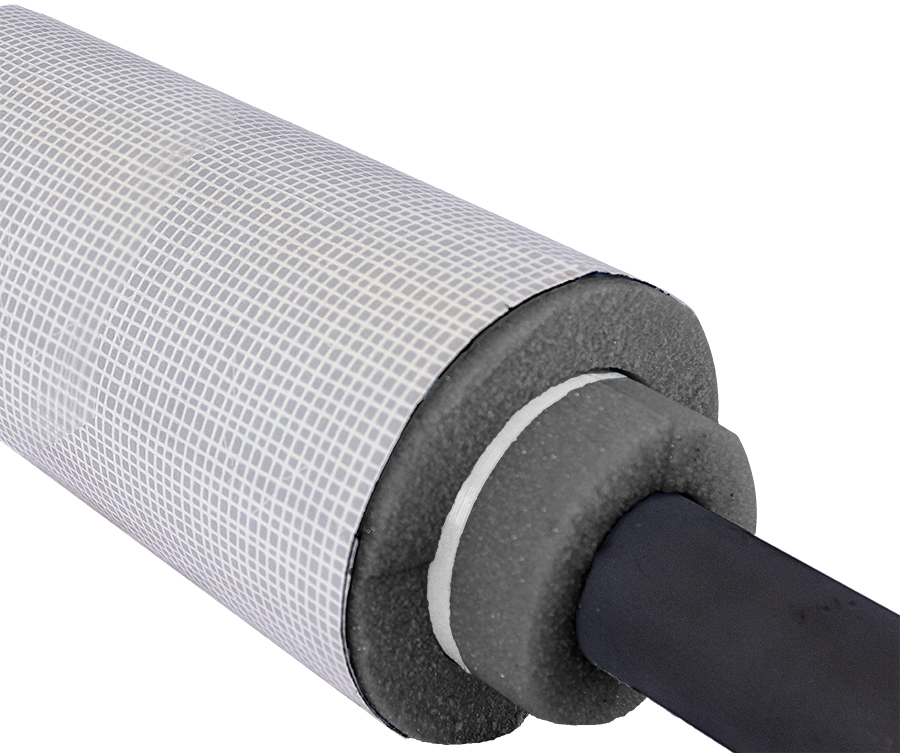 Polyguard, absolute Zero-Perm® vapor barrier membrane provides maximum protection for all insulation types used in below ambient, sub-freezing, and cryogenic applications on the duct, pipe, or vessel systems.
Three-ply, Zero-Perm® composite membrane consists of a white 0.5 mil polyester film, 1.0 mil aluminum foil (for zero permeance), and one 0.5 mils transparent polyester film (for toughness and tear resistance). Bright white and paper-free Zero-Perm® vapor barrier membranes provide puncture, tear, and mold resistance.
You can use Zero-Perm® vapor barrier on various cold systems:

Between layers of insulation on sub-freezing projects, like LNG piping

As the outer vapor-barrier jacket on ammonia, brine, or glycol systems

Under mechanical jacketing, either metal or PVC

On chilled water systems replacing ASJ and PVDC jacketing left exposed, or under a protective metal or PVC jacket
Typically, Zero-Perm® is installed at the factory by a fabricator, but you can also do it in the field. Polyguard offers two high-quality acrylic adhesives with excellent cold-weather performance Zero-Perm tapes to complete installation in the field.

Polyguard Has the Best Solutions for Cryogenic Pipe Insulation

Polyguard has numerous products that support cryogenic pipe inclusion to prevent heat gains that can vaporize the LNG, and ensure safe storage and efficient transport of cryogenic gasses.
Contact Polyguard professionals today for more on the best solution for your cryogenic pipe insulation. We can also provide technical information and services concerning thickness calculations, design guidelines and criteria, and installation and system use recommendations.