Properly applied aluminum window flashing contributes significantly toward a building's or home's tight building envelope. They will also help keep pests and insects outside and lessen the growth of structurally damaging and unhealthy mold. Even the tiniest gap around a window will allow a significant amount of water to infiltrate the structure's interior. Therefore, PolyWall strongly recommends leaving the window flashing application to the building professionals. In addition, your local ordinances may require a local building inspector to ensure that the flashing (and all window installation details) meets local building codes.
Window Flashing Codes
The 2021 IRC (R703.4.1) and IBC (1405.4) mandate installing flashing on the exterior window and door openings to stop moisture from entering the wall or redirect it to the exterior. Furthermore, ENERGY STAR Certified Homes and DOE Zero Energy Ready Home require flashing window and door openings.
Applying Aluminum Window Flashings
Properly flashed and installed windows will add value to your building or home. They will also save energy and money for years to come. Installing a new, water- and air-tight aluminum window requires properly layering a sequence of specific window flashings.
Each layer overlaps the layer below in order to direct the water flow down and away.
To maintain the window's warranty, you must follow the manufacturer's recommendations for applying flashing to a specific window. However, builders typically follow a standard sequence of steps when installing flashing around a new window. NOTE: You should only install flashing on clean, dust-free, smooth, and dry services.
Step 1: Wrap Vapor or Weather Resistant Barrier Around Window Edges
Technically, the window flashing system does not include the vapor barrier. However, you can add significant protection against water infiltration by wrapping the exterior wall vapor barrier (house wrap) around the inside edges (jambs and sills) of the windows (and doors) rough openings.
Polyguard Peel and Stick Vapor Barriers
The simplicity of applying peel and stick vapor barriers make it the preferred water vapor barrier for residential, institutional, and commercial buildings. A quality peel and stick vapor barrier offers durability, fast adherence, puncture, sunlight, and chemical resistance. They also lack VOCs. All of these features can be provided by Polyguard PEEL-N-STICK™ products, like:
Our products guarantee a long-lasting, high-performing vapor barrier for your building when properly installed.
Step 2. Back Dam
Install a back dam or positive slope on the sill to prevent the back flowing of water on the site.
Step 3. Header Vapor Barrier
Temporarily pull back and secure the vapor barrier covering above the header, to expose about a foot of substrate.
Step 4. Apply Self-Stick Flashing Tape
Cut a piece of flashing tape the width of the window, plus six inches so it overlaps three inches on each side.
Step 5: Remove Backing
Remove the sticky backing and install flashing on the sill.
Step 6: Cut Window Sills
Cut the window sill at the corners of the rough opening so you can fold the flashing onto the barrier service.
Step 7: Cut Flashings
Cut flashing patches and install them at each corner.
Step 8: Insert Window
Carefully place the window into the rough opening, and level.
Step 9: Cut Flashing
Measure and cut two sections of the flashing to overlap the window sill.
Step 10: Extend Flashing Over Opening
At the top and bottom of the window, extend the flashing three inches above and below the opening.
Step 11. Roll Flashing
Roll the entire service of the flashing with a hand roller to seal the bond.
Step 12: Extend Flashing Beyond Jamb Flashing
Measure and cut one piece of flashing that will overlap and extend two inches beyond the jamb flashing onto the exposed substrate (wood).
Step 13: Fold Vapor Barrier Over Header
Fold the vapor barrier above the header over the window seal. Then, cut two six-inch flashing pieces to cover the 45-degree cuts and the vapor barrier.
Step 14: Install Drip Cap
Drip caps fit over the top of a window like a small canopy, to shed water outward and keep it from seeping behind the window.
Common Errors When Installing Window Flashing
Successful window flashing installation requires attention to detail according to the manufacturer's specifications. The most common flashing mistakes include:
Stretching the flashing tape during installation can cause it to contract and pull away
Not following the specs for installing and sealing windows and window flashing can result in a window that leaks
Not layering flashing materials in a "shingle" fashion
Trapping water inside when sealing the bottom of the window
Not using a flashing membrane roller to adhere the flashing tape to the vapor barrier will not secure the flashing
PolyWall's Superior Window Flashing Tapes
PolyWall building solutions offer four top window flashings that stop moisture and air infiltration, contributing significantly to a building's tight building envelope. In addition, all our window flashing products come in rolls with a simple-to-remove film release liner to efficiently and successfully flash window frames, ensuring the long-term integrity of the seal and reducing maintenance and repair.
1. WindowSeal® Window Flashing
Self-adhering, 20-mil WindowSeal® Window Flashing is a waterproof rubberized asphalt tape laminated to a polyethylene film. The design of WindowSeal® allows for application in ambient temperatures and surface temperatures between 40°F (5°C) and 120°F (49°C). However, using Poly Wall's Polybond Liquid Adhesive can reduce the WindowSeal application temperature to 25°F (-4°C).
2. Butyl Flash Window Flashing
Self-adhering, self-sealing Butyl Flash Window Flashing tape consists of a rubberized asphalt waterproofing coating laminated to a polyethylene film. You can apply Butyl Flash Window Flashing in hot and cold temperatures, down to 15ºF (-9.4°C).
3. Aluma Flash™ UV Resistant Window Flashing
Self-adhering, self-sealing tape Aluma Flash™ UV Resistant Window Flashing Is a rubberized asphalt waterproofing coating laminated to a polyethylene film. It contains a top layer of aluminum that protects against UV exposure for 365 days. The 20 mils thick product comes in various roll sizes with an easy-to-remove film release liner to efficiently and effectively flash window frames, door frames, and other construction seams.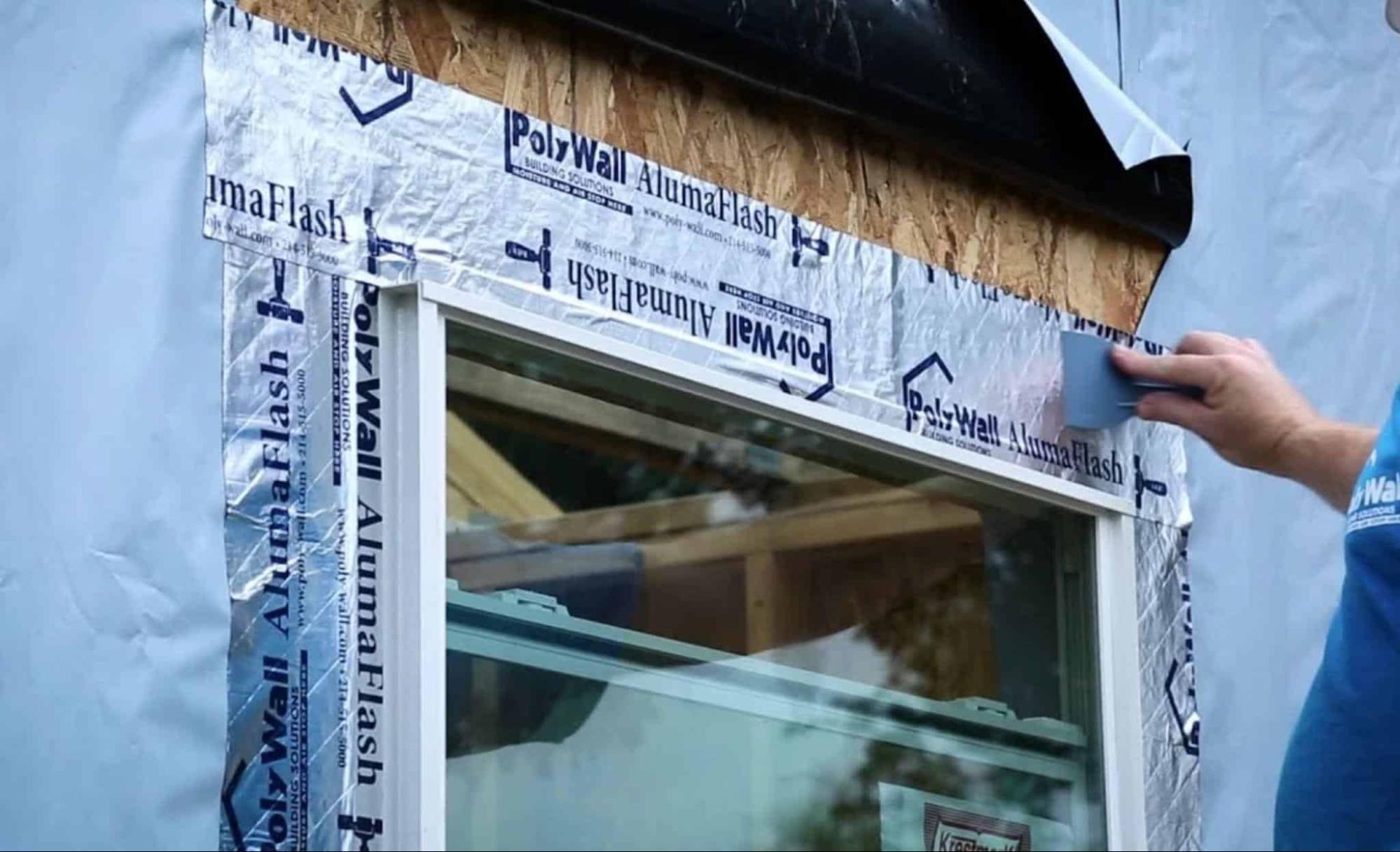 4. ArcFlash™ Window Flashing
70 mil, self-adhering, self-sealing ArcFlash™ is a waterproofing rubberized asphalt tape that laminates to a crimped, stretchable, high-strength polyethylene film backing. It is designed specifically for arched window flashing applications.
Creating a Tight Building Envelope with PolyWall Window Flashing
Applying window flashing tapes, like PolyWall Window Flashing products and Polyguard PEEL-N-STICK™ vapor barrier products, will significantly contribute to stopping moisture infiltration that can lead to damaging and unhealthy mold. In addition, Aluminum window flashing and a vapor barrier can reduce energy and improve air quality. They will also ensure the seal's long-term integrity, which lessens repair and maintenance costs. Furthermore, flexible, self-adhering, PolyWall flashing rolls quicken application time and provide an effective and long-lasting seal. They will also resist tearing due to structural movements.
Don't hesitate to contact the professionals at PolyWall today for more on how to apply aluminum window flashing.