Correctly installed vapor barriers (retarders) prevent water vapor from infiltrating a building envelope, provide damp proofing and improve the energy efficiency, comfort, and long-term integrity of the building. Vapor barriers can stop or minimize condensation within the walls, foundation, roof, and floor that can lead to structurally damaging and unhealthy mold and threaten the effectiveness of insulation.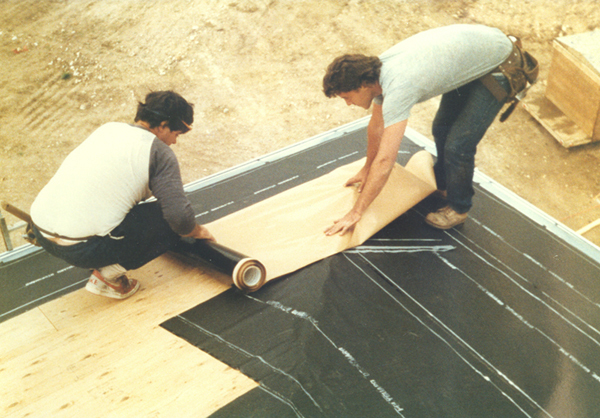 The ease of applying peel and stick vapor barriers make it the preferred water vapor barrier for residential and commercial buildings. The best peel and stick vapor barrier should provide durability, quick adherence, puncture-, chemical-, and sunlight-resistance, and lack VOCs – all features offered by Polyguard PEEL-N-STICK™ products, like Home Stretch™ 'Peel' N Stick/ICF Waterproofing, Aluma Flash Plus weather-resistant barriers, and PEEL-N-STICK™ Aluminum Roll Roofing.

What is Water Vapor?
Water exists in three states: solid, liquid, and invisible gas (vapor). A vapor barrier prevents water vapor diffusion through building products. The second law of thermodynamics regulates water vapor diffusion and allows it to flow from a space of higher concentration towards an area of lower moisture concentration, or a warmer to a cooler space within the building envelope.
For example, everyday activities like cooking and laundry release water vapor into a building's interior, which increases the humidity (water vapor). The humidity will seek cooler spaces of lower concentration in the walls, ceiling, etc., of moisture through diffusion.
The Need for a Vapor Barrier
Local building codes and the climate determine the need and type of a vapor barrier for a building's envelope – a decision best left to building experts, like our vapor barrier professionals at Polyguard. We manufacture top-of-the-line waterproofing and air barrier membranes designed to enhance your structure's integrity, comfort, and safety, making us highly qualified to help you make the best peel and stick vapor barrier choice for your building project.
A significant amount of moisture infiltrates a building envelope through airflow compared to vapor diffusion, 50 to 100 times greater. Therefore, you must also ensure proper sealing of penetrations with a quality air barrier.
Code Requirements for Vapor Barriers
Chapter 14 of the 2021 International Building Code (IBC) and Chapter 7 of the 2021 International Residential Code (IRC) mandate vapor barriers and vapor retarders for exterior wall coverings according to your climate zone.
Vapor barriers installed in or around walls, floors, and ceilings can stop moisture from spreading, which can lead to water damage. An actual vapor barrier completely prevents moisture from passing through it, measured by its moisture vapor transmission rate (permeability).
A vapor diffusion retarder refers to permeable barriers that provide moisture protection. The IRC describes three classes of vapor retarders according to their measure of permeability. The use and need of a vapor retarder depend on the climate and the construction of your building or home.
Class I vapor retarders (0.1 perms or less): sheet metal, glass, polyethylene sheet, and rubber membranes.
Class II vapor retarders (greater than 0.1 perms and less than or equal to 1.0 perms): extruded polystyrene or unfaced expanded, 30-pound asphalt coated paper, plywood, and bitumen coated kraft paper.
Class III vapor retarders (greater than 1.0 perms and less than or equal to 10 perms): concrete block, gypsum board, fiberglass insulation (unfaced), cellulose insulation, board lumber, brick, 15-pound asphalt coated paper, and house wrap.
Commercial Roofs Vapor Barriers
Using vapor retarders for flat roof construction can prevent moist air from infiltrating the building and condensing onto the roof assembly, which can lead to corrosion and damage to the roof's structure and insulation. Roof vapor barriers can also improve the structure's energy efficiency and comfort.
For cold buildings that stay at 32 ℉ or less, you must install the vapor barrier on the outside to stop warm exterior air from infiltrating and damaging the roof's insulation. Standard materials of flat roof vapor barriers include bituminous and non-bituminous vapor retarders (laminate, plastic, or aluminum-coated).
The Best Peel and Stick Vapor Barriers
Many builders prefer peel and stick vapor barriers for residential and commercial construction because they do not require fastening and taping, and they offer easy application. In addition, peel and stick barriers provide a uniform surface due to factory-set thickness dimensions.
The best peel and stick vapor barriers will provide long-term adhesion, durability, and performance through proper application.
Polyguard offers several easy-to-install and durable peel and stick vapor barriers and companion products for your foundation, roofs, and walls. Our products will guarantee a long-lasting, high-performing vapor barrier for your building when properly installed.
A strong adhesion requires a clean and primed substrate. A firm bond also requires installs to roll the membrane and remove any bumps.
Poly Wall® Home Stretch™ Foundation Waterproofing Membrane
Poly Wall® designed and engineered Home Stretch™ 'Peel' N Stick/ICF Waterproofing Membrane specifically for insulated concrete form (ICF) buildings and home foundation walls.
Strong and pliable, self-adhering Home Stretch™ ICF, 40 mils thick sheet waterproofing membranes consist of high-density polyethylene (HDPE) facing bonded to a rubberized asphalt waterproofing compound. Home Stretch™ ICF comes in 36-inch wide by 66.7-foot long rolls for easy handling and installing, with a disposable treat release liner.
The Benefits of Poly Wall® Home Stretch
Employee-owned and USA-made, Poly Wall® offers over 60 years of successful waterproofing experience to ensure superior protection for your below-grade ICF, poured concrete, and concrete masonry unit (CMU) walls, along with areas in critical need of waterproofing or the presence of positive-side hydrostatic pressure.
Specific advantages of Poly Wall® Home Stretch include:
Side lap design delivers greater water tightness
Extended selvage edge for asphalt-to-asphalt adhesion at the seam
Offers excellent tensile strength, durability, and puncture resistance.
Factory-controlled manufacturing provides 40-mil uniform and consistent thickness
Release film does not easily tear, and protects the adhesive layer
Used with Polybond Clear Liquid Adhesive, you can apply Poly Wall® Home Stretch in frigid weather (25℉ and greater)
Does not produce odors or contain VOCs
Begins waterproofing immediately after installation
Poly Wall® Home Stretch Companion Products
Home Stretch™ ICF, used with our other waterproofing products (Poly Wall® Home Stretch™ Detail Tape, Home Stretch™ Water Based Liquid Adhesive, Poly Wall® Blue Barrier™ Joint Filler 2200, and Poly Wall® Arroyo™ Drain Board), produces a complete and an effective waterproofing system for your ICF and CMU walls and poured concrete below-grade walls.
Polyguard PEEL'N STICK Aluminum Roll Roofing Barrier
Builders can use PEEL-N-STICK™ Aluminum Roll Roofing as a surface on low slope roofs and for repairs. PEEL-N-STICK™ Aluminum Roll Roofing consists of a rubberized asphalt waterproofing coating, laminated to two layers of high-strength polyethylene film, with a top protective layer of aluminum. The rolls of coating come with an easy-to-remove film release sheet for efficient application.
When applying PEEL-N-STICK™ Aluminum Roll Roofing, it is important to ensure a clean, dust-free, smooth, and dry surface. In addition, an asphalt-based primer will improve adhesion.
Benefits of Waterproof PEEL'N STICK:
Resists most chemicals and sunlight
Instantly adheres to most surfaces
Its elastic properties will stretch and not tear if the structure moves slightly
Easiest and most mess-free product available
Aluminum surface reflects heat to reduce energy costs
Aluma Flash™ Plus Wall Peel and Stick Vapor Barriers
PolyWall has successfully waterproofed commercial building and home walls for over ten years with their non-permeable and self-adhering Aluma Flash Plus weather-resistant barriers.
Fast and straightforward to apply, sunlight- and chemical-resistant Aluma Flash™ Plus successfully adheres when used according to the manufacturer's installation and performance requirements. Aluma Flash™ Plus furnishes a 40-mil rubberized asphalt waterproofing membrane, laminated to two layers of high-strength polyethylene film, with a top protective layer of aluminum — to ensure a robust waterproofing product. In addition, the aluminum surface of durable Aluma Flash™ Plus works well with higher exposure buildings because it reflects heat, lessening energy costs.
Picking the Best Peel and Stick Vapor Barrier
Protecting your home or building from the damaging effects of moisture instruction involves the installation of a high-quality vapor barrier like the products we provide at Polyguard Building Solutions. We offer simple to apply peel and stick air and vapor barriers for all your building envelope needs: foundation, walls, and roof. Don't hesitate to contact of our vapor barrier experts today to learn more on how to pick the best peel and stick vapor barrier.