Sealing the seams of an efficient vapor barrier with high-performing tape helps create a continuous air barrier and reduces moisture intrusion and accumulation into the wall system. The proper sealing of a vapor barrier with easy and quick to apply vapor barrier seam tape provides several significant benefits to a home and building. At Polywall, we offer an alternative that provides all the same benefits — Blue Barrier™ Liquid Flashing 2100.
Improved Energy Efficiency
Correctly applying vapor barrier sealing tape to air and vapor barriers will effectively seal out unwanted air and moisture, contributing to a sustainable building or home, and reducing energy use and costs.
Longer Building Lifespans
The best tape for a moisture barrier will improve the durability and longevity of a structure by keeping out moisture or air particles that can lead to structurally damaging mold. Over time, some air barrier tapes will degrade or get damaged, weakening points in the seal, damaging the integrity of the structure.
Improved Indoor Air Quality
Properly applied construction sealing tape contributes to good indoor air quality (IAQ) because it stops moisture intrusion and unhealthy mold growth. Mold produces allergens and irritants, and can cause breathing problems, allergies, and even inflammation in some individuals.
Choosing the Best Construction Tape for Vapor Barrier Seams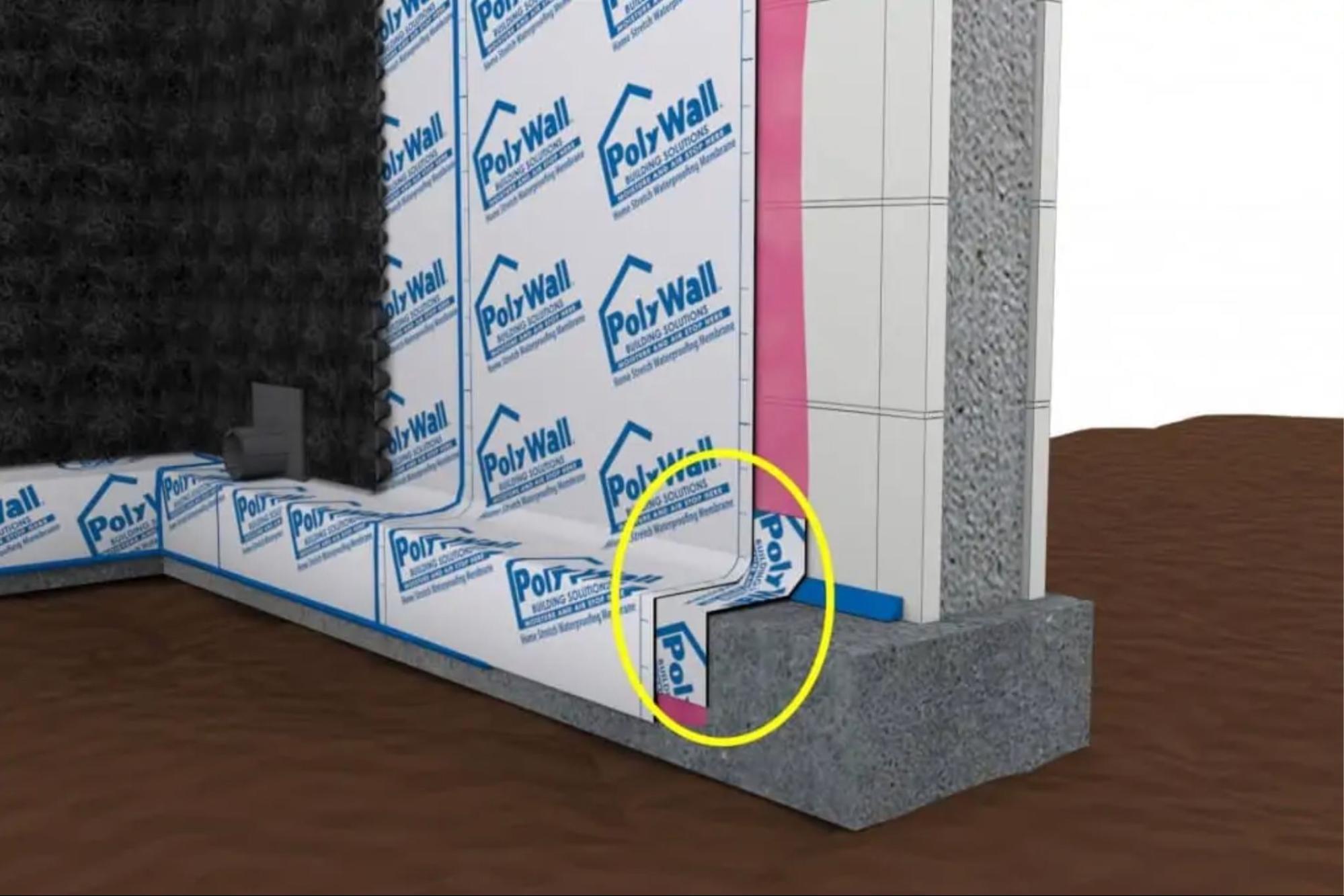 Selecting a suitable tape for a vapor barrier makes a significant difference in a building or home's energy efficiency, integrity, and IAQ, which is not an easy task with so many types of tape on the market today.
When trying to decide what type of tape for a vapor barrier you should get, consider the following crucial factors:
Ease of application
Vapor seal tape with marked edges tears easier and applies quicker, saving workers frustration and time. A flexible tape also hastens the application because it permits workers to seal quickly around any penetrations or tight corners.
The Cost of Seaming Tape
The cost of the different brands and types of vapor barrier tape can vary tremendously. The best tape for vapor barriers must provide long-term adhesion, durability, and resistance to air, moisture, low permeability, and UV-rays to protect the building envelope.
Longevity of the Vapor Barrier Tape
The tape should maintain its adhesion value over time and against hot, cold, and wet environments.

It should have enough tensile strength and stay flat and maintain its form against the vapor barrier over the lifespan of the building project.

To maintain long-term durability, select tape with excellent air- and moisture resistance and low-permeability

Good construction tape provides UV-resistance, since UV-rays can degrade the physical properties of the tape.
Promote Good Indoor Air Quality
For the health and well-being of those working or living in a building or home, you should select tapes that lack toxins.
Comparing Asphalt, Rubber, and Acrylic Construction Seam Tapes
Construction seam tape manufacturers continually strive to offer new and improved products, often geared to improving a building's energy performance and service life. Construction tapes have made advancements in durability and performance for various climate conditions and temperatures.
Asphalt Construction Seam Tape
In the past, the low cost of asphalt tape made it one of the most widely used tapes in the building industry. Asphalt tape is produced from modified bitumen, similar to the rubberized asphalt found in eaves flashing. Unfortunately, asphalt tape has several significant drawbacks:
Messy to install

Loses durability when exposed to UV-rays

May require priming to fully bond with substrate materials, like oriented strand board (OSB) and concrete

Starts to lose stickiness at around 50° F, and bonding characteristics below 40° F, making them a poor choice for cold weather applications

In temperatures 185° F and 210° F, the asphalt not specially formulated for high temperatures will soften and begin to flow

Emits harmful volatile organic compounds (VOCs)
During remodeling and retrofitting old buildings, contractors discovered how much asphalt tape degrades over time, contributing to the degradation of the structures. Therefore, while the price of asphalt tape may appeal to contractors, its problems make it less than an ideal choice for construction tape.
Rubber (Butyl) Construction Seam Tape
Initially, rubber tape used natural rubber components. Today's rubber tape (butyl tape) uses a synthetic (elastomer) rubber that creates an airtight tape. The design of the rubber (butyl) construction seam tape aimed to improve on asphalt tape, and has succeeded in several ways:
More flexible in cold weather and more stable in high temperatures than asphalt tape

Is a cleaner application, since you just peel off and adjust during installation

Forms better bonds with difficult substrates than asphalt tapes
Problems with butyl tape can still challenge builders:
Will degrade, dry out, discolor, and lose adhesive properties if exposed to UV-rays

Can be applied in -40° F to 120° F and serviced in -40° F to 200° F. However, you must avoid installing butyl tape below 40°F unless you can verify a moisture and contaminant-free surface.

Emits VOCs
Butyl tapes perform better than asphaltic tapes, however, temperature constraints, weak UV-tolerance, and toxic VOCs make them less desirable than acrylic tapes.
Acrylic Construction Seam Tape
Acrylic seam tape costs more than asphalt or butyl tapes. It far outperforms both, contributing towards an energy-efficient structure with superior durability and indoor air quality, along with potential longer life spans Acrylic tape:
Does not pollute with off-gasses

Adhesion properties become stronger over time

Can withstand extreme temperatures, from -30°F to 300°F. without losing adhesion

Won't break down when exposed to UV-light, chemicals, or oxidation

Can be used inside and outside
Acrylic tape contributes to an airtight building envelope. Builders that use acrylic tape to seal the seams of a vapor barrier ensure a tight building envelope, to reduce energy use and moisture intrusion, and prevent the growth of structurally damaging and unhealthy mold.
The Best Construction Tape for Vapor Barrier Seams — Poly Wall® Home Stretch™ Detail Tape
Poly Wall® Home Stretch™ Detail Tape will help you keep up with increasing energy codes and demands for durable construction and healthy indoor environments.
Strong, flexible, Poly Wall® Home Stretch™ Detail Tape provides a modified-acrylic, self-adhesive sheet consisting of a cross-laminated, high-density polyethylene (HDPE) backing bonded to a rubberized asphalt compound.
You can use Poly Wall® Home Stretch™ Detail Tape to seal vapor barrier seams, fabricate inside and outside corners, seal penetrations, control joints, cold joints, and patch damaged areas of Home Stretch™ ICF Waterproofing Membrane.
Poly Wall® Home Stretch™ Detail Tape is easy and quick to apply. However, before applying, you must ensure a clean, dry, and contaminant-free substrate by priming it with Poly Wall® Home Stretch Water Based Liquid Adhesive or Polybond Clear Liquid Adhesive.
An Alternative to Construction Tape – Polyguard's Liquid-Based Products
If you want to skip the hassles of joining the vapor barrier seams with tape, Polyguard has an alternative – Blue Barrier™ Liquid Flashing 2100.
Polyguard's fluid-applied flashings seal challenging spaces around doors, windows, air vents, pipes, and other penetrations in the wall system, further contributing towards a tight building envelope. They can improve your home or building's integrity and energy efficiency, and save money on maintenance, repairs, and energy. Poly Wall® Building Solutions has two liquid flashing products, roller-grade and trowel:
Roller Grade Blue Barrier™ Flash 'N Wrap 2400
Poly Wall® Blue Barrier Flash 'N Wrap 2400 offers strong adhesion and superior shore hardness with outstanding durability, contributing significantly to indoor comfort and health.
Poly Wall®'s Blue Barrier Flash 'N Wrap 2400 easily applies with a roller, and dries quickly to create a continuous and permeable membrane around doors and windows. Eco-friendly Blue Barrier Flash 'N Wrap 2400 utilizes Silyl Terminated Polyether Technology (STPE), a hybrid product of silicone and polyurethane technologies, allowing wet surface applications with no mixing or priming.
Trowel Grade Blue Barrier™ Liquid Flashing 2100
Blue Barrier™ Liquid Flashing 2100 creates a weather-resistant, fully adhered air barrier system around doors and windows. Poly Wall® developed Blue Barrier™ Liquid Flashing 2100 which utilizes STPE technology to create an eco-friendly, permeable liquid flashing with superior shore hardness that prevents membrane wear and tear. In addition, its exceptional adhesion permits bonding to multiple substrates. Blue Barrier™ Liquid Flashing 2100 is an easy to use, trowel, wet surface application, and it does not require mixing or priming.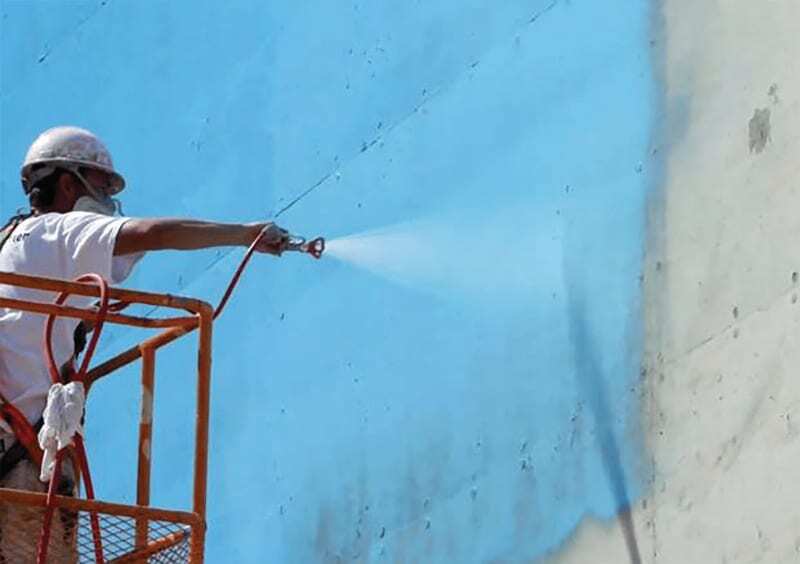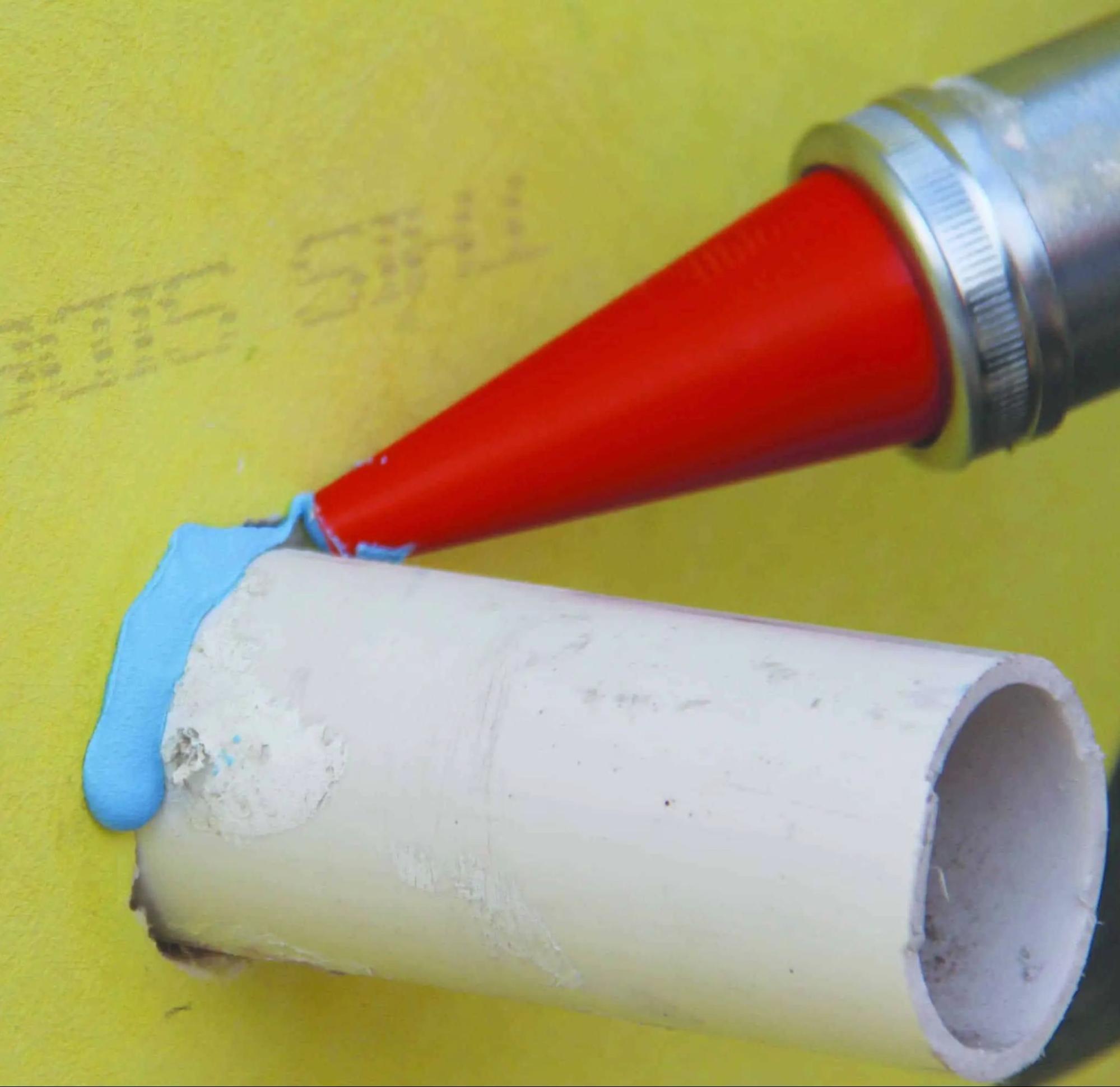 Before applying Poly Wall® Blue Barrier™ products for Window and Door Flashings and Air Barriers, fill all surface voids and seams with the structural adhesive Poly Wall® Blue Barrier™ Joint Filler 2200. STPE technology was used to develop Joint Filler 2200, which is available in 10 oz. caulking tubes or 20 oz. sausages. Application of Joint Filler 2200 on clean services can occur between 33º F – 100º F. You must clean Poly Wall® Blue Barrier™ products with an approved solvent and bring it back to tacky before applying the Joint Filler.
Enhancing a Building Envelope with Poly Wall® Building Solutions
Meeting today's demands for high-performing, energy-efficient, healthy, and durable homes and buildings means architects and contractors must consider every detail in the building process, including choosing the best construction tape for vapor barrier seams.
Fortunately, there is easy-to-apply Poly Wall® Home Stretch™ Detail Tape. We also offer an excellent alternative to construction tape – Polyguard fluid-applied flashing. These products will help you further achieve a tight building envelope, saving energy, and protecting the integrity of the structure and the health of its occupants without the bother of construction tape.
Contact Poly Wall® Building Solutions professionals today for more on improving building envelopes with the best construction tapes or alternatives to construction tapes, like our Polyguard's fluid-applied flashings.