Concrete floor waterproofing will protect a floor's integrity by reducing moisture accumulation, minimizing damage by freeze and thaw cycles, lessening spalling and cracks caused by surface erosion, and preventing the building up of structurally damaging and unhealthy mold and mildew. Waterproofing a concrete floor will ultimately extend its lifespan and lessen maintenance and repair costs.

How Water Gets Into A Concrete Floor

Water and vapor can infiltrate concrete floors externally and internally.
Externally, moisture comes from poor drainage and plumbing, rain, below or at the slab's sides, poor ventilation, air humidity, etc. Installing a heavy-grade, low-permeance puncture-resistant concerted floor moisture barrier, like the Polyguard® Underseal® Underslab Membrane and Polyguard® TERM™ Floor Underlayment Barrier, can help waterproof concrete floors.
These under-slab (positive side) and above-slab (negative side) products will shield the flooring from the structurally damaging, expensive, and unhealthy problems associated with vapor and moisture transmission through the concrete floor.
Internally, moisture comes from the water in the cement used to create the concrete. Moisture in the concrete can tremendously impact the concrete slab's cure time. Excess moisture in concrete can also enlarge the space between the cement's aggregates and lessen the compressive strength and durability of the concrete. Managing concrete floor internal moisture requires adequate installation, with proper curing and drying.

Under-Slab Moisture Barriers - Positive Side Waterproofing

Waterproofing concrete floors from the positive side makes them impervious to water, so that water on the concrete system will not get underneath it. A positive side waterproof layer should provide the flexibility to handle movement in the slab to prevent cracking, which can jeopardize the floor waterproofing.
The Concrete Floor and Slab Construction Guide suggests a minimum vapor retarder thickness of ten mils thick to withstand puncturing during and after construction. In addition, the ASTM E1745-17 and ASTM E1643 provide the guidelines for installing, using, and inspecting under concrete slab vapor barriers.

Polyguard® Underseal® Underslab Membrane

Correctly installing Polyguard® Underseal® Underslab Membrane during new construction will stop moisture from entering the underside of the concrete slab. In addition, it offers substantial damage resistance, low diffusion, and longevity (more than either ASTM or E.P.A. standards), making it cost-effective over a home or building's lifespan.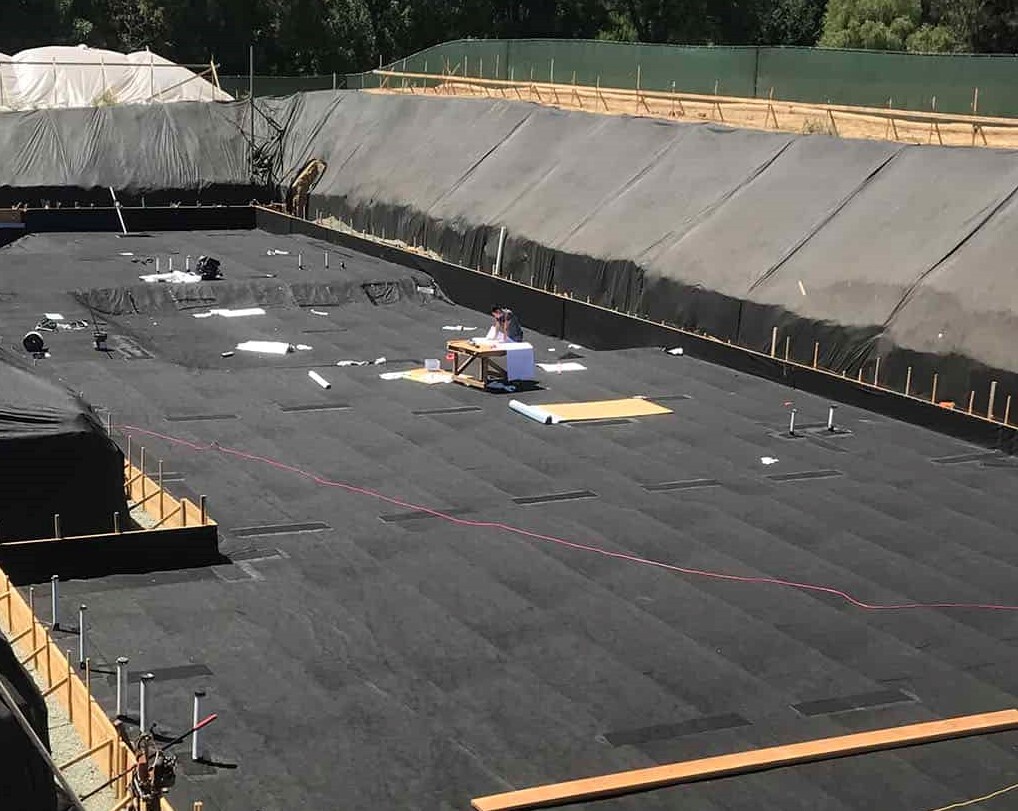 Tough 85-mil, pre-concrete pour, roll-on Underseal® Underslab waterproofing membrane/vapor barrier eliminates vapor and water transmission through concrete floors, to protect floor finishes. The Underseal® Underslab 3-layer composite membrane also traps methane and radon gas below the concrete, to help enhance the indoor air quality of the building or home.

Builders can use Underseal® Underslab for vertical, horizontal, and shotcrete applications. However, for vertical applications, builders should refer to the Blindside Membrane DataSheet Guide, and for shotcrete installations, builders should contact Polyguard® Architectural Technical Services at archtech@polyguard.com.
Underseal® Underslab Membranes typically install horizontally on top of sub-base like #57 stone, mud slab, or compacted soil. While pouring concrete, the concrete will blend with the fibers of the nonwoven geotextile, to provide a solid mechanical bond and a continuous seal under the concrete slab. Installation of Underslab Membrane should only happen at temperatures above 24°F (-4°C).
Benefits and Features of Underseal® Underslab including the following:

A tough, three-layer composite membrane that contributes to lasting durability

Superior protection against backfill damage with puncture resistance two times greater resistance than required by the new AC 527

A robust mechanical bond ensures the waterproofing system stays in place as the building and outside soil move

Resists water migration

Flexibility that easily adapts to job site irregularities for effective installation

Strong laps seams ensure a long-lasting, watertight system that outperforms the new AC 527 standard (ASTM 1876) by more than 150 percent

Its thickness gives it stress-absorbing and elongation properties that maintain a watertight seal if cracks develop in the concrete

Acts as a barrier against toxic contaminants like methane and radon gas
Above-Slab Moisture Barriers - Negative Side Waterproofing

For new construction, builders typically use negative-side waterproofing as a last resort when other options (positive and blindsides) are impractical. Negative-side waterproofing provides a better solution for remedial purposes than re-excavating the entire structure when the original waterproofing materials fail and water is actively leaking.

TERM® Floor Underlayment Barrier

TERM® Floor Underlayment prevents moisture vapor within the concrete slab from reaching the floor, which can damage flooring products and compromise the building envelope and indoor air quality, and increase energy use. Furthermore, the sealant component's self-healing properties will create seals around nails driven through the barrier during application.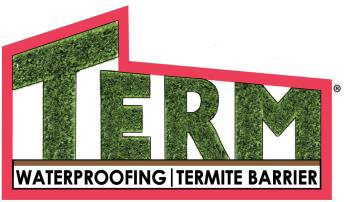 TERM® Floor Underlayment/Termite Barrier's composition includes a membrane of polyethylene backing and 40 mils thick TERM® Sealant Barrier, extended an ½-inch, to create a complete overlap seal at the edge. Builders can easily remove the self-adhesive, elastomeric barrier and quickly apply it.
Benefits and features of TERM® Floor Underlayment/Termite Barrier include:

A non-structural barrier for concrete and wood subfloors

Blocks water and termites

Lacks toxic pesticides

Stops cracks in the subfloor from appearing on tile surfaces

Its sound-absorbing qualities make the floor quiet (STC-69dB)
Offers the only physical termite barrier with over 20 years of testing and an evaluation report by the ICC AC 380 ESR 3632

Why Waterproof Concrete Floors with PolyGuard® Products?

Waterproofing your concrete floor with crack-resistant Polyguard® Underseal® Underslab Membrane and Polyguard® TERM® Floor Underlayment Barrier will protect the flooring from the structurally damaging, expensive, and unhealthy problems associated with vapor and moisture transmission through the concrete floor, for tremendous savings on costly repairs and maintenance.
For more on waterproofing concrete floors, don't hesitate to contact our Polyguard®professionals today. We can answer all your concrete waterproofing questions!