Maintaining your wood deck will preserve its value and elevate the aesthetics of your home's outdoor entertainment space. The best protection for a wood deck requires guarding against sun exposure, moisture, debris, snow, ice, and normal wear and tear - all of which can make a deck look outdated and drab. Following these five wood deck protection essentials will help ensure your deck's beauty and integrity for years to come.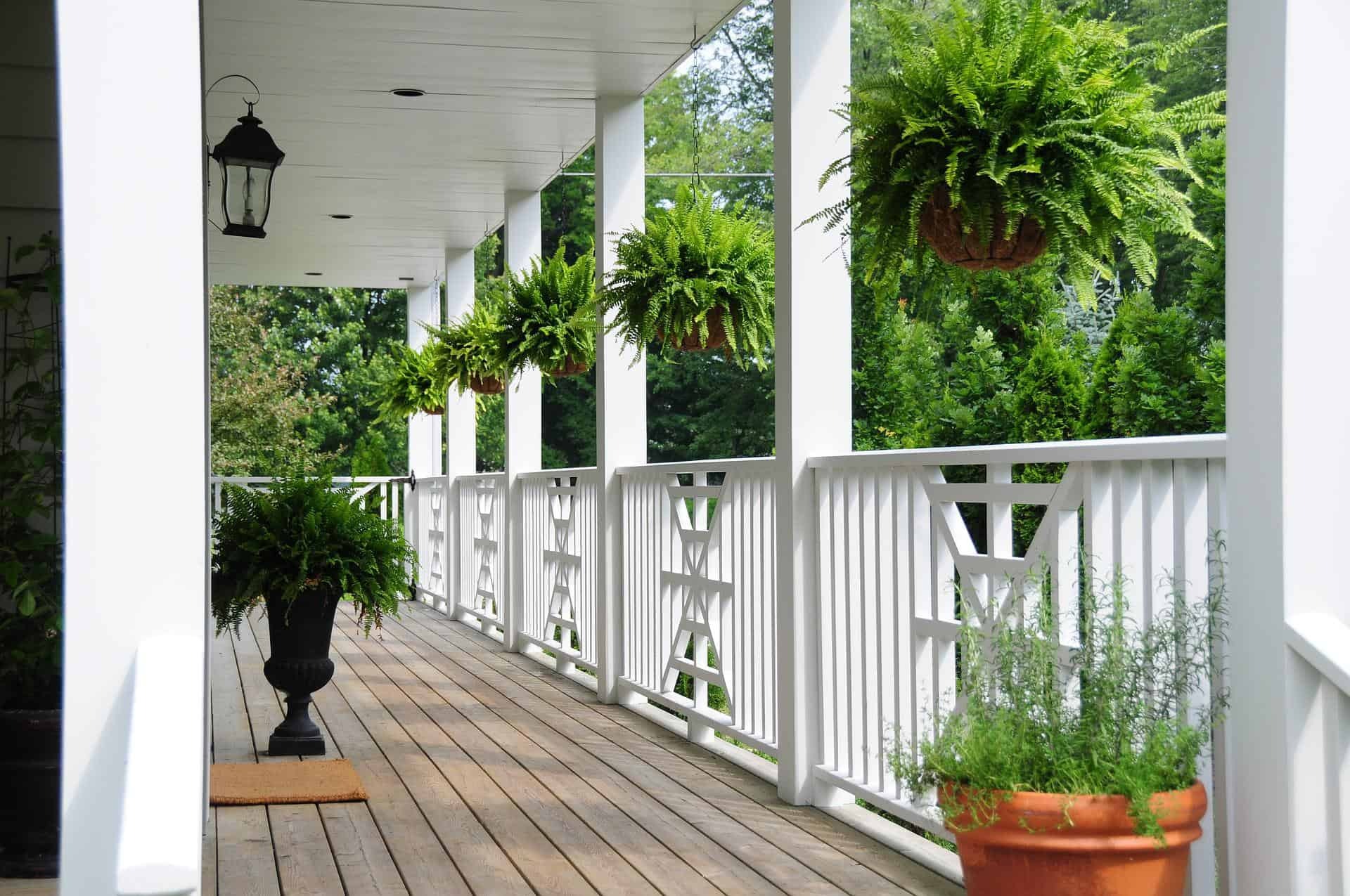 Five Wood Deck Protection Essentials

The best wood deck protection, with specific design and maintenance practices, will preserve your deck's integrity during and after construction.

Design Requirements

Protecting your wood deck from moisture, sunlight, and mold requires designing the deck with:
Routine Maintenance

In order to preserve the aesthetics and performance of your wood deck, you must perform routine maintenance, including:

Quick removal of debris

Immediate removal of snow and ice

Seasonal inspections and prompt repairs
1. Protect Your Deck from Moisture

Stopping the growth of structurally damaging rot requires minimizing your wood deck's exposure to moisture. Several water-resistant techniques you can apply to your wood deck include applying a waterproof sealant, high-quality stain, deck joist tape, and under-deck drainage panels.

Apply a Waterproof Sealant

Applying a waterproof sealant to your wood deck every few years will stop the deck from swelling from moisture and drying out from sun exposure. The waterproof sealant should penetrate deep within the wood in order to protect the boards and repel moisture from the inside out.

Apply and Maintain a High-Quality Deck Stain

The longevity of a wood deck also depends on keeping it properly stained. In addition, A high-quality stain can stop excess moisture and the growth of structurally damaging mold. Tips for applying a deck stain include:

Due to the significance of staining to the longevity of your deck, consider using a professional.

Apply two coats of high-quality semi-transparent, semi-opaque or solid deck stain to keep your deck strong and beautiful.

Only apply stain to a completely dry deck.
Apply a High-Quality Deck Joist Tape

A high-quality deck joist tape, like PolyWall Rot Shield Joist Tape, will improve your wood deck's durability, will help ensure the deck's integrity and minimize expensive repairs. Cold-applying self-adhering deck joist tape as a flashing on deck joints and ledger boards creates a durable moisture and debris barrier between the joists, deck boards, and ledger boards, to enhance the deck's durability and minimize or eliminate costly repairs.

PolyWall Rot Shield Joist Tape

PolyWall Rot Shield Joist Tape is a rubberized-asphalt ''sticky'' compound with a high-density polyethylene (HDPE) plastic film face. The brown-colored Rot Shield Joist Tape'' camouflages below deck boards.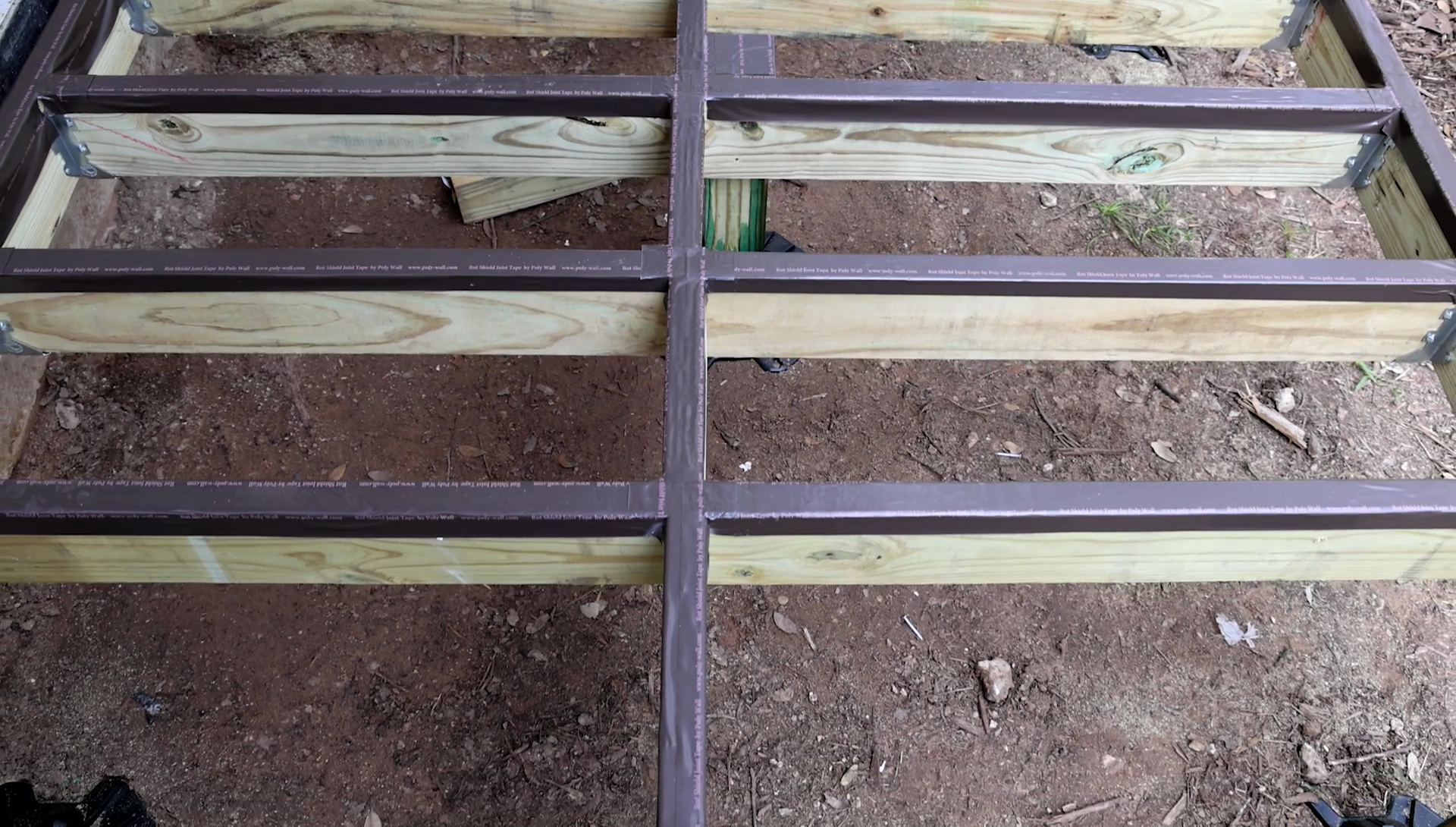 PolyWall Rot Shield Joist Tape provides several advantages:

Rot Shield Joist Tape produces a water and debris barrier between non-corrosive galvanized metal hangers and treated lumber. It will protect vulnerable wood joists (treated and untreated), rim joists, and ledger boards from moisture and structurally damaging rot.

Deck joist tape between metal hangers and treated wood stops leaching copper from corroding the joist hinges that hold together the deck.

Rot Shield Joist Tape stops contact between the galvanized metal fasteners and treated wood to prevent corrosion.

The flashing tape stops water infiltration by helping to seal around screw holes, metal fasteners, and hidden deck fasteners. It also prevents cracks and corrosion of the metal surface.
Simple to Apply Rot Shield Joist Tape

Rot Shield Joist Tape provides deck DIY-ers and builders with an easy, single-step method to protect deck joists from water and rot damage.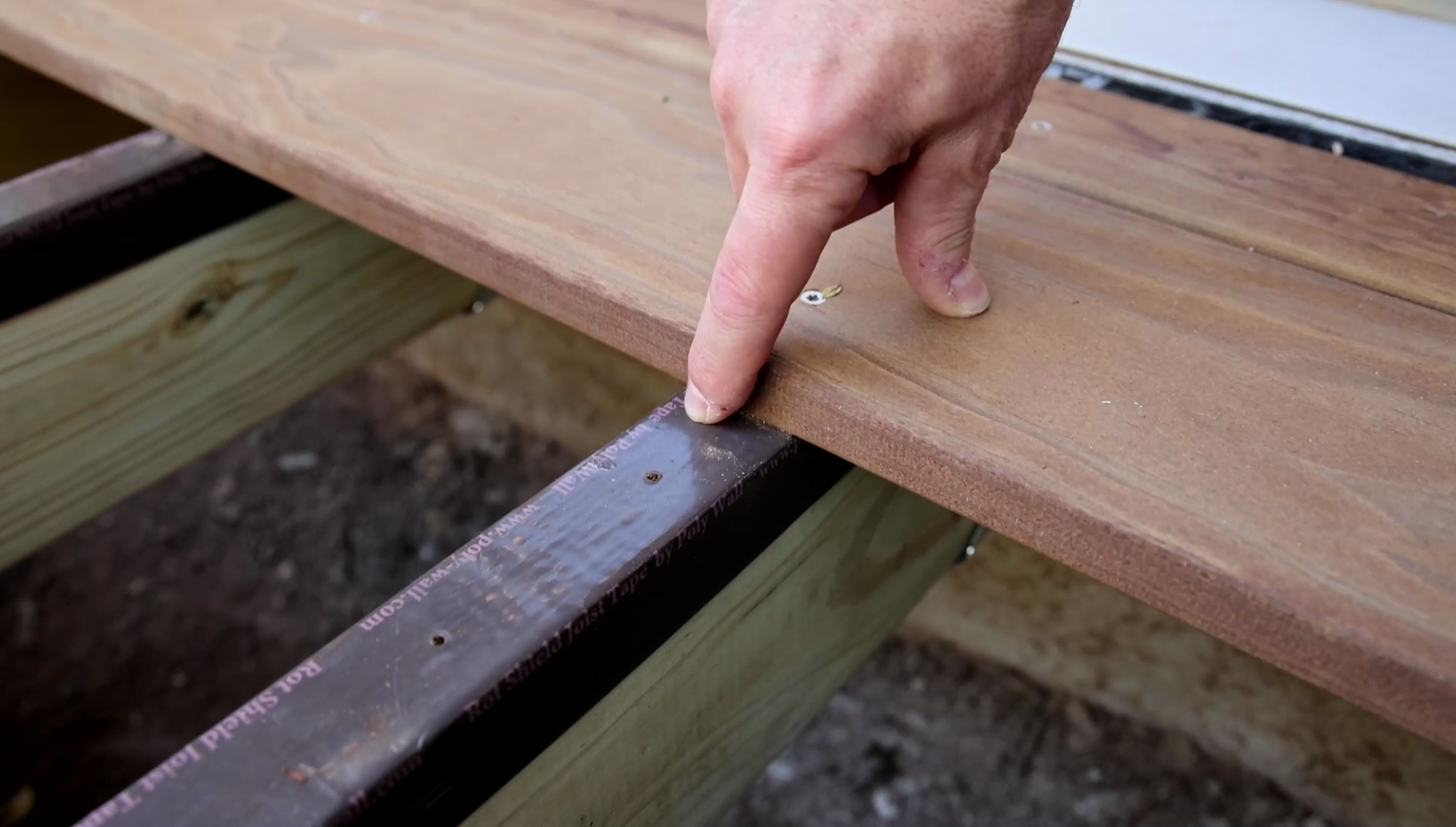 PolyWall manufactures Rot Shield Joist Tape in wide, 4-inch by 100-foot rolls with an easy-to-apply split release liner. The tape guidelines (1.25-inches from the edge on each side) create a smooth, clean installation and a high-quality appearance to minimize adjustments and wrinkles.

Furthermore, deck builders can apply the joist tape without priming and in chilly-winter weather. In addition, our UV-stable (up to 120 days) joist tape will minimize initial callbacks and repairs.

Install Under-Deck Drainage Panels

Maintaining the long-term integrity of your new-beautiful deck requires installing high-quality under-deck drainage panels, like Polyguard's lightweight, high-capacity Polyflow® BD Sheet Molded Drainage Mat(compatible with our engineered Polyguard's Balconyguard™ Membrane).
Drainage panels will protect the deck's substructures from moisture, and keep the area below the deck dry and usable for storage, recreation, etc. Preserving your deck's durability and attractiveness requires a design that protects against heat and provides sufficient ventilation to remove accumulated water.

Polyflow® BD Sheet Molded Drainage Mat

The Polyguard Polyflow® B.D. drainage system provides under-deck drainage. It comes as a sheet-molded drain, to produce pathways for deck water management. The fabric directs the water flow to specific drainage exits. Additionally, the punched core increases the water release rate from within the system.

Polyguard's Balconyguard™ Membrane

Builders can use self-adhesive, 60 mil Polyguard's Balconyguard™ waterproofing membrane on lightweight concrete-covered wood deck decks, balconies, and terraces.
However, before applying Balconyguard™ Membrane, we suggest you contact Polyguard Technical Services or representatives of an authorized company for assistance with shop drawings or job-specific details.
Easy to install, Balconyguard™ Membranes offer several features and benefits specially designed for waterproofing decks and exposed multi-story walkways covered with lightweight concrete:

Treated removable release film

48-inch wide by 50-feet rolls (200 ft2) reduces the need for seams by 25 percent, compared to 36-inch wide products — saving time and reducing the required seams

High-strength PET film

Tensile strength meets ASTM D412

For simple installation and detailing, our Balconyguard™ System includes custom corner boots, saving time and money

Elongation meets ASTM D412
2. Protect Your Wood Deck from the Sun

A wood deck will fade and gray over time due to its exposure to sunlight, decreasing the deck's beauty and value. You can help protect your wood deck from sun damage by implementing several steps:

Protect your deck from sunlight by applying a waterproof protective sealant with U.V. resistance.

Cover the deck with a UV-resistant retractable awning, umbrella, Pergola, or shade sail.

Stain the deck with a light color since light colors absorb less heat than dark colors.

Avoid pressure washing which can weaken the wood, making it susceptible to sun damage.
3. Remove Snow and Ice from Your Deck

Snow and ice on your deck can severely structurally damage and impact the appearance and safety of the wood, which can lead to costly repairs due to mold, mildew, and rot:

Immediately remove snow and ice using a plastic broom or shovel

Always sweep or shovel in the direction of the boards, not against them.
4. Protect Your Deck from Debris

Debris like dirt, pollen, dust, and leaves that accumulate on a wood deck can lead to unsightly tannin stains on the wood. In addition, organic matter on the deck acts as a sponge that can create a breeding ground for damaging wood fungi:

Space the deck boards at least ¼-inch apart so you can remove trapped debris before it rots the joists.

Routinely sweep your deck to remove debris.

Trim back overhanging trees and branches to lessen the amount of debris falling onto your deck.
5. Routinely Inspect and Repair Your Deck

To ensure the longevity of your wood deck, inspect it at the beginning of each season, and immediately repair any problems:

Replace boards damaged by rot

Replace any rusted screws and bolts, which can loosen, impacting the structural integrity of your deck.

For safety, tighten any loose deck board

Fix popped nails or screws
Let PolyWall Help Protect Your Wood Deck

The long-term aesthetics and value of your wood deck require protecting it against damaging environmental elements like moisture, U.V. rays, snow, ice, and debris with products like PolyWall Rot Shield Joist Tape and Polyflow® BD Sheet Molded Drainage Mat. You must also routinely maintain and repair the deck. Proper design and maintenance will ensure your outdoor space's long-term enjoyment and beauty.
Contact the Polyguard professionals for more information on how PolyWall's Rot Shield Joist Tape can protect your wood deck and make your deck last a lifetime.